Composite Deck Skirting Ideas
Composite decking has become increasingly popular as the material of choice because the product is exceptionally durable. The fact that it's more expensive than most other materials is countered by the savings in maintenance costs. Although the same properties apply, you don't have to choose composite skirting for your composite deck.
Raised decking requires a skirt, mainly to hide the gap underneath and give that finished "look" to complete the beautiful addition to your home.
The design of your skirting will also depend on whether you will use the space underneath your deck for storage, in which case you will need ventilation.
Composite deck skirting ideas include a variety of materials:
Composite to match the deck
Wood
Stone or faux stone
PVC
Brick
Plants
Metal
Composite Skirting To Match The Composite Deck
If you choose to use the same material as your deck, the composite skirting can still be modified in several ways:
Construct solid skirting in the same or contrasting color, using the composite as you would use wood, with the joints running vertically or horizontally as you choose.
Solid skirting can also be laid in a stepped formation, giving easy access to the raised deck from the lower garden level.
Create a more open skirting by leaving a gap between the individual boards or creating a latticework skirt. These options allow for ventilation but may allow unwelcome visits from small animals like mice, rats, or raccoons.
Advantages of Composite Skirting
Composite skirting is easy to work with, will last for decades with very little maintenance, and is available in many textures and colors.
Disadvantages of Composite Skirting
Composite skirting is initially one of the most expensive choices, and while you will save on maintenance costs, it may not be affordable when you first need to buy it.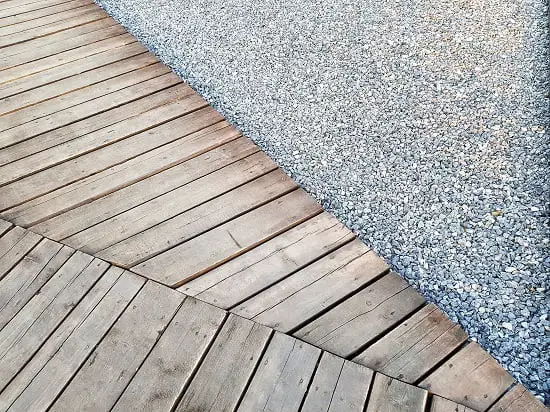 Wooden Skirting For That Natural Look
Even with a composite deck, natural wood provides an attractive alternative material for skirting.
Horizontal wooden slats give a very elegant look to decks that are not raised very high.
Vertical slats are very effective if you're creating a more rustic look to your deck, particularly if the deck is raised high off the ground.
With the slats running in a grid or crisscross pattern, latticework is very popular and particularly suited to older-style homes.
Advantages Of Wood Skirting
Wood from demolished buildings can be sourced from second-hand suppliers and is the cheapest material available for skirting. It's got character and charm that you don't find in artificial materials, and it's easy to work with.
Disadvantages Of Wood Skirting
It's cheap to buy but needs plenty of maintenance to prevent it from rotting or warping when exposed to rain and sun. Sanding and resealing every year can be expensive and time-consuming, so it's not the right choice for the busy homeowner unless you get professionals to do the job.
Stone Veneer or Faux Stone Skirting for your Composite Deck
Stone veneer consists of thin slices of natural stone, whereas faux stone is manufactured from cement which has been tinted with iron oxide to give it the appearance of natural stone.
Advantages Of Stone And Faux Stone Skirting
Both materials are exceptionally durable and require little or no maintenance, and with their natural texture and color, they look outstanding on a rustic or farmhouse-style home.
Disadvantages Of Stone And Faux Stone Skirting
The only real disadvantage is that constructing the stone skirting is a complex and time-consuming task and one that will probably require the services of a professional.
PVC Skirting For Composite Decks Is Inexpensive
Vinyl or PVC slats are a low-cost alternative. They make a very attractive skirting, similar to wooden pallet skirting if constructed with gaps between the slats, or they can form a solid skirt. It can also be utilized in creating latticework skirting.
Advantages Of PVC Skirting
Apart from the fact that it's cost-effective, PVC is extremely durable, requires little maintenance, and is versatile, coming in various colors and textures to fit in with any deck design.
Disadvantages Of PVC Skirting
PVC does oxidize over time, so it will require occasional cleaning to remove the white residue. It's also impossible to stain or paint PVC, so you are limited to the available colors.
Brick Skirting For Composite Decks Is A Quality Choice
Using plastered or unplastered brick to build a skirt for your composite deck is similar to building a wall around it. Brickwork can be very attractive, particularly if it ties in with the house's exterior walls, and it gives the appearance of solid quality.
Advantages of Brick Skirting
A brick skirting will last as long as the deck, if not longer. If unplastered, it requires very little maintenance apart from the occasional cleaning.
Disadvantages of Brick Skirting
As with stone skirtings, brickwork laying requires skill and is not a job for most home handymen. Getting in a professional bricklayer means additional cost, making brick skirting one of the most expensive options.
We have tips, tricks and advice on how to install deck skirting here with links to videos and more. So once you have decided which deck skiting you are looking for then you can check out our how to install deck skirting article here and other advice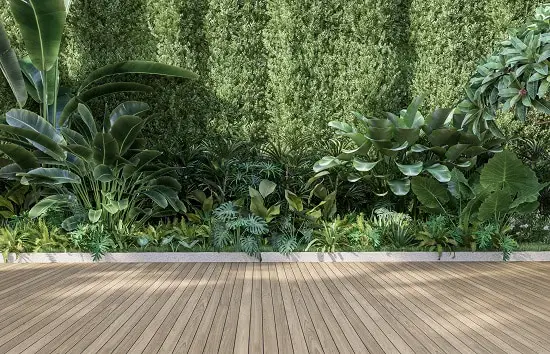 Plants as Skirting For Composite Decks Adds A Natural Look
Planting what is really a hedge around the perimeter of your deck is an idea that will appeal to the keen gardener as it softens the contrast between the deck and the surrounding garden, bringing harmony to the outdoor area.
Advantages Of Using Plants as Skirting
A planted skirt around your composite deck can be aesthetically appealing and can change its colors with the season as different shrubs come into bloom. Careful choice of plants will ensure that the skirt remains healthy and effective all year round.
Disadvantages Of Using Plants As Skirting
Plants are high maintenance, and the skirt will have to be attended to constantly to ensure that it serves its purpose of hiding and protecting the area underneath your deck. Trimming, feeding, and caring for the plants through the year may be more trouble than it's worth.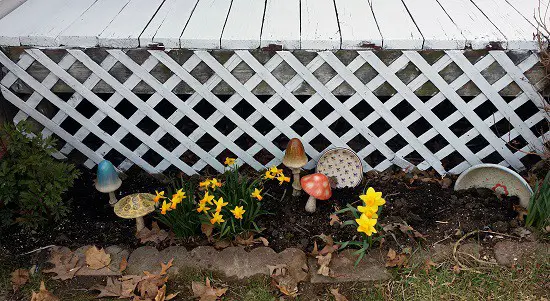 Metal Skirting For Composite Decking
Metal is an excellent idea if you're looking for an effective barrier around the base of your deck. It will provide a secure storage area, prevent animals from getting into the space, and can be designed to allow for adequate ventilation.
Advantages of Metal Skirting
Metal is a very versatile material, so it lends itself to many different designs – it can be cut into intricate patterns, used in latticework, solid skirting, or slatted form. It can be painted or left with a metallic finish to give a modern composite deck an industrial look.
Disadvantages of Metal Skirting
The metal would need to be rust- and weather-proofed to avoid deterioration and maintenance costs. If painted, repainting will probably be necessary regularly every few years.
Conclusion
There are an overwhelming number of composite deck skirting ideas. We've distilled them down to seven different types of skirting, but there is much for you to explore within each category. Your choice will be affected by the design of your home, what height your deck has been raised to, and what your budget is.
The composite deck is a valuable addition to the home as well as being a great entertainment space. By choosing the right skirting, you will add to the aesthetics of the deck and its functionality and enhance the value of your property even further. Hopefully, we've helped you with that choice!
References