How Much Ventilation Does a Deck Need?
A well-constructed deck on a house adds both value and improves your lifestyle. It is great to spend evenings watching the sun set with a drink, or reading a book as your children play. However, if the deck is not well ventilated it will quickly become damp, smelly and unpleasant, and at worst even dangerous. Our article below discusses how much ventilation a deck needs.
The right amount of ventilation for a deck depends on several factors. A deck must have at least 18 inches of space under the joists to allow air to pass under the structure. Air temperature can be drastically affected if the deck is to close to the soil or concrete pad leading to damp and damage over time.  
We will look at how much clearance and spacing between boards of different materials as well as ways to make deck skirting part of your ventilation solution as well and some of the consequences if you do not make sure your deck is well ventilated.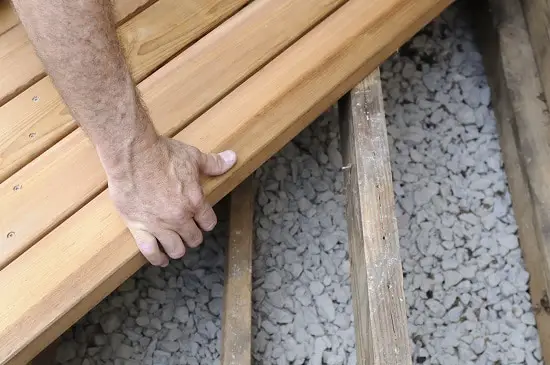 Ventilation Side Vents on Decking
There are a number of reasons why you might want to install side vents for deck ventilation.
Water can damage the boards of your deck. Water can also result in the growth of harmful mould and bacteria.
To avoid cupping or warping, you should lay your deck boards with the crown of the boards facing the sky over time and use they level out.
Improper airflow can cause wet damp air to build up under your deck, damaging the wood and making it weaker.
This build-up can cause various problems, including water damage, paint peeling, even rotting of the wood.
If you don't have a side vent, you can install a slit underneath your deck joists. It will prevent the top and bottom boards from being subjected to too much damp and still air.
Proper airflow will help to keep the bottom boards dry. Without proper airflow, they may develop cupping or sagging.
Deck Ventilation Spaces and Gaps
When planning to add a deck, make sure to consider the proper amount of ventilation. Most decks have subfloor space, but not all. Homes built on bearers or stumps have subfloor space.
Attached decks are one option. Those built on concrete slabs don't have that luxury. Adding a vent to your deck will keep it ventilated and prevent it from becoming humid and mouldy.
The proper gap between boards is 18 inches or more. You need at least this amount to allow air to flow freely underneath. Air temperature varies depending on the type of soil and concrete pads underneath the deck.
If there is too much air trapped beneath the deck, water will pool and increase moisture content. Proper airflow helps to prevent the boards from cupping. Without proper ventilation, it may also lead to mould growth on the underside.
Without proper ventilation, the top surface of the deck will dry out while the underside will remain wet and vulnerable to rotting and sagging. This water damage is expensive to repair.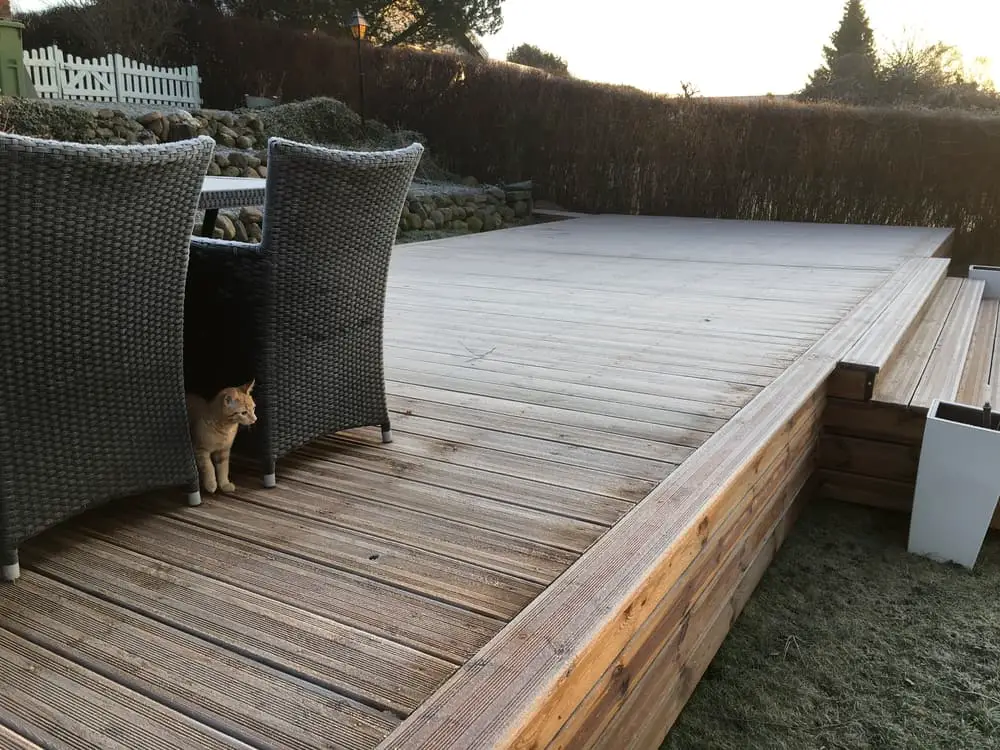 Deck Skirting Ventilation
Different types of skirting require different ventilation methods. Wooden decks need one inch of space between the slats and composite decks need a similar one-inch of space between slats.
Mesh skirting is naturally ventilated, but composite and faux stone decks need a vent system.
While deck skirting requires a certain amount of ventilation. Proper skirting ventilation is crucial to the health and beauty of your deck.
If you plan on using tongue and groove systems for your deck, make sure that the floor has a pitch for proper drainage. If it does, use stainless steel fasteners to hold it in place.  
If you are planning to install T&G porch flooring, you should follow the manufacturer's instructions for fastening and spacing the decking to make sure it has airflow. It is not like laying a tongue and groove floor, it needs gaps and spaces between it.
Covered porch flooring should have adequate ventilation as well. You should make sure to finish the perimeter of the decking with landscaping fabric.
Deck Skirting Advice
If you're considering using a skirt for your deck's ventilation system, you'll need to pay careful attention to the sealants that are used. Often, these products have shorter life spans than the flashing and roof systems.
If the sealant begins to deteriorate, it can funnel water underneath the skirt creating all the problems that a lack of ventilation would cause in the first place.  
In addition, improper lacing of the flashing can expose nails, allowing water to enter through the nail head or shank.
Porous skirting can help prevent excessive moisture from building up under your deck. A lattice board is an excellent option for deck ventilation. Its uniform openings allow for good drying airflow underneath.
In addition, it is an attractive option, as it is similar to the appearance of a fence. It could be also used on a veranda
Deck Installation Requirements
Before installing a deck, make sure to review the installation requirements of the manufacturer of the deck. These instructions include information about spacing, proper fastening, and deck inspections and should have sections that offer advice on making sure the deck is well ventilated.
Depending on the manufacturer's recommendation, these requirements may differ from your local building code. So remember it is important to follow any local building code requirements. Contact your local building department to find out more information about installing a deck.
Will a Roof Fan create ventilation for a Deck?
If you are planning on having a roof over your deck to protect both it and you from the elements be aware it can also reduce the movement of air across the deck. One way to combat this and to make it more comfortable for yourself on balmy evenings is to install a roof fan into your deck build.
If installed during the build this can be added to the cost, and will be considerably cheaper than installing one after. ( though that cost is not that high either) A fan will provide airflow on to the deck and underneath it, when it is stitched on of course.
We have loads of other deck advice on the site and have listed some below. If the information you need is not listed try a search as new content is added by the day!
Conclusion
If you want your deck to last at least as long as your house one of the most important areas, along with construction quality, is the ventilation of the deck. Without it damp warm air will build up and cause the problems we have highlighted above.
At some point this will become visible to the naked eye, but at that point you may already be looking at expensive repairs. Making efforts to prevent this damp from forming in the first place will help to ensure not just the longevity of your deck but make it a great place to spend time with your family as well.
References