Should Porch Be Same Color As House?
The porch of your house is the welcoming platform of your home and the best place to have your morning coffee. So, should your porch color be the same as the house? Some might prefer making a bold move by painting it a more daring color than the rest of the building.
Your porch does not need to be the same color as the house, but it does need to match the overall style. Since a porch is a living space, it allows you the freedom to paint it an alternative color to the house. Design rules say that a different color porch can bring personality to the home.
Decorating your porch can be a great project to embark on! The many color options might leave you lost, especially if you want to match your house to the overall building. We have some tips and tricks to find your ideal porch paint, some insights from design experts, and plenty of information on what colors to choose according to their qualities.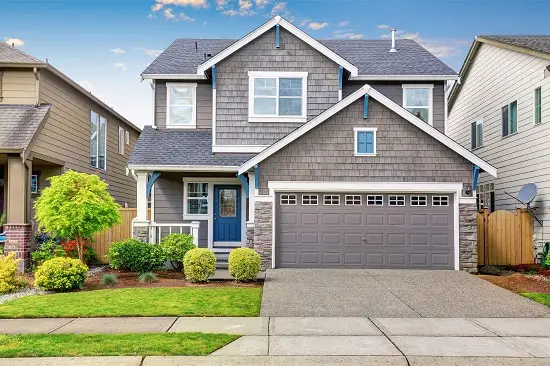 How To Choose Porch Color According To Your House
In a world full of color, your porch could transform into a beautiful setting with a bit of paint. Since painting your building takes time and money, being sure what color to buy is important because it changes the design of your house.
Choosing a shade before a color helps narrow your options to make an easier decision! There are light, middle-tones, or dark shades. If you want a light color, there are white or pastel colors, and dark shades are heavy in pigments like dark greys or bold blues, reds, and browns. Middle shades are between light and dark and include more muted colors.
Is the house color warm or cool? Warm colors are red, yellow, orange, and earth tones, while cool colors are shades of blue, green, and purple. Neutral colors include black, white, and grey, which don't categorize as warm or cool, but there could be an undertone in the paint.
For example, if the walls are cream, it has a yellow undertone. It is best to keep warm colors together and cool colors together.
If you go for a walk down your street, you may notice the color palette of your neighborhood, which can be a great guide in choosing what might best suit your porch. Your choices are endless, but the colors next door might inspire you to choose a unique paint color that is different from the neighborhood color scheme or a color that blends with the neighborhood.
The paint options might be daunting, so pick a few and feel free to sample the colors by painting small patches of each one on your porch. Sample painting helps to see how the color changes in the different lighting throughout the day. Samples may look completely different from what you imagined!
we have a selection of articles on getting the most out of your front porch you can access on the site. we have linked some examples below.
What Design Experts Have To Say About Porch Color
Design is all about keeping the overall style coherent. You must review aspects such as the roof, the landscape, and the building style to match the porch color. You can always bring out your home's personality by changing the finishings and furnishings instead of focusing on the paint itself.
If the roof of your house is grey or black, it allows more freedom in choosing exterior colors since those colors are neutral, but if the top is a warm color like brown, the porch's tone needs to match. An earthy undertone roof will rule out colors like blues or greens because they would clash with the style of your house.
Greens, browns, and beiges work well with nature and complement a luscious garden well. Your garden may have more warm or cool undertones, and matching your porch to those undertones creates a sense of harmony, pleasing the eye.
Bold and pastel colors alike still work with nature but need to have the garden equally as bright or muted. Muted color paints go well with a bold garden.
Your building may have brick or stone walls that don't have paint, and again will either have warm or cool tones that you will need to match with your choice of paint color. You can use your color to compliment the gorgeous brick or stonework of the building and create a marvelous entryway!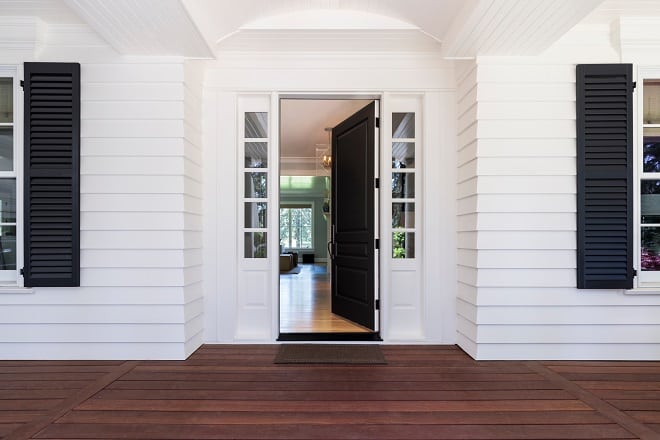 Colors You Can Paint Your Porch
From black to the brightest reds, painting an architectural element can make all the difference. Shades, tones, and colorful personalities are qualities associated with a chosen paint color that could influence your decision on which one to choose.
Painting Your Porch With Warm, Cool, And Neutral Colors
Warm colors form half of the color wheel while cool colors form the other. Warm colors have been associated with feelings of high energy and closeness and are considered more cheerful in personality. Colors with warm undertones are inviting and a great way to create a welcoming space.
Cool colors are connected most with feelings of calmness and tranquility. Painting with cool colors can make the area seem more spacious, allowing the mood of your porch to feel like a place of thinking and focus, so if you want your porch to be a more refreshing space, cool colors might be the right choice for you.
Neutral colors create a sense of balance. These colors are of a sophisticated design and make your porch feel like a place of clarity. Neutrals allow the style to express through the furniture and finishings.
White, Black, And Grey Paint For a Porch
White is the most common color that homeowners go to when painting their house and porch. Your porch might even be white already! It is a color that is always in style, and you can change the design anytime you like by changing furniture and decorations.
Greys and blacks are neutral options that are also great if you're going for something simple yet elegant. Keep in mind that many shades of grey might have either warm or cool undertones that will need to match the rest of the building.
Painting Your Porch With Earth Tones
Since Earth tones are warm and inviting, this might be your go-to. These colors accentuate natural surroundings and are soothing to the eye.
Painting Your Porch With Pastel Colors
Pastel colors are a unique and subtle way of bringing in a new porch complexion. It is a captivating choice that brings creative appeal to your home. Pastels are soft on the eye, creating a cozy feel.
Painting Your Porch With Bold Colors
Creating a statement with an adventurous color is a fun way to give your porch a facelift. If it matches the complete design, it isn't a bad option. Instead of painting your whole porch a bold color, you could also paint your front door to get that desired striking effect.
Conclusion
Creating a welcoming porch can be done by painting it a different color to your house. Living space transforms by the color you choose. When weighing your options, you could have a look at a shade first, take a walk around the neighborhood for inspiration, or test out a few samples.
Keep in mind the entirety of your house's design and keep warm colors together and cool colors together. Colors have their personality and qualities that change the overall feel of the architecture, so a new layer of paint could be just what your porch needs!
References