Does My Outdoor Kitchen Need A Sink
According to a survey conducted by AIA Design Trends, outdoor kitchens have become a popular trend in the United States. Perhaps it has to do with the ample living space it offers or the fact that it is an excellent investment. Homeowners have often asked architects Does My Outdoor Kitchen Need A Sink.
The construction of an outdoor kitchen is incomplete unless it has a sink. A sink in an outdoor kitchen is functional, practical, and convenient. An outdoor kitchen sink will give you the luxury of preparing your meals on the outside and cleaning up simultaneously.
Join me as we explore the pros and cons of having a sink fitted in an outdoor kitchen, as well as the factors that need to be considered.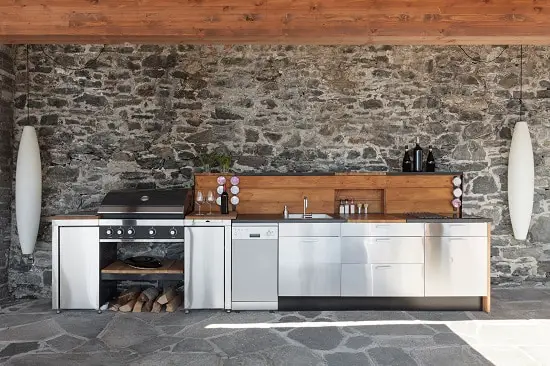 Pros Of Having An Outdoor Kitchen Fitted With A Sink
For the love of cooking, an outdoor kitchen offers the luxury of preparing your meals while enjoying the beauty of the outdoors. Add a sink to the equation, and you can enjoy the benefit of cooking and washing up simultaneously. There are many reasons why fitting a sink in an outdoor kitchen makes perfect sense and below are some of those reasons.
 Easy Access To Freshwater
Anyone that cooks will know that water is always an essential commodity in the cooking process. Having easy access to it makes cooking so much easier. You can focus on cooking knowing that fresh water is within proximity.
If you have prepared a meal, it is much easier to use a sink outside than inside, and keeps you part of the activities rather than stuck in the kitchen.
Family and friends can also easily access fresh water when relaxing outdoors. After meals, the family does not have to go indoors to wash up, eliminating sticky hands after tucking into a rack of ribs.
Flexibility Of Cooking And Cleaning Simultaneously
An outdoor kitchen sink allows you to cook your meals and wash up simultaneously, leaving you with less clutter of dirty utensils. The sink offers you the luxury of washing up while the food simmers on the grill.
The greasy dishes can now be kept on the outside, minimizing the mess on the inside. There is also less risk of water spillage inside the house.
Don't Miss Out On Conversations
I have often found that retiring to the kitchen after meals means I miss out on some crucial after-meal conversations. An outdoor sink lets you wash up in a relaxed atmosphere while you chat with the rest of the family and friends, extending your social time.
An outdoor kitchen sink also gives you the flexibility of entertaining while you are washing up.
Outdoor Kitchen Sink Has Versatile Use
Having an outdoor kitchen sink is not restrictive to washing dirty dishes. The kids can enjoy easy access to water when filling up their water guns or water balloons from the outdoor faucet without the fuss of having to transport water from indoors.
Less stressful for the parents knowing that there is no spillage on the inside, which can often become a safety hazard leading to slipping.
You can also rinse your garden fruit and vegetables and tuck them into them without going inside. Watering the garden and washing your pets are much easier with an outside kitchen sink.
For The Love Of The Outdoors
Washing up dishes can be pretty mundane; having a kitchen sink on the outside enables you to take in the fresh air and the beauty of your garden as you wash up.
Makes Entertaining Much Easier
Entertaining guests means that they do not have to spend their time indoors. Ensuring that your home stays clean, having a sink fitted on your outside also adds to the aesthetics of your outdoor kitchen.
Water Cleanliness.
Most modern, and even less modern houses, have plumbing that leads outside usually used for access to water for the garden or the car. Even the balcony I'm sitting on writing this has a tap for cleaning the floor.
While useful and certainly makes installing an outdoor kitchen cheaper it is important to check that the pipes are both clean and suitable for drinking water before you plumb them in to an outdoor kitchen. A plumber would be able to advise you on this easily.
In any circumstance it is unlikely to be as easy as just running a splitter tap from that tap to your kitchen sink and professional help is certainly strongly recommended and it maybe worth researching water filters if you are going to use it as drinking water as well as for utility purposes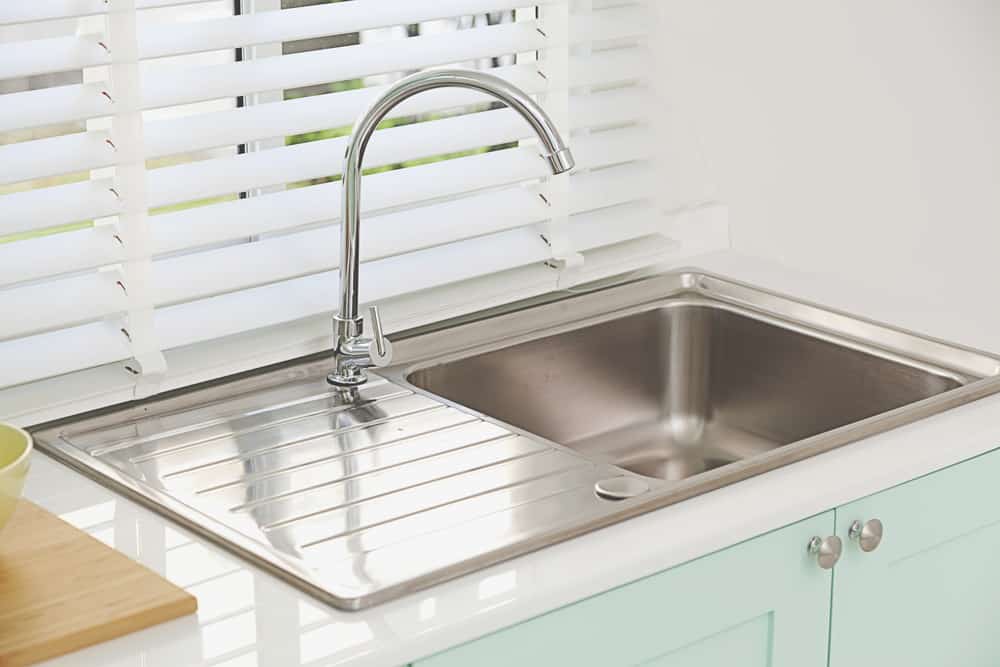 Cons Of Having An Outdoor Kitchen Fitted With A Sink
There are also some notable cons when installing a kitchen sink outside. Below are some of those cons.
Exposure To Harsh Elements Of Nature
Having a sink on the outside is not the same as having it on the inside. Elements like sunlight, rain, and frost can adversely affect outdoor sinks like cracks and sporadic growth of bacteria and mold.
Outdoor Sinks Need To Be Cleaned Regularly
Your outdoor sink will face exposure to leaves, pollen, mold spores, fire ash, and dirt; as such, it will need to be clean regularly. Washing dishes in an outdoor sink will also lead to soap residue; you must clean them periodically to maintain longevity.
Fats And Oils Can Harm Outdoor Plumbing
Although fats and oils may wash down quickly in your outdoor kitchen sink, they can lead to blockage of your pipes. Once these drains are blocked, the smell of fats and oils can permeate the atmosphere, resulting in a foul odor.
Does My Outdoor Kitchen Need A Sink- Factors To Consider?
When fitting a kitchen sink outdoors, you must consider some factors. The factors are
Choose A Premium Grade Outdoor Sink
A sink fitted on the outside faces regular exposure to the fraught elements of nature. These elements like rain, sunlight, and frost can cause adverse effects to outdoor sinks, leading to cracks and rust. As such, you will need to consider using outdoor-grade appliances.
A 304 stainless steel sink is a worthy investment for an outdoor kitchen. The stainless-steel sink is rust-resistant and easy to clean. A stainless steel or brass faucet protected with a physical vapor deposition finish is worth considering.
Protect Pipes During Inclement Weather
Before fitting your outdoor kitchen sink, you might consider insulating the pipes. Since the sink is on the outside, it will expose to freezing temperatures which can cause the water inside the faucet to freeze and eventually burst the pipes. Hence it is crucial during this period to shut off the water supply to the outdoor sink and turn on the faucets to empty the pipes.
Protect Your Outdoor Sink By Regular Gentle Cleaning
A kitchen sink fitted in an outdoor kitchen is bound to come into contact with fire pit ash, leaves, dust, and smudges. You want to ensure that the sink is kept sanitary and clean.
Harsh cleaning can lead to scratches. To maintain their longevity, you must wash with dishwashing liquid and warm water. The sink will need to be disinfected with a spritz of vinegar to ensure it is sanitary. If there are fingerprint smudges, ensure that you wipe them down with olive oil and a microfibre cloth.
Avoid using harsh cleaning chemicals which can wash off your garden's soil, causing damage to plants.
Conclusion
If you love entertaining or cooking, you will love the concept of an outdoor kitchen with a sink. An outdoor sink is practical, functional, and convenient. It gives you the luxury of both cooking and cleaning up simultaneously. Fitting a sink in an outdoor kitchen is a worthy investment and one that needs consideration.
References