How Do You Cover An Old Patio?
Most people know how boring a plain old patio can be. After a few years, I was not too fond of the way mine looked. I wanted something different, but I didn't want to tear up the old concrete as it can be a good base for something new. I spoke to a friend who had covered her old patio, and she gave me a few ideas.
If you are unhappy with your old patio, you should cover it. You don't have to spend a lot to get a new fresh look; you can acid etch your patio, tile over the patio, use colored stain or paint, and lay pavers over concrete. These are inexpensive ways to use the patio as a base for something new.  
I wanted to find out if there were other ways to cover up my old crusty patio without it costing me a fortune. With the help of my friend and the research I did, I found some very helpful ideas that are easy to do if you like DIY projects and are inexpensive. I covered my patio in no time, and it looks great. Below are a few ideas that you might want to try.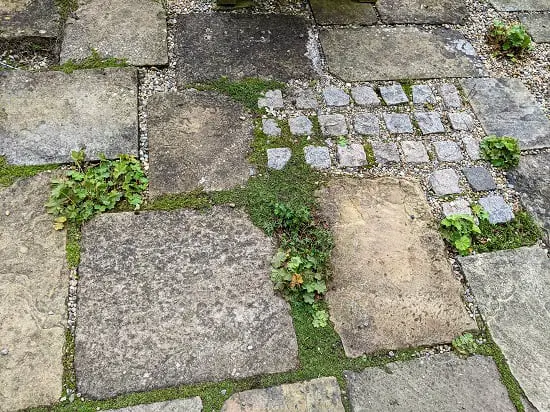 How Do You Cover An Old Patio?
Most of us have an old concrete patio that has been there since we moved in and looks worn out, old and crusty, but we leave it that way as fixing it or ripping it up can get expensive and time-consuming.
Luckily there are other ways to cover an old patio without it costing too much, and you don't need to rip it up to give it new life. Here are a few ways to cover an old patio:
we have an article on the best materials to use to help a patio last for years and years here on the site.
Tiling Over The Old Patio To Cover It
The best and most effective way to cover your old patio is to use it as a base and tile over it. There are a number of varied options you can go for if you choose tiles; you get glazed and unglazed ceramic tiles, stone, or terracotta.
The stone and terracotta need more maintenance than ceramic tiles; they are more expensive and tend to absorb moisture and stains, so you will need to seal them regularly to keep them in good condition.
Ceramic tiles work best in outdoor areas, and they come in many colors, styles, and sizes. They are easy to keep clean and can last years if properly maintained. The one drawback to installing tiles to cover your patio is they are slippery when wet.
It's best to use a non-slip sealant over ceramic tiles to ensure that accidents can be avoided.
Acid Etching To Cover An Old Patio
One way to cover your old patio is to use acid etching. It is a process that causes the concrete to react to certain chemicals and make lovely distinct patterns on the patio floor. Here is how it works. The Acid etching solution is made up of hydrochloric acid and metallic salts.
When you add this product to your concrete patio, these two ingredients react to the lime or calcium hydroxide in the concrete. When these chemicals react, it creates a marble pattern on the concrete floor that is unique and looks beautiful.
You will need to seal the acid-etched concrete to lock the pattern in. There is a bit of prep work and maintenance work that goes into acid etching that we will discuss below.
The Prep Work Needed
Before you start etching your patio, you must prep the concrete. Here are some tips to remember before you start:
Remove all furniture from the patio.
Thoroughly clean the patio with soap and water, ensuring it's completely dry.
Take some mixed concrete and a putty knife and fix all the cracks, dings, and gouges in the concrete, paying close attention to any worn edges.
Leave the patches to dry and rewash the patio.
After it's dry, you are ready to go
The Maintenace Afterward
The maintenance you need to keep up after acid etching your concrete patio includes:
You will have to check for cracks and dings regularly.
You will need to reseal your concrete with a non-slip sealer once a year to keep the acid-etched pattern in place.
Color Staining And Painting Your Patio
You don't have to cover your patio using expensive tiles; you can use colored stain or paint. There is a new trend where you take a plastic stencil of a pattern you like and use a paintbrush or sponge to paint the pattern all over the concrete.
You can use concrete paint or colored stain to get a pastel painting effect. You will need to do some patio prep work if you choose this method. To get a smoother surface, you will have to wash your patio and patch all the cracks and holes. When it is dry, you can start laying down the pattern.
Remember to seal the concrete after you are done and reseal it once a year to keep the sun and other elements from fading the paint or stain. It is better to use a good quality paint and we have an article here, and below, on the best epoxy paints for patios if you need some ideas.
Lay Down Pavers
You can cover your patio with pavers if you want a more professional look. If you are not a DIYer, you might want to get a contractor to help you install the pavers. You have to add a thick and even layer of polymeric joint sand, level it out, and then the garden fabric on top.
You have to choose your pavers carefully to suit a patio. You need pavers that are non-slip to avoid accidents and are easy to walk on. The only drawback to using pavers is that the sand bed under the pavers needs to be level and even, or you will be left with lifting and skewed pavers.
We have an article covering the cost of paving a patio here.
It could become dangerous and time-consuming if you have to redo it. This is the perfect way to spend your weekend if you like DIY projects.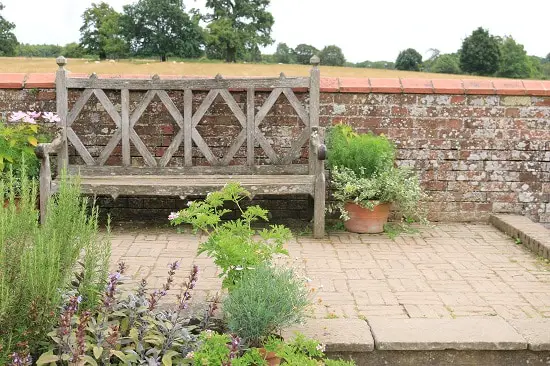 Adding an outdoor rug to your patio
If your patio is looking drab and outdated, adding a new outdoor rug can brighten it up. Outdoor rugs are generally made of materials that resist mold and mildew.
However, it is important to dry your rug after washing, especially during heavy rains. Otherwise, trapped dirt and moisture can grow, causing stains and mold. Regular cleaning of outdoor rugs will keep them looking new and stand up to the elements.
It is best to choose a flatweave rug for an attractive frame around your flower bed. This type of rug does not absorb water or soil and does not get stained by plant debris. Instead, it can mimic the look of a floral area while requiring very little maintenance.
You can choose one that comes with a waterproof backing and requires no maintenance. In case your patio furniture is not waterproof, you can use carpet tape to protect it.
Conclusion
If you are tired of a patio that is no longer up to your standards, you don't have to rip it up. You can easily cover it using acid etching, tiles that are more to your liking, pavers that look more professional, or paint it with a unique pattern to give it new life.
Remember that no matter what you choose, you will need to maintain it to keep it in the best possible shape.
References