Can An Outdoor Kitchen Be Enclosed?
People enjoy being outside in the fresh air and sharing delicious food with family and friends. The best place to do so is in an outdoor kitchen, a convenient location where you can prepare a full meal and socialize with your guests. But can an outdoor kitchen be enclosed?
An outdoor kitchen can be enclosed on one or more sides to provide shelter from the natural elements. An enclosure prolongs the life of kitchen furniture and equipment and allows for more time outside regardless of the weather. Outdoor kitchen enclosures can be permanent or temporary structures.
A carefully placed barrier, wall, or roof could enhance your cooking and dining experience without detracting from the essence of being outdoors.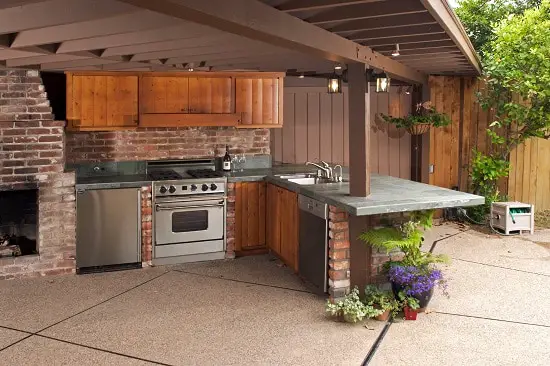 Can You Enclose An Outdoor Kitchen?
 Enclosing an outdoor area used for cooking and dining is common practice among landscape designers and architects, using thoughtfully designed partitions to suit the needs of homeowners.
Is An Outdoor Kitchen Better Open Or Enclosed?
An enclosed outdoor kitchen may seem counterintuitive and detrimental to the overall ambiance of an outdoor kitchen. Is compartmentalizing the area more beneficial to the overall experience, or is it more of a hindrance?
The table below lists a few pros and cons of an outdoor kitchen enclosure.
| | |
| --- | --- |
| Advantages | Disadvantages |
| Protection from the sun:  An enclosed outdoor kitchen can provide shelter from excessive heat and shading to protect guests from the bright light that can be blinding when facing the setting sun. Surfaces, painted areas, and appliances when left covered are damaged by long-term sun exposure. | Fire hazard: Partial enclosures made from canvas and wood can are flammable. Food left unattended on an open flame could catch fire. Outdoors, fire spreads quickly. Using materials that are fire retardants reduces risk. Follow guidelines for open space as directed by manufacturers of any cooking apparatus. |
| A shield from the wind: Wind can be a massive issue. Thoughtfully positioned windbreaks stop dust from blowing into food and prevent items from blowing over and breaking; they reduce noise pollution. Thoughtfully design windbreaks make life more comfortable in an outdoor kitchen. | Limited view of the landscape: One of the main reasons for an outdoor kitchen is being close to nature. Enclosed outdoor kitchens can block out the landscape and reduce the sense of being outdoors. Landscape designers can create structures to blend in with the surrounding area and be aesthetically pleasing. |
| Cover for rain and snow: An outdoor kitchen being enclosured can extend the time spent outdoors, allowing for continued use even in the rain. An outdoor kitchen enclosure provides warmth and shelter from snow and sleet in colder weather. |  Diminished ventilation: One of the best things about cooking outside is the unmistakable smoky aroma and flavor of the food that is synonymous with an open flame. A poorly planned outdoor kitchen enclosure could trap smoke or gas, making it a health hazard. |
| Extra space: A solid, outdoor kitchen wall can provide strength to support shelving and storage cupboards. The walls can also house electrical wires and pipes for gas and water. | Limited access: A barrier or wall may end up cutting off a path or access point to the house, pool, or garden. |
| Protection from insects and rodents: Insects, ants, flies, mosquitos, and small rodents have been spoiling outdoor cooking and picnicking for as long as humans have existed. A full outdoor kitchen that is enclosed keeps insects out, especially on warm summer evenings. A full enclosure also keeps rats and mice away, safeguarding the kitchen from pests. | Maintenance: Some enclosed kitchens need constant servicing to prevent weathering and damage. Wood requires varnishing. Lattices or louvers may start leaking if not properly serviced. Retractable shade covers, awnings, and tents should be removed and stored to avoid wear and tear when they are not used.  |
| Adds value: A well-designed enclosed outdoor kitchen increases the value of your property by creating an extra outdoor room that you can use all year round. It can beautify and upgrade your property. An outdoor kitchen enclosure also ensures entertaining outdoors can continue well into the evening and in all seasons. | Cost: The additional cost of an added enclosure could be a budgetary burden. Weatherproof gear is generally more expensive, and an expert in landscape design may need to consult to get the best results. |
Does An enclosed Outdoor Kitchen Need To Be Permanent?
Assess what protection is required, and take time to survey the area and check for potential problems.  Then, decide what shelter is required and how much cover is needed.
The next decision is whether the enclosure should be a permanent addition to the house or a temporary shelter to use when required. If you are building your kitchen far from the house you may need to look at shelter depending on yoru climate.
What Are Permanent Enclosures For An Outdoor Kitchen?
Structures that stand alone or are extensions of the house are considered permanent enclosures. They usually have a ceiling and optional side panels. The following are examples of permanent installations:
Patio Roofing made from wooden beams, posts, and connecting rafters. It is attached to the outside wall of the house.
Pergolas are upright structures usually made from wood, with louvered slats or latticed beams as cover.
Pagodas are similar to pergolas but with a closed roof. They are primarily manufactured from aluminum and steel. Roofing is made using corrugated sheets or vinyl or PVC shade cloth.
Retractable or fixed awnings have canvas or fabric panels attached to a mechanized structure, which can slide on tracks or wires. Other options include a lateral swing arm, tension shades, or vertical screens.
Walls can be constructed DIY or done professionally. An outdoor kitchen can be enclosed by a full or half wall made from brick or wood.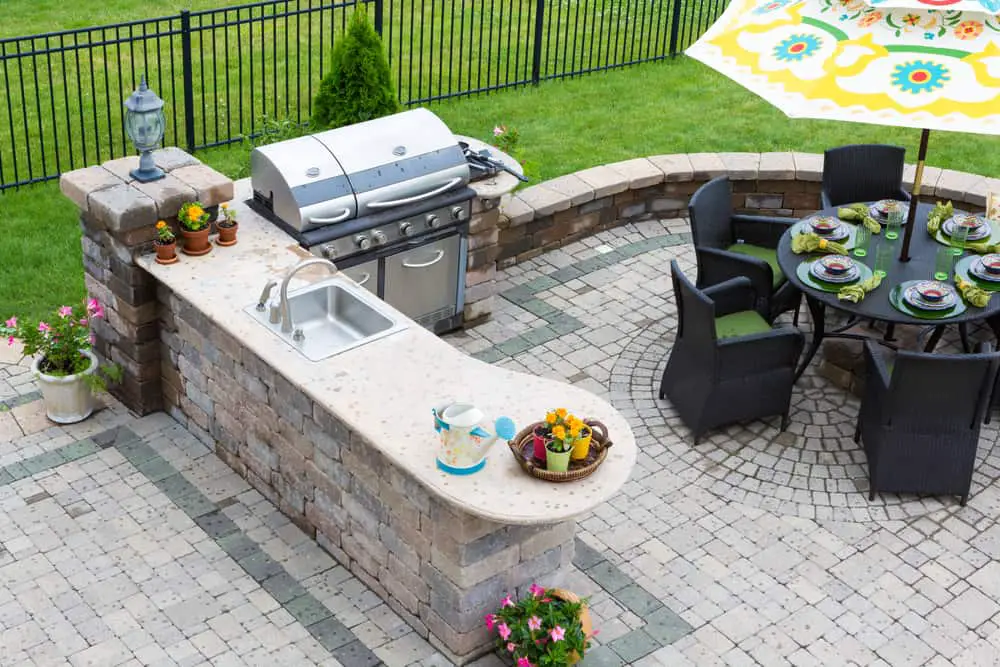 Temporary Or Removable Structures
An outdoor, fully open-plan kitchen is a fantastic feature until extra protection from the weather or more privacy from neighbors is needed. There are prefabricated products available as a solution.
Patio umbrellas are always practical. They are manufactured from wood and canvas and are available in different sizes and designs. 
Sail shades are triangular pieces of fabric with metal eyelets in the corners. They can be tied to trees, poles, or trusses using strong twine or rope.
Privacy Screens are freestanding, folding barriers that are fashioned from wood, metal, or ABS. They are manufactured in a multitude of designs and styles.
Pop-up canopy tents are similar to marquee tents and are purchased fully assembled. They have an adjustable frame with a material cover that can be custom printed. The tent can be erected anywhere in minutes. There are many different sizes and design options.
A suitable enclosed outdoor kitchen will be more protected from the weather and create a private, more intimate space to enjoy, but some negatives can arise from an installation. Consider all the options before making a decision.
After weighing up the options, consider consulting with specialists and then check with the local building department for any permits that may be needed. All that remains is to decide whether this is a DIY project or an installation that needs professionals.
We have a host of articles on Outdoor kitchens from constructions to appliances which you can check out on the site. We have a list of three popular ones below but you can search for kitchen as well.
Conclusion
Diligent orientation is the key to effectively created an enclosed outdoor kitchen to provide more space, shelter, and comfort. There are options for any budget. You may need to check with the neighbors if the construction is large as it may impede their property or view, and check with the local building inspectors if you need any further necessary permits.
References