Inexpensive Deck Skirting Ideas
A deck skirting will help finish off the look of a deck and provide protection from animals nesting under your deck or creating extra storage space. Deck skirting can be made from several materials, though you should match the materials you use in your deck. Depending on the skirting purpose and your budget, there are plenty of inexpensive ways to build your deck skirting.
Inexpensive deck skirting can be made from wood, brick, metal, composite woods, wood lattice, and even plants. Match elements to your deck, consider the skirting purpose and durability and keep an eye open for materials you can salvage from other building projects to keep costs down.
Have a look thorough all the skirting options so that you can develop some great ideas for ways to build inexpensive skirting for your deck.
Before looking at the different materials, consider what your deck is made from and why you need skirting – do you want a solid, impenetrable barrier to prevent animals from going under the deck, or would you like to use the area under your deck as a storage space?
We've collected some excellent and inexpensive ideas to make deck skirting that is durable, appealing, and offers you a range of options to spark your own ideas.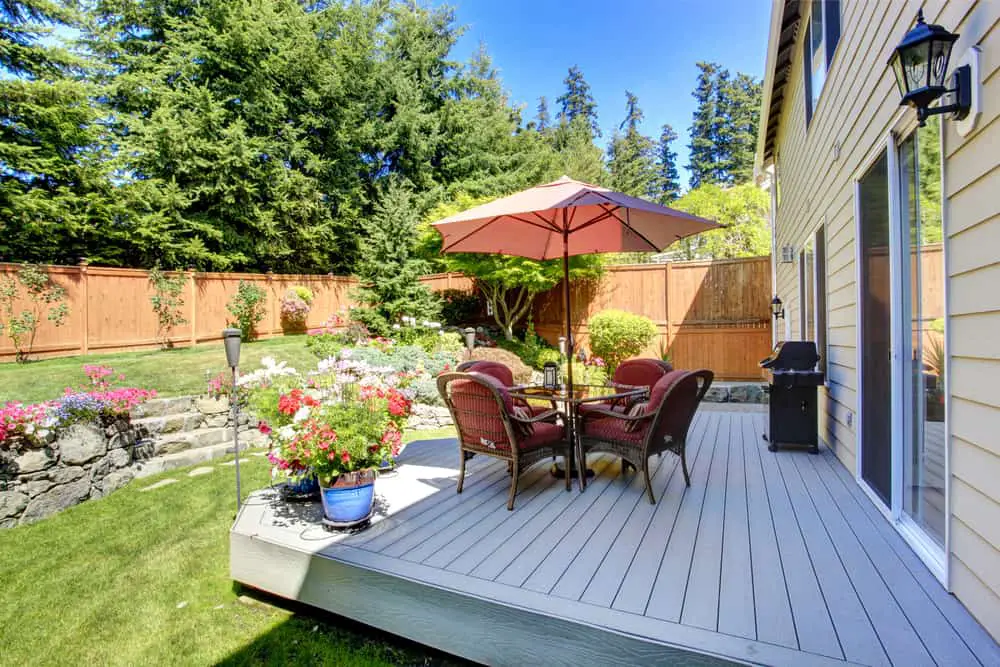 Inexpensive Deck Skirting Ideas
First, consider what the primary purpose of your deck skirting is going to be – are you hoping to keep animals away, or use the space for storage, or is the skirting just there to look good?
Also, look at the size of your deck and how much skirting you'll need. A large deck may mean you have to use the most inexpensive materials to keep the cost down, but you could use more expensive options if you have a smaller area to cover.
You'll also need to think about how easy it will be to maintain your skirting. Some inexpensive deck skirting may need to be replaced after several years, while others will last decades.
Wooden or wood lattice skirting needs to be revarnished to keep it weatherproof, whereas a brick skirting will require little maintenance.
Local climate and weather is also a deciding factor; you might choose to avoid materials like metal or wood, which may rust or rot faster in coastal areas. Composite materials designed to look like wood paneling offer better endurance in harsh weather.
Aesthetically, you'll want to settle on a combination of deck and deck skirting that looks good to you. If you want a more modern look to your deck finish, you may want to go with metal, while stone skirting and wood decks have a lovely natural feel that integrates seamlessly with the garden.
Inexpensive Wood Deck Skirting
Using wood panels or decking boards can give your wooden decks a finished, solid look while preventing animals from entering. Use wooden panels nailed in horizontally to give the feel of shiplap or vertical wooden slats for a different look. You can combine different widths for an interesting effect. They are also great inexpensive deck skirting options.
Wade Of All Trades has an instructive video on how to build deck skirting yourself using horizontal slats and landscape fabric –
Wooden panels are a great way to use excess lumber from other home renovation projects, and people have found ways to use reclaimed pallets to make their deck skirting – often salvaged free.
Remember you will need to leave a slight gap between each board to allow air circulation. Wooden boards can be stained and varnished for extra protection from the weather or left to fade naturally to silver.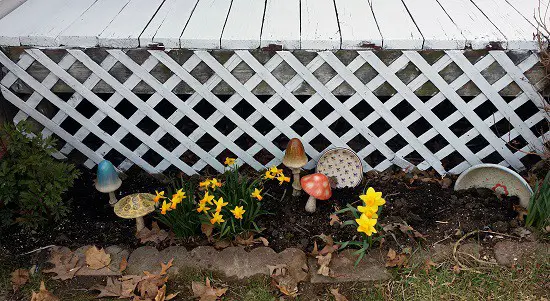 Inexpensive Lattice Deck Skirting
Lattice panels are one of the cheapest inexpensive deck skirting options to buy and relatively easy to install. Decorative lattice panels make a great, quick, and reasonably inexpensive method for building deck skirting. You can buy them in premade panels of wood or vinyl composites.
Wooden lattices can be left as is, treated with varnish, or painted to match your house. Vinyl lattice comes in different colors and does not need to be treated. They are durable and will save you money in the long run as they will not need to be replaced for a long time.
Decorative lattices can be installed as solid fixtures, or you can use hinges to create moveable panels allowing you to use the space under your deck for storing goods like pool pumps or large garden tools.
Because of the holes in the lattice, these panels will not prevent animals from getting under your deck, but you can also back the lattice with quality landscaping fabric or lumber. They could also be used for a veranda.
Life Happens Let's Fix It has a thorough step-by-step video you can watch before installing vinyl lattice as deck skirting —
Inexpensive Faux Stone Deck Skirting
Stone skirting against a wooded deck looks stunning and gives a natural feeling that goes well with any garden. However, stone can be costly, so you can get the look with faux stone panels like these Smoke Gray faux stone veneer panels from Lowe's for $183.90 a pack, enough to cover 50 square feet.
Made from lightweight plastic panels, they are easy to install, can withstand extreme temperatures and U.V. rays, and are incredibly low maintenance.
If you're looking for the aesthetics of stone but want a cheap and easy material for you to install yourself, these faux stone panels are a fantastic inexpensive deck skirting option.
Inexpensive Metal Deck Skirting
If your goal is to stop any animals from getting in under your deck, and you like a clean, modern aesthetic, then have a look at metal skirting. You can also use metal skirting to hide storage space under your deck.
Metal skirting is low maintenance, weatherproof, and lasts a very long time due to the material's durability.
Easy to install, the metal skirting will not be damaged by weed-eaters, and it can be painted to suit your taste and style and prevent rust from being an issue.
The downside of metal skirting is that it will cost more than lattice panels or faux stone skirting, at approximately $849.76 for a 50 pack of galvanized metal skirting panels from Lowe's.
We have loads of other deck advice on the site and have listed some below. If the information you need is not listed try a search as new content is added by the day!
Conclusion
You can fashion inexpensive deck skirting on a budget by using inexpensive materials such as faux stone panels or vinyl lattice panels, which are hardy, durable, and easy to install. Natural materials for skirting such as wood, stone, or metal may cost more and be more labor-intensive but give stunning results.
Always consider the look of your home and your reasons for your skirting before deciding what material to use, and factor in how much maintenance each type of skirting requires.
References