UV Protection For Composite Decking
Composite decking can look like rustic wood on a patio or porch. When choosing composite decking, the durability of this kind of decking is a crucial factor. Also, the comparatively lower maintenance costs. But composite decking is not a maintenance-free option. Composite decking requires protection against weathering and intense ultraviolet rays.
Composite decking is like natural wood weather in the sun and must be protected against active ultraviolet rays. Composite decking is prone to UV damaging rays that cause solar aging and discoloration. Protective layering is molded into composite decking and works like sunscreen.    
UV rays have a drying effect on composite decking, made up of a blend of materials – reclaimed wood, sawdust, and plastics. Composite decking does fade and even looks unnecessarily distressed and needs to be protected against the harshness of the sun's ultra-violet rays. What follows is a look at what can be done to UV protect composite decking.
UV Protection For Composite Decking
Composite decking is mainly chosen for its resilience and as an eco-friendly option – combining recycled wood and recycled plastics. When we think of composite decking, we believe this kind of decking can withstand or rather stand up to the harshness of the sun. We know that composite decking can weather rain and moisture. But composite decking is not UV resistant.
Composite decking is engineered to fight a weather-beaten look from the continuous exposure to the harshness of the sun's rays. Compared to wood, composite decking is more durable but not exempt from the sun's rays. The synthetically compressed new wood stands up to that of natural wood.
Wood quickly dries out if not treated. This is why composite decking has an advantage. Wood easily splinters when dry, which doesn't happen to composite decking. And in extreme moisture or with rain, wood gets sodden and even rots away. Again, composite decking has the advantage of not getting waterlogged. But composite decking, like wood, is prone to the effects of UV rays.
Composite wood is a preferable option when it comes to hardiness, especially the effects of moisture and bugs! Composite decking as compressed recycled wood and recycled plastics is hardier – it doesn't rot or splinter. And whereas wood is prone to insect and bug infestation, composite wood is resistant to bugs, borer beetles, or any infestation.  
Neither natural wood nor composite decking is resistant to the effects of ultraviolet rays, though. Composite decking, as sturdy and engineered as it might be, is also prone to the damaging effects of the sun's ultraviolet rays. Composite decking fades in extreme weather, of which the sun's UV rays are the most damaging.
we also have an article on some of the best composite decking options if you are worried, or do need to protect your deck from the Sun in your area.
Factory UV Protection In Composite Decking
Composite decking manufacturers set out to deliver deck flooring beyond natural wood's weaknesses – the frequent painting and oiling of wood, for one. Also, wood splintering from dryness, rot in the rain, and proneness to bug infestations. The labor-intensive looking after wood aspects are built-in pluses in composite wood. 
The aim in the design of composite decking is a product that can withstand most of the woods' so-called weaker aspects. Composite decking can stand up to extreme weather conditions. Wind and rain are included in these. Some composite decking is also designed to stay cool in the scorching sun. But composite decking does fade in the sun.
Composite decking, already in the factory and while compressing wood and plastics as raw materials into a board shape, is considered a key outcome of durability. The durability contrasts what natural wood lacks – drying out and splintering. Composite decking is known for its ease of maintenance and durability it has.
But composite decking does not entirely escape the damaging effects of the sun's ultraviolet rays. The decking is prone to fading, discoloring, and a surface film or layer that quickly picks up scratches. Newer products are scratch-resistant. Some are even fade-resistant but fade. Though wood decking is easily sanded, oiled, and repaired (even painted), this is not the same for composite decking.     
Protect Composite Deck From Sun Damage
What happens in the factory, how the making of composite decking emulates the look of wood, is not an ultraviolet-proof product. The final product is often slick, and the new wood composite is as attractive as natural woods. However, composite decking's durability and ease of maintenance don't stop the sun's harmful rays from affecting the look.
In the factory, in shops, and when just installed, composite decking looks immaculate – like wood, and some even say better! In nature, composite decking is prone to the same distress from the sun's UV rays as wood. The outcomes are similar in the effects of ultraviolet rays on composite wood. Primarily for composite decking, the fading or discoloration quickly looks disheveled.
In manufacturing composite decking in a factory, the look is as attractive as natural wood. Some even think that composite decking planks are better than natural wood planks. It's when installed that UV rays change the appearance. Continuous designs in Nanotechnology research look at bettering composite wood.
The outcomes are to secure a better look once installed. In-built protective layers are part of the manufacturing process. And one of the things you wouldn't want to happen is to see your deck turn grey and lose its' luster. Though, you must know that composite decks fade, discolor, and even look shabby if not taken care of.
You could also look into alternatives to wood for you deck liek rubber, aluminium, or fibreglass, we have an article here with advice and suggestions.
Decades-Long Guarantee On Composite Wood
Though composite wood guarantees at least 20 years of durability, this does not include UV ray protection. Ultraviolet rays cause discoloration on composite decking. This happens mainly in the initial stage when decks are rigged up. This is also despite the manufacturing process claiming minimal fading.
The sun's harsh rays affect composite decks, mainly the differences between new and decks installed a time back when you place a new sample against the old. Composite decking has a lifespan of more than two decades, yet not totally exempt from the power of ultraviolet rays.
The heat and drying-out effects make even these most eco-sensitive decking options look shoddy if not taken care of. The sun's radiation, especially the ultraviolet rays, is part of the reason for composite decks retaining heat and even getting damaged.
Though composite decks are the greener option, made of recycled and factory-made planks are often called the greener option for decking. Forests aren't depleted, and the decking is made of composite materials, even plastics. From an ecological point of view, the deck is a choice. Yet, not saved from the intensity of UV rays, though.  
Composite wood won't rot or become infested by bugs and beetles. The decking doesn't need to be oiled or painted, but it must be kept clean. Mostly a broom, mop, and soapy water do the trick.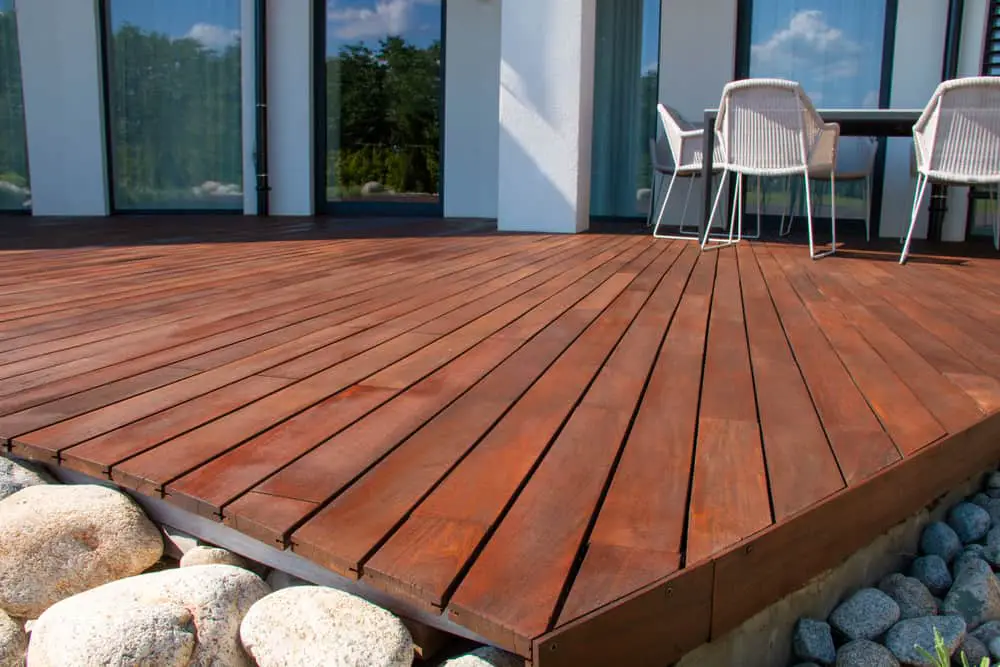 UV Protection Is A Key Factor
As a starting point, specifically, as we are used to wooden decks, one invariably compares wood with the composite decking options. It is often thought that wood is the superior choice, despite its high maintenance. Also, that composite decking is a weaker option. This is not the case, though. Composite decking has the same strength as wood.
The oiling and painting are some of the high-maintenance aspects that make many prospective deck builders choose composite decking as an option. Wood is affected by UV rays differently, and mostly this is handled with frequent oiling and even painting of wooden decks. Composite decking is also comparatively easy to install.  
We know wood is prone to drying out and splintering from excessive UV exposure. This is another reason why composite decking is a preferred choice. Though composite decking is durable, this kind of decking is also affected by the sun's heat, dryness, and even scratches on the planking.
Though composite wood, though sun damage, does not splinter, it picks up scratches that are difficult (if not impossible) to remove. Sun-damaged composite decking with scratches can't be sanded, oiled, or painted. The scratches are sometimes from neglect to wash and clean composite flooring – a film or a layer of dirt gets engrained in the decking.
The easiest way to clean a composite deck is a soft broom, regular sweeping, a bucket of soapy water, and regular mopping! Scratches are picked up when deck furniture is moved on the film of dirt. It is essential to stop a composite deck from picking up scratches, which also means taking care when moving furniture. This also deals with the effects of UV on the deck.
Natural Ways To Protect Composite Decks Against UV
An alternative way to protect composite decking from ultraviolet rays is to carefully select the place to construct the deck. What is recommended is that the planning of the patio should take account of the effects that UV rays have on composite wood – an aging and fading look. It is possible to avoid a distressing look for composite decking by where the deck is built.
Composite decks are best placed in areas that do get shade. This is a way of minimizing the influence of ultraviolet rays. Usually near a big tree that partially shades the deck. Or by planting trees that can shield the composite decking from the sun's UV rays in the future. As this is not always possible, there are several other considerations too.
A composite wood deck can be protected. Many manufacturers and installers recommend that shade be created. If not natural through trees, then you can add a pergola. The pergola can span the full size or even be placed in a position to cast enough shade on a composite deck and stop the sun's damaging effects.
To protect a deck from UV damage, some designers of composite decks suggest an awning in a pergola. The planting is a decorative element that stops the composite deck from getting shoddy, grey, and over-exposed to UV rays. Or, more permanently, vines and other climbing plants are recommended as a protective layer against the effects of UV on composite decking.
Outdoor designers also look at cozy options, both as a look and as a way of stopping protecting the composite outdoor decking. The easiest is to install awnings – retractable ones give more options. Or roller shades, some designers suggest that UV protection can be gained from manipulating these shades for sun and air.
You could also add blinds, especially bamboo ones, to provide shade for seating that'll stop the composite decking from getting too hot. This form of shading also will eliminate the decking from aging. Continuous exposure to the sun does lead to a gradual discoloration. This is particularly evident in hotter regions with extreme sun and heat.
Composite decking does fade in the sun, and the ultraviolet rays are the key culprit. Research is still underway to see how to deal with this. The key issues are how to limit the amount of fading. This is important as, unlike wood, this maintenance aspect differs. Some say the fading only happens once; after that, the composite decking is set – like your ever-popular faded blue jeans!
So, no need to despair over the possible damage from UV rays to your composite decking – there's always a tree's shade, a pergola, or trellis. Sitting under a vine growing over a pergola also sets the scene for romantic rendezvous! And protect the composite decking for the decades the manufacturer's specifications say it'll last.
We have loads of other deck advice on the site and have listed some below. If the information you need is not listed try a search as new content is added by the day!
Conclusion
Blocking UV rays to stop getting composite decking ruined is an ongoing quest. For now, take the appropriate care, keep the deck washed and clean, install a pergola with an awning, or plant a mini forest! The engineering of composite decking is protected and will not even fade easily in the sun's UV rays.
The original fading is limited, and the duller color should not be a concern.
It takes a summer to settle the initial fading. After that, with planting and mopping, your composite deck might not show the effects of ultraviolet rays. Though take note that it is a human-made material, and the onslaught of UV rays is a blight on all forms of decking, even composite ones.
References