Decking Options Other Than Wood
When it comes to decking, most people know that wood has been the go-to for many years, but that has slowly changed as new and innovative materials have popped up in the market. I had to choose a decking material recently and wanted a material that would last longer than traditional wood decking. It made me wonder about decking options other than wood.
There are many decking options other than wood on the market these days, such as composite decking, vinyl decking, PVC decking, rubber decking, aluminum decking, and fiberglass decking. These decking options can last years with proper maintenance and have some extended warranties of up to 25 years.
The wood decking I wanted something different for my decking, so I contacted a contractor to get a bit more information. I did some additional research to make an informed decision on the best decking option that would suit my family. I wanted to share the different decking options that don't include wood.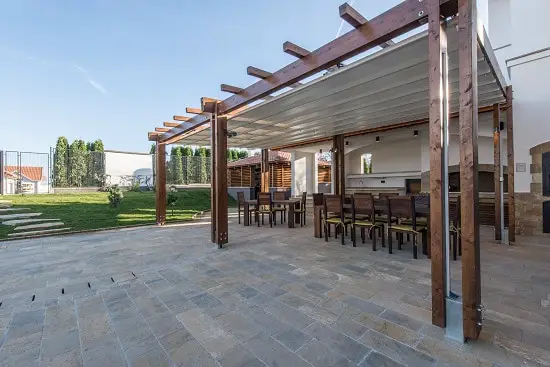 Decking Options Other Than Wood
While wood is easily one of the most used materials for decking, it doesn't hold up well against time and the outdoor elements. There are a few alternatives and other Decking Options to using wood as decking material, and the ones we will take a look at in this post include:
Composite decking
PVC/vinyl decking
Rubber decking
Aluminum decking
Fiberglass decking
More Information On Composite Decking
Composite decking has become a popular options people choose as alternative Decking Options to wood for decking. Composite decking was first introduced as a viable decking material in the 1960s. The first composite decking was not as durable as the later versions as it did not have a protective layer.
This protective layer has UV protection against fading and protects the composite decking from water, rot, and mold damage that the previous versions had issues with. There are three main types of composite decking available. You get composite decking in three forms;
25% wood fibers and 75% plastic,
50% wood fibers and 50% plastic,
25% plastic and 75% wood fibers.
The best composite decking you can use to ensure you get the best befits is the 75% plastic and 25% wood fiber decking. Composite decking comes in planks with tongue-in-groove sides so they can snap in place for easy installation.
The Pros Of Using Composite Decking
When you choose to use composite decking, there are advantages that you need to know about.
Composite decking is constructed to look like real wood, but it's a much sturdier material than wood,
You are using mostly recycled material, so it's environmentally friendly,
The protective layer helps keep the decking safe from insect infestation,
You can use hidden fasteners on the bottom to create a seamless look. It also protects your fasteners and screws from wear and tear and exposure to the elements.
There are non-slip textures to choose from, so you won't need to worry about accidents in wet weather.
Composite decking is water, fire, mold, and fungus resistant, making it perfect for areas with a lot of rain.
It's easy to maintain. You don't need to paint or restain a composite deck as you would with a wooden deck, and to keep it clean, you can use water and mild detergent.
Composite decking is less expensive than wood decking and will save you more in the long run with minimal maintenance that involves spending money (like on paint or stain).
The Cons Of Using Composite Decking
While composite decking is a great alternative to wood decking, there are still a few cons to keep in mind, such as:
While it is less expensive than most wood decks, initially, it is more expensive than pressure-treated wood.
While composite decking is more durable than wood, it is susceptible to rot after rainy seasons as it is made partly of wood fibers. So you must treat it against rot before the rainy season.
The decking might warp with time, and the sides of the composite might get mold if the composite decking was installed incorrectly.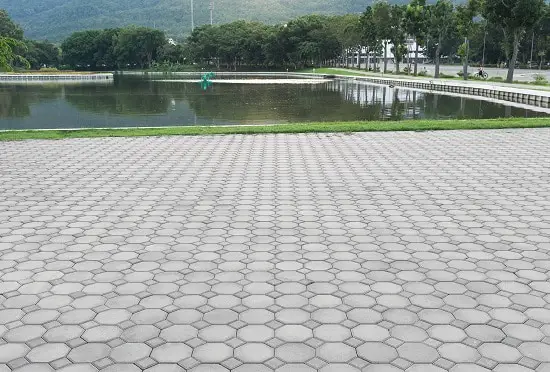 More Information On PVC/Vinyl Decking
One of the more interesting decking options is vinyl, also known as PVC decking. There are two types of PVC decking; one type is a flexible thin plastic plank that can be installed over a wood substructure. If you do not have a wood substructure, it would be best to get the help of a professional contractor to install the vinyl decking.
The other type of PVC/ vinyl decking looks exactly like composite decking. These planks are thick and can be hollow or solid tongue-in-groove planks. Vinyl decking is made from polyvinyl chloride and is strong. Most manufacturers of PVC/vinyl decking boards give 15-20 year warranties, which makes investing in plastic decking boards worthwhile and can provide some useful Decking Options.
The Pros Of Using PVC/Vinyl Decking
There are many advantages of using PVC/Vinyl decking that make it worth installing.
PVC/vinyl decking has a protective layer that helps protect the decking from fading, making it water, rot, mold, and warp-resistant.
PVC decking won't warp under harsh conditions.
It's a durable decking material that comes in various styles and colors. Many styles look like wood and even have grain patterns on the boards.
PVC/vinyl decking is lighter than wood and composite decking by around 40%, so it's easier to work with.
Some manufacturers and brands have a non-slip surface coating if you want to avoid accidents or the decking is near a pool.
The protective layer has UV inhibitors that keep it from fading in the sun over time.
It's almost maintenance-free as you only need to wash it with mild detergent now and then.
The Cons Of Using PVC/Vinyl Decking
PVC is one of the toughest decking materials, but it has a few drawbacks you need to remember.
PVC/vinyl decking is more expensive to install than most wood decking options, but you save on maintenance costs in the long run,
Depending on the brand, some cheaper quality PVC/vinyl decking boards might fade over time despite the UV inhibitors,
Dark-colored PVC/vinyl decking boards can be uncomfortable to walk on in the summertime as they retain much of the sun's heat, so you may need to install a shade over the deck to keep your feet from burning,
The cheap, lower-quality PVC decking might look fake and have a plastic sheen,
More Information On Rubber Decking
We know that rubber flooring works well in garages and high-traffic areas, but there are interlocking rubber decking tiles that you can install that are perfect for outdoor use. The product is made from microporous high-density rubber, making it water permeable.
The rubber decking tiles are soft and very comfortable to walk on. Because the tiles are made from rubber, they are durable and will last a long time when exposed to the outdoor elements. They are also fire-resistant and have a long life span.
The main drawbacks to using rubber decking tiles are that you need to use petroleum-based solvents like thinners, and you will need to compress the ground where the deck will be beforehand, or the tiles might move around and become uneven. They are another Decking Option to consider instead of wood.
The Pros Of Using Rubber Decking Tiles
Some pros to using rubber decking tiles are enough to convince you that it's a choice. A few of these advantages include:
The rubber decking tiles are porous, so they have a non-slip surface that helps avoid accidents in rainy weather,
The composition of the rubber tiles makes them resistant to rot, insect infestation, and warping over time,
Rubber decking tiles come in various colors and shapes to suit most home styles,
They absorb water, but it won't affect the rubber tiles negatively as the material is very dense,
They come in tiles, making them easy to install, maintain and replace if one has a defect or gets damaged,
You don't need to use any glues or adhesives to install rubber decking tiles, so you can easily remove and relocate them,
They are a great choice for high-traffic areas as they don't damage easily.
The Cons Of Using Rubber Decking Tiles
While rubber decking has many advantages, there are a few drawbacks that might influence your decking choice.
Rubber decking tiles need a base support structure of either wood or concrete as the decking can't be used to give structural support,
While covering a deck that is not too large is not too costly, if you are covering a larger decking area, it might become an expensive option,
It can become time-consuming if you are installing the rubber tiles yourself in a larger decking area,
You might not get the perfect seamless look you want.
More Information On Aluminum Decking
Aluminum decking has become a popular option if you want a durable industrial look that will outlast wood. The aluminum boards are extruded in much the same manner as composite decking boards and are made to go on top of an existing substructure.
Aluminum boards look like most other decking boards and are manufactured to the same width and length standard decking boards are made with. If you live near a coastal or rainy area, aluminum decking is a good choice as it is more durable than other decking materials.
The Pros Of Using Aluminum Decking
Aluminum decking has not been around for long, but its many advantages make taking a chance on the new kid on the block worth it and is another Decking Option worth considering.
Aluminum decking can be more expensive than wood and comes at a higher price than other decking materials it should last longer however,
Aluminum decking is waterproof, durable, and recyclable, making it a great option for those looking for an eco-friendly option,
Aluminum decking has many resistant properties, including being resistant to mold, mildew, rot, rust, fungus, and insects.
The Cons Of Using Aluminum Decking
When deciding on a decking material, you need to remember they have a few drawbacks.
Aluminum decking material has a noisy surface that can be irritating over time,
You are limited in the amount of styles and colors as aluminum decking is still a new type of decking material,
It can get rather hot if you don't have rugs or runners to protect your bare feet in the hot summer months.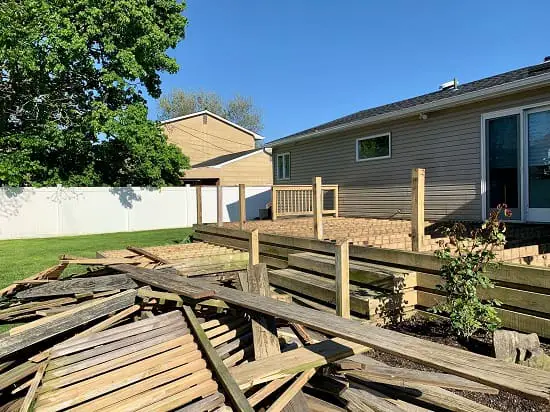 More Information On Fiberglass Decking
Fiberglass decking is your best bet when looking for a durable decking material that can handle extreme outdoor conditions in places like the coast.
The harsh salty, and humid air won't affect the fiberglass decking as it will affect wood and other decking materials. Wood can rot and lose structural stability in the salty ocean atmosphere, so fiberglass decking works great.
The Pros Of Using Fiberglass Decking
There are a few great benefits of using fiberglass decking that you might not know.
It's a great decking choice for areas that get a lot of rain and areas that are close to the ocean,
Fiberglass decking is worth buying as it is more affordable than hard wood decking,
It's durable, rot and insect-resistant, and it won't turn yellow with time,
Fiberglass decking is easy to maintain as you only need to wash it regularly, and it won't rust.
Fiberglass decking is easy to cut to size and install.
It won't warp or change shape as time goes on or if it is exposed to extreme hot or cold weather.
The Cons Of Using Fiberglass Decking
Fiberglass is a fairly new form of decking and far from perfect, so here are some drawbacks to using fiberglass decking.
It gets slippery when wet, so you may need to get rubber mats or runners,
It can chip and scratch over time
Depending on the quality of the decking boards, the color might fade,
While fiberglass decking is not as expensive as other decking materials, it's still more expensive than wood decking,
The fiberglass decking boards might be affected by mold, so you must treat them with an anti-mold product every few months.
We have loads of other deck advice on the site and have listed some below. If the information you need is not listed try a search as new content is added by the day!
Conclusion
When looking for alternative decking options to wood, you might want to look at rubber decking tiles, composite decking, aluminum decking, fiberglass decking, and PVC/ vinyl decking.
These different decking options have benefits and drawbacks, but if you are determined to have a deck that lasts for years and has very little maintenance, these are great options to look at.
References