Best Composite Decking Material
It's not too long ago that wood was about the only available decking material. Since then, the decking industry has exploded with new and innovative decking materials. I had to make a choice recently that led me to explore all the different kinds of decking material available at the moment, and I wanted to know what the best composite decking material is?
If you are looking for durable decking material, you won't go wrong with composite decking. There are many options to choose from, like, recycled 100% PVC, recycled plastic, bamboo, and wood fibers. Most composite decking comes in molded, pressed, solid or hollow, those with and without end caps.
Many options are available to build a deck, but I started researching composite decking more. I wanted the best composite decking material, so I contacted a contractor to find out more. He gave me some interesting information I wanted to share as I know I am not the only one curious about composite decking.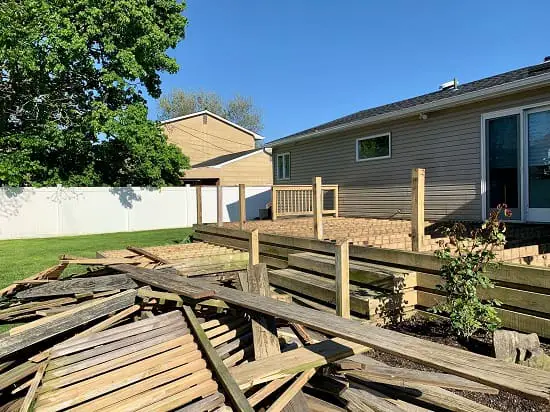 Best Composite Decking Material
Suppose you are considering installing a new deck and have your eye on composite decking material. In that case, you are probably worried about the different kinds of composite decking materials. We will discuss important information like the pros and cons of each, and which kind is best for your needs.
Reclaimed Plastic And Wood Materials
One of the best examples of quality decking is made from 95% raw materials and is manufactured by Trex. Trex decking boards are compression-molded planks that sometimes come with an extruded outer shell. These materials are made from recycled and recovered plastic wrap and plastic bags with waste wood fibers.  
To make their composite decking, Trex buys around 300 million pounds of reclaimed and recovered (polyethylene) plastic and hardwood sawdust. Trex gives a limited 25-year warranty (pretty standard for composite decking) and an extra 25-year stain and residential fade warranty.
When you decide to install composite decking, you must ensure you know as much about the material you will use to make an informed decision. We will look at the brand Trex in more detail. So below, we have listed all the advantages of Trex composite decking.
Cons Of Reclaimed Plastic And Wood Material Composite Decks
Just like there are advantages to using Trex composite decking, there are also disadvantages. Here are a few of the cons:
Trex composite decking is less expensive than other decking materials but is still more expensive than some wood decking materials.
While the maintenance is less than other decking materials, some maintenance is still required.
If you choose the incorrect style of Trex decking, it might be slippery, so you will need to add an anti-slip sealant to ensure no one gets injured when the deck is wet.
PVC Composite Decking
The second composite decking that we will look at is PVC composite decking. One company that stands out in this regard is TimberTech (Aztec). They offer decking that is a blend of PVC and other plastics but has a realistic wood grain top finish. Over the years, TimberTech has branched out and now makes composite decking, including PVC, wood, and other plastic decking materials.
Some don't see PVC blended polymers as composite decking, but companies like TimberTech (Aztec) make PVC decking that has some wood fibers embedded into the decking boards and some that are 100% PVC.
These types of composite decking have warranties between 30 and 50 years, depending on the type you choose. They have a long list of advantages and a few disadvantages that you will find to make it easier to choose the composite decking material that will work best for your needs.
Pros Of PVC Composite Decks
If you want to look at PVC decking, there are quite a few advantages that might be perfect for you and your home.
Cons Of PVC Composite Decks
Below are a few of the disadvantages to using PVC composite decking as your choice of decking:
PVC composite decking is much more expensive than other types of composite decking as you only need to install it once or twice in a lifetime.
You may need to add an anti-slip sealant.
You might have to do minimal maintenance; it still requires some maintenance as you need to clean the decking with soap and water regularly and reapply the anti-slip sealant to keep you and your family from accidents in rainy conditions a spill of some sort.
The PVC in the decking boards gets extremely hot during the summer and can be uncomfortable walking on.
Bamboo Composite Decking
The next innovative composite decking is the brainchild of Cali-Bamboo, a decking company that has been operating since 2004. They make TruOrganics surface and decking planks, interior flooring, and BamDecks. Their BamDeck bamboo composite decking is unique as it incorporates 60% bamboo fibers and 40% recycled plastics.
Their TruOrganics range is made from 100% recycled wood and is the most expensive composite decking at the moment. Their BamDeck products come with a 15-year residential and 10-year commercial warranty. Their line of decking boards comes in three different colors, nine different installation styles, and four different finishes.
Keep an eye on traction and slippiness with these materials. you can read more here in our non slip decking article.   
If you are looking for decking that is unique and environmntally friendly, you might want to look at the advantages of bamboo composite decking. Some of the pros of using bamboo composite decking include:
Bamboo decking is LEED qualified.
Bamboo decking is termite-resistant.
Bamboo decking is environmentally friendly as it is made entirely from recycled materials.
Bamboo decking is weather tested and moisture-resistant.
It looks more natural than other composite decking materials.
It comes in various finishes, styles, and colors to suit all outdoor themes.
Cons Of Bamboo Composite Decking
When using any composite decking material, you have to look at its advantages and disadvantages. Here are some of the disadvantages of using bamboo composite decking:
Bamboo decking is at the high-end scale when it comes to expense. It will not work if you are looking for a budget-friendly option.
It's not entirely fire or waterproof as it is made mostly of wood and can warp and bend under extreme weather conditions.
It has roughly the same amount of maintenance as wood decking, meaning it needs to be resealed at least once a year.
It only has a 15-year warranty for residential and 10 years for commercial use.
If you don't seal it, it can stain and scuff.
You can't use harsh chemicals to clean Bamboo composite decking as it will damage the top layer of the decking.
DuraLife decking is a company that has only been around since 2018, but they pride themselves on manufacturing their decking material 80-90%  from post-industrial and post-consumer material. Their decking is made entirely from raw sourced materials they source within a 500-mile radius of their location.
They don't use any chemicals or toxic materials like formaldehyde. DuraLife composite decking has a 25-year warranty. They are made with a hard polypropylene outer shell to help them last longer.
Pros Of Post-Industrial And Post-Consumer Composite Decking
Knowing the pros and cons of the composite decking you choose is best. Here are the pros of using post-industrial and post-consumer composite decking:
You will be buying composite decking made from 100% recycled and scrap material, which is very environmentally friendly.
You get a 25-year warranty, so if something happens, you are covered.
They are made free from preservatives, harsh chemicals, and toxic materials.
They are made to look like wood grain and come in natural, earthy tones to suit most outdoor spaces.
They are resistant to insects and mold.
Cons Of Post-Industrial And Post-Consumer Composite Decking
Knowing the ins and outs will help you make the best decision for your deck if you want to know more about using post-industrial and post-consumer composite decking. Here are a few disadvantages of using this type of composite decking.
You might have issues keeping the decking clean as experts say you can't use a pressure washer when you wash it, as you might damage the decking material by wearing down the top protective layer.
It's not as expensive as the bamboo composite decking but not as affordable as regular reclaimed plastic and wood composite decking.
You can't use harsh chemicals like bleach when cleaning, so you might not get any stains out of your decking planks.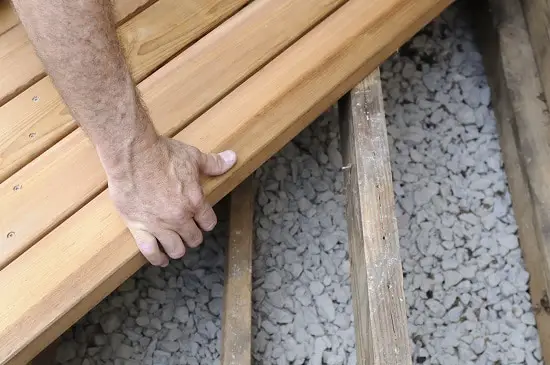 No matter what type of composite decking you will use, you will find that you can choose between solid or hollow composite planks; the question is, what is the difference?
Hollow Core Planks
Hollow composite decking planks are made with cylindrical hollow cavities at the core of the plank. These cavities make the hollow core planks weigh less and are less expensive than the solid core planks.
The hollow core is more appealing to the customers as it allows you to hide cables better and is a little less prone to warping than the solid core planks. The drawback to using hollow-core planks is that they tend to hold water in the hollows, leading to warping and mold from growing. So it will cost more as you need to use plugs or side caps to keep the water out of the cavities.
We have loads of other deck advice on the site and have listed some below. If the information you need is not listed try a search as new content is added by the day!
Solid Core Planks
Solid core planks look more like natural wood than their hollow core counterparts. They are easier to manufacture, and they absorb sound better. They don't need to use fasteners and caps to keep water out of the core.
 The drawback to solid core planks is that they tend to warp easier than hollow core planks. They are also heavier than hollow core planks.
Differences Between Capped And Uncapped Planks
Besides the composite decking planks themselves, you need to consider if you want your composite decking planks to be capped or uncapped. It might cost more if you do decide you want to install caps, but there are options where you don't need it.
Capped Planks
Capped composite decking planks are made with a top layer of protection that has UV inhibitors and antioxidants to keep the sun from fading the color and keep the planks safe from the elements that can destroy the planks after some time.
Uncapped Planks
Uncapped planks are much harder to come by these days. They were the first kind of composite decking that came out in the 1960s. These planks have no protective layer to keep them from fading from the sun and the natural elements and leave the planks open to deterioration.
Some consumers like to stain, paint or seal the decking to suit their needs, but it might not last as long as the capped planks. The newer composite decking materials don't always come in uncapped planks.
Conclusion
When you want to install composite decking, it's important to look at all the available types of composite material. No matter what you choose, you are helping the environment as your decking will be made from reclaimed and reused materials helping to lessen the stress on the environment.
Composite decking lasts much longer than most other decking options. With proper maintenance, your composite decking can last up to 30 years, with some companies claiming your decking can last 50 years and more.
References