Best Pressure-Treated Wood For Decks
We recently decided to redo our deck as the one we had was damaged in a severe storm. We are avid DIYers, but we had never taken on a big project like building an entire deck. We wanted to get supplies and use materials that would be durable, long-lasting, and affordable. We went to a hardware store to get more information on the best pressure-treated wood for decks.
There are three grades of pressure-treated wood. Pressure-treated wood is usually the most dominant type in an area. When looking for durable wood for a deck, you can use above grade, ground-contact use, or below grade for the decking and a mixture of all three for better structural integrity.
I didn't know much about pressure-treated wood, why it's preferred to use when building decks, or the difference between the two grades, but after doing some research, I found a lot of interesting information that helped me understand the topic more. I wanted to share what I found about the best pressure-treated wood for decks.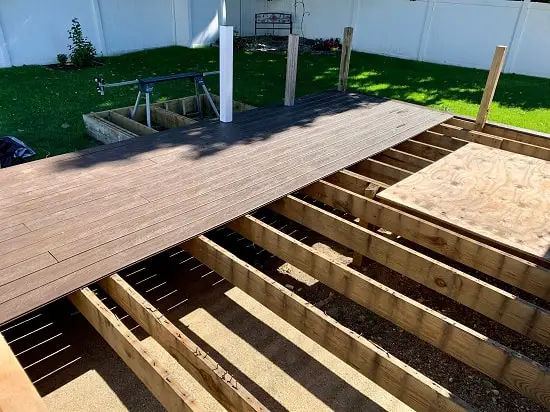 What Are The Best Pressure-Treated Wood For Decks?
When you need to buy pressure-treated wood for building or fixing a deck, there are three grades of pressure-treated wood that you can use as decking material.
It's important to buy the right kind of decking material for the different parts of your deck. We will share the best wood to use and where to use it during the post. The next section will discuss the three grades of pressure-treated woods.
The Three Different Grades Of Pressure Treated Wood
When you need to redo your deck, or you want to build a new one, the logical wood that jumps out at you is pressure-treated lumber.
Pressure-treated wood is the go-to wood to use for decks and balconies as it's stronger than the other types of wood, lasts longer, and is treated against the things that cause decay and damage to wood generally, such as fire, wood rot, mildew, mold and bugs that love to eat the wood such as termites and carpenter ants.
The way pressure-treated wood is rated is according to the pounds of preservative a cubic foot of wood retains. The higher the retention of the wood per cubic foot, the better the wood is protected against the common issues mentioned above like fungus, mold, and bugs.
Here are the three different grades of pressure-treated wood:
Above Grade Use: This grade of pressure-treated wood is typically used when building decks, railing materials, and fences. It has a rating of .25, sometimes .15.
Ground Contact Use: This grade of pressure-treated wood is typically used when building posts, decks, beams, and joists. It has a rating of .40.
Below Grade: This grade of pressure-treated wood is used as support posts that are buried below grade, planters, and permanent wood foundations. It has a rating of .60.
It's best to buy the pressure-treated wood that has the highest retention rate of preservatives (below grade)  for your foundation, posts, and beams. The below grade will last longer as the higher absorption and retention rate means it is better protected against the issues that wood is known to have like bugs, mold, and wood rot.
Then buy the medium-grade (ground-contact) for the side skirts and the side panels. This grade works well as it won't come into direct contact with the ground and thus doesn't need to have such a higher preservative retention rate.
Lastly, use the least absorbent and preservative retention (above-grade) wood for the decking boards. This is because the decking boards will have to be treated and maintained at least once or twice a year to keep the wood strong and durable and keep the wood from rotting.
You need to measure the size you want your deck to be careful so you don't buy too much or too little.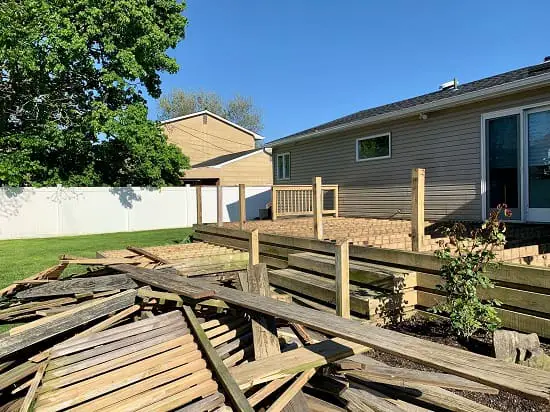 Tips To Buy The Best Pressure-Treated Wood For Decks
When you are buying pressure-treated wood to build a deck, a few tricks and tips will help you buy the best pressure-treated wood for your deck.
When you are buying pressure-treated wood decking boards, buy heartwood as it has a natural preservative oil that helps keep the bugs and water from damaging the wood. So you get double-treated wood.
Never buy pressure-treated wood that is still wet from the preservative chemicals. The wet wood is heavier and much harder to cut and work with. It also shrinks when it's dry so that you will be left with gaps.
When choosing joists and post pieces of pressure-treated wood, get the thickest and heavier pieces to ensure that your foundation and structural integrity is of top quality.
Ask for kiln-dried decking boards when you are buying pressure-treated wood so it can crack if it's not treated for water resistance once a year. So treat your decking once a year to ensure it doesn't crack.
When you are choosing a wood decking material, you need to look out for wood that has too many knots running through the wood grain. Knots will lead to the wood cracking over time.
Being too picky about the wood you use for your deck isn't necessary to get the perfect wood to use. In the end, you can always straighten out the slightly skewed pieces when you nail the wood to the deck.
The time to be fussy is when buying the stair jacks. Look for wood without any knots, as the planks will eventually crack and break where the knots are situated.
Ipe Vs. Pressurized Wood
Ipe is one of the best woods to use for a deck or outdoor project. It is naturally insect-resistant and does not require any chemical treatment. Additionally, Ipe is extremely flame-resistant, which makes it an excellent choice for decking. If you want a deck that will last for decades, Ipe is the way to go.
However, the wood may not be ideal for all decking projects. For those who are unsure of what type of wood will best suit their project, read on to learn more about this wood.
While pressure-treated wood may require regular maintenance, Ipe is a good choice for decks. If it is properly cared for, Ipe wood can last up to 40 years without any major damage.
Moreover, you don't have to deal with the maintenance cost of pressure-treated wood, which can cost you thousands of dollars in the long run. Moreover, Ipe decking can withstand the elements better than pressure-treated wood, so you can rest assured that you won't have to replace it often.
Despite the fact that Ipe is an exotic and expensive type of wood, it's still the best pressure-treated option for decks. Because it is naturally resistant to moisture and insects, it lasts for many years without any major maintenance.
There are some drawbacks, however, including the fact that ipe can be difficult to work with, dulling your tools. You'll also need to use clips to fasten Ipe boards to your deck joists, which will add to the cost. And, shipping costs are a major concern.
If you're looking for a durable and affordable pressure-treated wood for your deck, Ipe is a good choice. It's hard, dense and comes in a variety of colors, so it's easy to match it with any décor. If you're planning on painting your deck, it's a good idea to use a paint color to match your Ipe boards. And once you've painted the boards, you can finish the job with a sandpaper of 60 grit.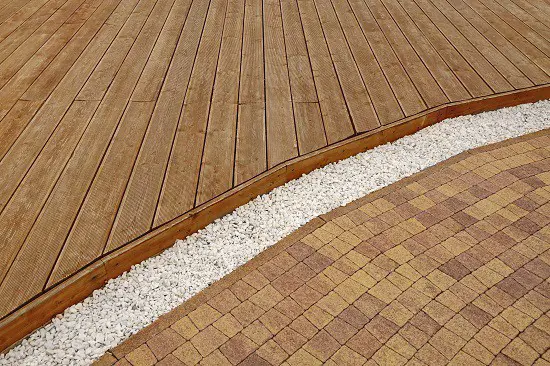 Modified wood
If you're planning to build a deck for your home, you may want to consider using modified wood. This material is made to be incredibly durable and is suitable for any climate. Additionally, because it contains lower moisture content than treated wood, it doesn't experience natural shrinking.
This makes it a better choice for decks in areas with high moisture levels. And since it's easy to stain, painting or applying a finish to the modified wood is a viable option as well.
Other types of wood need regular maintenance, including regular brushing and water baths. Modified wood is splinter-free, but regular care and maintenance may still be necessary. Standard wood can suffer from wood rot, which is a potentially dangerous condition for people with sensitive skin.
When choosing the right type of wood for your deck, you should know the difference between pressure-treated and thermally-modified wood. Pressure-treated wood contains chemicals that kill insects and rot.
Thermally modified wood is more durable without the use of chemicals. Modified wood is ideal for decks as it is resistant to seasonal expansion and shrinkage. Its high heat also removes natural sugars from the wood. Because of this, there are no sugars for mould and mildew to feed off of.
UC4A
The UC4A designation means that the lumber is treated for ground contact. These wood products are best used for non-structural elements that will be easily replaced and repaired. They are also ideal for use above the ground. The UC4A rating is backed by a Lifetime Limited Warranty. Its benefits can be found in many applications, including decks and docks. Here are some of those applications.
While pressure-treated lumber will generally last longer than non-treated lumber, the longevity of these woods depends on climate, use, and maintenance. Pressure-treated wood for a deck can last as long as 10 years without rotting. For maximum durability, you will need to apply a water-repellent sealer annually and clean the woods with a mildewcide cleaner. The recommended lifespan depends on climate, lumber quality, and the type of finish you choose for your deck.
When installing a deck floor, it is important to make sure that the boards are pre-drilled to reduce the risk of splitting. This will reduce the risk of splitting and separating deck boards. Using nails with copper-based pressure-treated wood will also help reduce the chance of splits.
When installing the deck floor, don't forget to use nails that are specially designed for this type of wood. The nails should have a minimum thickness of two inches and should not leave any gaps between the boards.
The final choice for pressure-treated lumber is based on the intended use of the wood. When the wood is intended for use above ground, it is rated UC3A. It should be at least 6 inches above ground and have good air circulation and drainage. Ground-contact uses are difficult to repair and require higher levels of chemical treatment. Moreover, UC3B and UC4A pressure treated lumber are the most suitable for ground-contact uses.
Cedar Vs. Pressurized Wood
When comparing pressure-treated wood and cedar for your next deck, consider the price. Pressure-treated wood is significantly cheaper than premium wood, and it can withstand decades of abuse.
In addition, some brands offer limited warranties, so you can rest assured your deck will look new for decades. While pressure-treated wood needs more maintenance, it is more affordable than premium wood, and the durability is unmatched. You can even buy a lifetime warranty on some brands!
One of the drawbacks of pressure-treated wood is that it fades. Cedar will change color over time, so it may need refinishing every few years. It requires annual pressure washing and refinishing every two to three years. Cedar is most common in areas with high levels of moisture. Despite its beauty, cedar decks can't last for more than 20 years without rot or decay.
Pressure-treated wood can last for 15 years or longer when treated properly. The downside is that it is more prone to warping, bending, splintering, and chipping than untreated wood. Additionally, many pressure-treated materials contain chemicals that are hazardous to health.
Arsenic is one of the chemicals found in pressure-treated wood, and studies conducted by the U.S. Environmental Protection Agency indicate a higher risk of childhood cancer for children exposed to pressure-treated wood.
Pressure-treated lumber costs less than cedar, but requires more maintenance. Cedar is better suited for higher-up installations and climates with less moisture. Unlike pressure-treated wood, cedar does not react with certain metals and can be ruined by moisture. Cedar is also a more attractive choice for decks. Its disadvantages are similar to its benefits, but cedar is more expensive.
We have loads of other deck advice on the site and have listed some below. If the information you need is not listed try a search as new content is added by the day!
Conclusion
When you need to choose the best pressure-treated wood for your decking, you should choose according to the function of the specific wood you need; so for posts and foundations, use the below-grade pressure-treated wood as it is the highest retention rating and will last longer.
The same goes for the decking boards. You can use the above grade pressure-treated wood as it needs to be treated once a year so that it will strengthen with time.
Keep in mind not to use the pressure-treated wood that has not been kiln-dried or is still wet, as it will decay faster and shrink when dry.
References