Which Flooring Is Best For A Terrace?
Outdoor terraces and balconies, just like the interior, are equally crucial to the character and design of a home. There are several options for terrace flooring, but which flooring is the best? This article looks at several terrace flooring choices for a safe and beautiful terrace.
Flooring for terraces like natural stone, porcelain tiles, Terrazzo tiles, concrete tiles, wooden deck flooring, Terracotta tiles, vitrified ceramic tiles, and paving tiles are the most popular flooring choices for a terrace. They offer durability, strength, anti-slip, and are fade resistant.
Terraces are perfect for socializing or just relaxing outdoors. It is essential to make them comfortable, safe, and stylish. Besides comfortable seating, decorations and plants, the terrace flooring should be a vital part of the overall outdoor design. The following ideas for terrace flooring will help you make the right choice for your home.
Best Flooring Choices for Terraces
Several flooring options are available for outdoor terraces like Terracotta tiles, natural stone, wooden deck flooring, ceramic flooring, and more. However, outdoor tiles remain a classic and a much-loved choice for terrace flooring.
Terraces are the most enjoyable part of a home, perfect for any time of the day or year. Enjoy a cup of coffee in the morning or relax in a gentle night breeze under the stars after dinner.
A well-designed terrace can create a beautiful inside-outdoor flow that is an excellent place for entertaining guests or relaxing. Floor tiles are a favorite as terrace flooring and are commonly used instead of stone slabs and concrete floors.
Tiles used for terraces should be heat-resistant and long-lasting. There are several outdoor tiles, but make sure you choose one that is easy to install and maintain.
Safety is a concern with outdoor flooring. Terrace outdoor flooring should be durable, strong, non-slip, and fade-resistant when exposed to direct sunlight.
These terrace flooring options are popular for outdoor use.
Natural stone tiles
Porcelain tiles 
Terrazzo
Concrete tiles
Wooden deck flooring
Composite deck flooring
Terracotta tiles
Ceramic / Vitrified tiles
Block Paving
Materials used for terrace flooring should be weatherproof all year long. The flooring should withstand snow and extreme weather without damage during the cold winter months.
Choosing the best terrace flooring will depend on your personal choice. Terraces that have heavy traffic might need a more durable flooring.
Natural stone tiles
The beauty of natural stone with its rustic looks, warmth, and texture that is highly resistant to extreme weather conditions is a favorite of many homeowners. Natural stone tiles are perfect for outdoor terraces and are available in many options like marble, granite, travertine, and slate. These stone tiles can be machine-cut to standard rectangular or square tiles to perfection.
Natural stone tiles offer a great variety because they have natural grain patterns, and each tile is different from the other.
It should be noted that natural stone is porous and must be sealed to prolong life. Natural stone floor tiles are naturally weatherproof and are easy to maintain.
The rustic beauty of natural stone tiles is unbeatable. Natural stone tiles add warmth, color, and texture when used as a terrace floor. Natural stone tiles are an excellent choice for terrace flooring with weather-resistant attributes.
Natural stone feels great underfoot and is aesthetically pleasing. The only issue with natural stone is that it can quickly get stained and are highly porous. A suitable sealant will take care of that problem, though.
Porcelain tiles
Porcelain tiles are one of the densest tiles, weatherproof and frost resistant, perfect for outdoor terrace flooring. The variety of porcelain tiles lends a unique aesthetic feel to any terrace. Porcelain tiles are typically made from high-quality components, making them perfect for any outdoor space. The water absorption rate of porcelain tiles is 0.5 % and sometimes even lower.
Porcelain tiles are produced from clay-based materials kiln baked at high temperatures. Kiln-baked tiles are highly durable, dense, rugged, waterproof, and non-porous, making them excellent for outdoor use.
Porcelain tiles are available in various colors, sizes, designs, textures, and colors. Choose anti-slip porcelain tiles with a rough surface for your outdoor terrace. The only problem with porcelain tiles is their hardness making them challenging to drill and cut.
Terrazzo
Terrazzo dates back more than 500 years to Italy, when marble was the primary material used by Venetian artisans who used scrap marble pieces from projects to form the material. These marble fragments were placed next to each other in a clay mortar base used on terraces and around homes as flooring.
Terrazzo tiles are a combination of granite glass and quarts. Terrazzo tiles are low maintenance and highly durable, typically poured in place for flooring, walls, base, countertops, and stair treads with either epoxy or cement as a binder. 
Apart from their high cost, the only drawback of terrazzo tiles is that they don't hold heat during cold weather, making the floor cold underfoot. Terrazzo tiles are ideal for outdoor terraces because they are durable and offer unique designs.
Concrete tiles
Concrete tiles are available in intricate designs and patterns that add a distinctively bold design to any terrace. Concrete tiles are typically handcrafted and offer a heritage feel to outdoor terraces. Concrete tiles provide elegant appearances; however, this material is porous, fades and stains easily, and must be adequately sealed to prolong life.
Sealing concrete tiles must be done by applying a waterproofing polymer coating to the concrete tiles. When the waterproof polymer sealant is dry, the concrete tiles can be installed on the terrace.
Concrete tiles heat up quickly, are exposed to direct sunlight, and might be too hot to handle barefoot on hot summer days. On the other hand, concrete cools just as quick in cold weather conditions and might be cold underfoot in the winter.,
Concrete floor tiles can bring bold colors and patterns and a rustic feel to your terrace. Their strength, durability, non-slip, easy to clean and maintain, and non-chip features make them perfect for terrace flooring.
Wooden Deck Flooring
Wood is preferred as terrace flooring by many homeowners. It never goes out of style and effortlessly offers a classic design to traditional and modern homes.
Wooden decking is highly resistant to water when appropriately sealed. Wood feels natural and wonderful barefoot and can be easily installed over an existing floor.
Wood tends to contract and expand when exposed to weather conditions. When selecting wooden decking for your terrace, ensure you choose weathered wood.
Unfortunately, high-quality wood is costly and requires regular maintenance. The wooden flooring must be sealed with a suitable wood sealer to protect it from moisture and weathering. Wood also attracts termites, so make sure you treat the flooring with a termite treatment to prevent infestations.
Wooden decking can be installed over an existing floor, making them easy to install. 
Wooden flooring naturally blends with plants and complements the outdoors perfectly, providing warmth and a rich textured effect. Wood works well as wall tiles if you want to extend the natural wooden look onto a feature wall on your terrace.
Composite deck flooring
Composite deck flooring is a vinyl or wood plastic composite material that looks like natural wood. Composite deck flooring is manufactured in ready-to-install interlocking tiles making installation quick and easy.
This material is durable and long-lasting, and waterproof. Unlike wooden decking, it requires no maintenance other than the occasional cleaning. Composite decking does not contract or expand when exposed to heat or cold. Composite deck flooring does not splinter, and the smooth surface makes it safe for little one's bare feet.
Composite deck flooring does not fade when exposed to UV rays. This material contains plastic and can become warm on hot days. Composite deck flooring is ideal for terrace flooring because it is cheaper than natural wood decking. Composite deck flooring offers longevity and a warm rustic look to any outdoor terrace.
Terracotta tiles
Terracotta tiles are manufactured by baking refined clay mixtures at high temperatures in a kiln. Outdoor terracotta tiles offer an organic warmth for any terrace. Terracotta tiles are available in various shades, from reddish-brown to dark rust color.
Terracotta tiles are perfect for any terrace because they offer an earthy look that wonderfully blends with the outdoors.
Unfortunately, Terracotta tiles are highly porous and must be sealed with penetrative sealants to prolong life and durability. If left untreated, Terracotta tiles stains absorb moisture, fade, and are easily susceptible to fungal growth. 
Terracotta floor tiles offer a beautiful natural look to any outdoor terrace, garden, or indoor area. They are famous for their durability and strength and add a classic natural appeal to a terrace, and are perfect as flooring for any home or garden.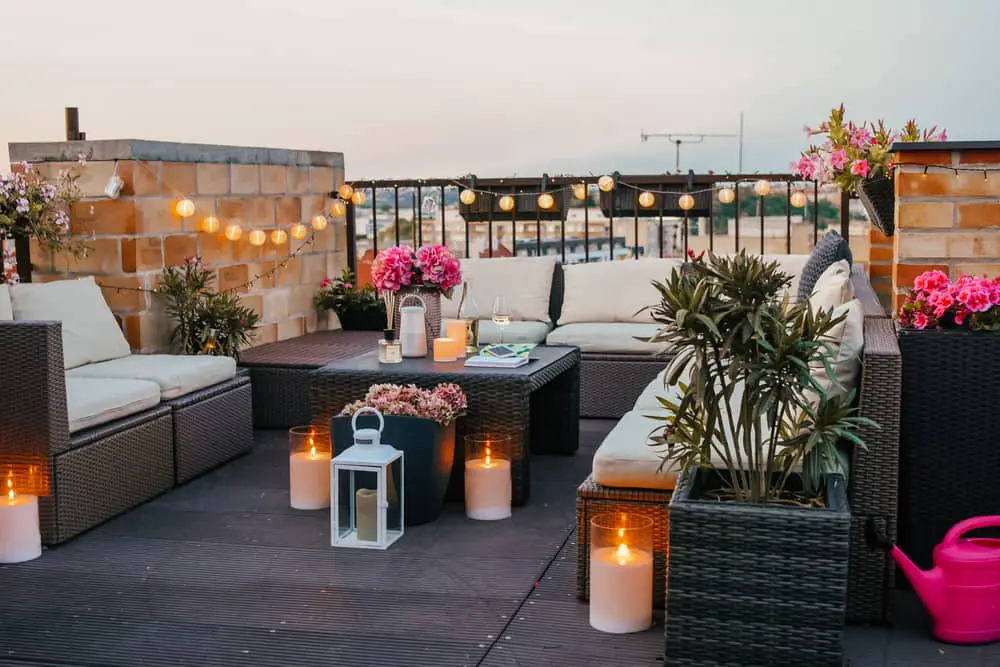 Ceramic / Vitrified Tiles
Ceramic tiles with very low porosity are called Vitrified tiles. Vitrified tiles are produced by fusing 40% clay, minerals, solvents, and 60% silica, called "vitrification." These tiles undergo high-temperature baking to gain durability and strength.
Vitrified tiles have a smooth glossy, glass-like texture after baking at immensely high temperatures. Due to the smooth glazed surfaces, they are prone to being slippery when wet.
Ceramic tiles are ideal for outdoor terraces because they are low maintenance, durable, scratch-resistant, and abrasion-resistant, perfect for high-traffic areas.
Vitrified ceramic tiles are available in both non-glazed and glazed versions and have a remarkable range of sizes, colors, textures, and designs. They even come in an anti-slip variety with a rough surface safe for use on outdoor terraces.
Block Paving
Block paving is the most frequently used outdoor flooring installed for terraces and outdoor spaces. A well-laid block paving floor can significantly improve a terrace and garden. A wide range of block paving is available in various colors and designs.
Block paving is perfect for traditional and contemporary garden paths, terraces, and driveways.
The wide range of different colored bricks allows mixing and matching to create beautiful designs, shapes, and patterns for any terrace or driveway.
Block paving is highly porous and will absorb rainwater and stop it from flooding your terrace. They are designed to provide natural water drainage, are wear-resistant, and offer better ventilation.
Block paving is recyclable and sustainable because you can use reclaimed blocks that have been used for another application to create your terrace floor.
Unlike high-maintenance wood decking, block paving will withstand all weather conditions. Block paving is typically used for car parks and driveways and can withstand heavy vehicles, making them great for a garden terrace. Block paving is non-slip and can withstand even the busiest family gathering.
Block paving is also resistant to frost, oils, chemicals, and salts. Block paving perfectly blends with the natural outdoors onto your terrace. Their subtle earthy appeal complements any outdoor space or terrace. Select a contrasting color to create eye-catching patterns and designs.
Block paving is everlasting and durable and great for creating designs, border patterns, and circles on your terrace.  
Block paving is excellent as terrace flooring and makes the perfect base for garden furniture and potted plants.
Terrace flooring should have the following properties:
Must be waterproof and weatherproof.
Able to handle high traffic.
Terrace flooring must be impact-proof.
Must be durable and robust to take heavy furniture and outdoor decorations.
Must be non-slip.
Low maintenance and easy to clean.
Terrace flooring must be non-fading.
Blend well between indoor and outdoor spaces.
Terrace flooring must be heat resistant. 
Conclusion
The best flooring for terraces is natural stone tiles, porcelain tiles, Terrazzo, concrete tiles, wooden deck flooring, composite deck flooring, Terracotta tiles, and vitrified tiles. It is important to choose the best flooring material for your outdoor terrace.
The best terrace flooring must withstand high traffic and all-weather conditions and add to your terrace's aesthetic appeal. Suitable terrace flooring has stability and longevity and is non-slip to ensure safety.
The right flooring will create a flowing transition between outdoor and indoor areas. We hope the list of terrace flooring options we listed in this article will help you decide which flooring is best for your terrace.
Sources