Can I Put a Pizza Oven On A Deck?
There's nothing better than cooking outdoors for family and friends. Most homeowners often use their decks as eating areas since seating and shade are readily available and it is a great space to socialize. With Pizza ovens becoming more prevalent in outdoor kitchens, we take a look the pros and cons of putting a Pizza oven on a deck.
Putting a portable pizza oven on your deck is relatively simple as long as you comply with any prevalent codes in your area. however for both built in and portable pizza ovens attention needs to be paid to weight distribution, wind direction, space and ventilation to ensure its safe operation.
With the majority of decks being made of wood there are some considerations you need to pay attention to to use a pizza oven on a deck and we will explore some of those considerations below.
Pizza ovens can generate a lot of heat so it is likely you will need to add fire-proofing methods and remove flammable materials that could be at risk. For portable or moveable pizza ovens this may include fireproof mats and for built in pizza ovens possible fire retardant brick work or layers.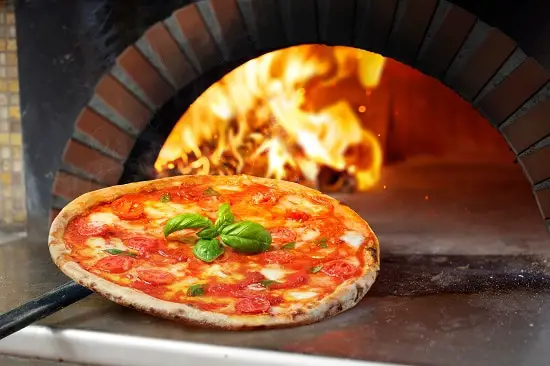 Can I Put a Pizza Oven On My Deck?
The first consideration when planning to put a pizza oven on a deck is the space available to you, we look at pizza oven sizes in this article and it is worth noting that people tend to buy ovens larger than they need so keep that in mind.
If it also worth remembering that the larger the oven the longer it takes to heat up, and smaller ovens may cool down quicker but they still can cook a pizza just as quickly. So think and plan what size you need.
Making sure you plan the size of the oven you need will help not just with efficient cooking of pizza but will make sure you maximize the useable space on your deck.
Other considerations before putting a pizza oven on your deck can include the following.
Pizza Oven
It is up to you which type and style of pizza oven you choose, but even rough sketching the space and dimensions available will help to create a more effective space for cooking.
Pizza ovens can come in many sizes, and for decks out advice is to use a portable model so it can be moved and sued when needed. If you have terrace or patios to use then the built in options as well as portable pizza ovens are also open to you.
Deck Design
In terms of design, we have to look at the current layout of your deck and its current setup. Regarding layout, we need to have enough space to use our pizza oven and any secondary fixtures( Ex. Counters, storage, sinks, etc.) that you may want to add.

Decks tend to have less area than other outdoor spaces and the options to add full kitchen units, kitchen islands etc is much more limited. However, like movable grills, it is possible to find pizza ovens with a little preparation space at the sides.
Like the Pellet head range (see below) which are small enough to put on a table which will help a little. Otherwise you might be preparing in your regular kitchen and cooking in your outside pizza oven.
Materials
As with anything related to heat and fire, we must consider fire protection. If you have a built in this will be taken care of during the planning stages, but if you have a counter top or cabinet version then you will need to make sure you have some fire retardant mats under the oven. I
t should not be too much of an issue, but spills happen and hot wood or charcoal landing on these mats and tiles is better than landing on a wooden deck. To prevent this spills make sure whatever counter you have is strong enough to handle the weight of the oven as well of course.
Ventilation
As we cook, smoke and smells will spread from our fixture. Luckily, decks are already outdoors, so for the most part, ventilation shouldn't be an issue. However, you still need to position your pizza oven along the wind, rather than against it, to allow it to air out better.
You should also be mindful as smoke and odors can still enter a house through other openings. Pizza ovens that use wood as fuel may need a dedicated exhaust depending on their size and location and many come with these as standard, especially in higher end models.
Maintenance
A big problem with kitchen fixtures is their accessibility, as they can get difficult to clean well, especially in cramped spaces. Spend a little time planning the location of your pizza oven to make sure it can be cleaned and serviced when needed.
A good idea is to leave an allowance, at least a foot, around your pizza oven so you can easily clean out the ash and food residue.
Installation
As mentioned earlier, the installation will largely depend on the type of pizza oven you get. Smaller pizza ovens can simply be placed onto a counter, while larger ones may need to be assembled since they stand alone if you are paying for a premium model it should come with installation included so make sure you check.
What type of pizza oven is best for a deck?
It can get tricky to figure out what type of pizza oven would work best with your current deck as there are many variables. Here are the different kinds of pizza ovens:
Conveyor Oven
Conveyor ovens automatically churn out the pizza while it's being cooked inside. You'll find that most big pizza chains tend to use this type of oven since they need to make hundreds of pizzas a day it is unlikely this is suitable for a deck no matter how large it is!
Countertop Oven
A small pizza oven designed for hobbyists and for those who want a pizza oven within a smaller space. A countertop oven is also the most portable type of oven, considering its size and weight. These can be moved (carefully) and put on surfaces meaning you can change their location and direction when needed.
Brick Oven
A built oven that hosts a fireplace to burn and a pizza stone to cook on. Brick ovens provide a traditional cooking experience for your pizza.
Considering the costs and effort it takes to make these, brick ovens are often only purchased for home-used by dedicated hobbyists. The main concern for this type of oven is primarily having the space and the amount of maintenance needed to keep it in tiptop shape they are also a little too permanent for a deck in our opinion.
Convection Oven
Convection pizza ovens are designed to heat pizzas, unlike our regular ovens that can cook multiple dishes. This is an excellent choice if you don't work with wood fire and instead want to go with gas.
Deck Oven
A deck oven is much like a pizza convection oven but is designed to cook multiple pizzas simultaneously. 
Generally, the main difference between these ovens is their purpose and how they utilize heat for cooking the pizza inside. If you're looking to cook a good pizza, remember that you have to balance the heat settings of the oven so that both the crust and the toppings can cook at just the right time. 
Most homeowners will probably end up using a countertop oven, as these are the cheapest type and come in a wide variety that can easily fit into anyone's deck. They also come in different styles and hugely different prices which you can check out here and below.
How are pizza ovens installed onto decks?
Considering the variety of pizza ovens available in the market, we'll cover the main points you should consider during installation.

Here is a basic overview of how installing a pizza oven goes: 
For most pizza ovens, you'll need around 20 sq ft of total space to support it well within your deck if you are going for the cabinet style. A little less if you have a counter top pizza oven.
Pizza ovens' weight can vary, and you should consult with the builder of your deck if you are unsure if it can take the weight.
Pizza ovens in decks may still need a hood or ventilation installed, especially if it's close to your windows to help reduce and prevent smoke going into the house
You may need to install new utilities for your pizza oven( Ex. Electrical outlet/Gas line) for it to work. Luckily, you'll probably only need to extend your current utilities since your pizza oven is still within your house.
Fire-proofing should be done on any nearby walls, floors, and openings. Any combustible material should be 6 feet away from your pizza oven.
you can check out our other pizza oven articles on the site, with a search, or take a look at the preselected ones we have listed below.
Conclusion
Putting a pizza oven on your deck is fine as long as you plan accordingly and install it well. The best way to do this is to pick the pizza oven you want and then adjust your deck based on the above considerations.
The main goal with installing any new appliance outdoors is to keep it protected, ensure that it's able to operate well, and have a way to maintain/repair it when needed easily. 
For decks the majority of people go for a counter top pizza oven to maximise the use of space when not cooking, rather than a permanent or semi permanent cabinet or build in pizza oven.
Sources: