How to Clean Ceramic Balcony Tiles
Balconies can often be the only outside space in busy cities, and the best place in coastal condos to spend time outside. However, both these locations can quickly attract sand, soot, and other dirt onto the balcony floors. Cleaning a ceramic tiled balcony floor doesn't have to be time-consuming or difficult and we have tips in the article below on how to clean quickly and effectively.
Using a pressure washer or soft broom can help you remove dirt and grime from ceramic balcony tiles. You can also try a stain remover to clean them thoroughly. Before using any of these methods, be sure to remove any compacted debris and dirt. Finally, rinse the tiles using a water hose and dry the tiles with a clean towel.
We look at some of the ways you can keep your ceramic tiled balcony look clean and polished below.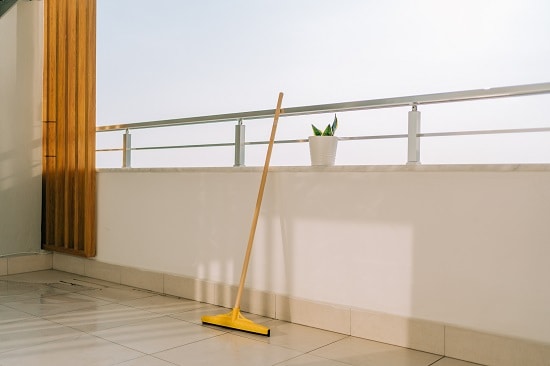 Using a Soft Broom
To keep your ceramic tiles looking their best, you should sweep them daily. Use a soft broom or a vacuum attachment. Regular sweeping will keep them free of dirt, dust, and other buildup.
Sweeping is particularly important near the entrances, where dust and dirt can easily get sucked into the tiles. A soft broom is the most effective option for cleaning ceramic tiles.
The first step to cleaning your tiles is to remove dust and dirt. If you cannot get rid of the dirt easily, you can use a washcloth. If you do not have a washcloth, use a dry broom to do the sweeping.
This will protect the tile surface from damage. Once you've finished sweeping, use a dry mop to clean the grout and edges
A soft broom has non-abrasive bristles that are gentle on your ceramic tiles. Its durable head retains its shape even after daily use. Its handle is flexible, allowing you to apply the right amount of pressure.
Its head is made of horsehair, so it's gentle on the surface while being effective in trapping pet hair and fine dirt.
Using a Pressure Washer
You can use a pressure washer to clean ceramic balcony tiles, if you know how to use it properly. The main point to remember while using this tool is to keep a safe distance.
A good distance is around 3 feet, so make sure to stand at least three feet away from the tile. You can also use a cleaning solution to get rid of tough grout stains. After cleaning the tiles, you can rinse them off with a hose.
Pressure washers should be used if you have heavy staining rather than used as a daily cleaning tool. Instead as we mention above, you should sweep it daily.
You can use a broom with a soft bristle, or you can use a vacuum attachment to do the job. By doing this, you can prevent dirt from building up on the tiles, causing them to become stained and preventing the need
The pressure that you use on the tile depends on its type and strength. You should first test the pressure of your pressure washer on a hidden area and adjust accordingly.
You can change the nozzles on your pressure washer to adjust the amount of pressure that the machine can apply. However, be sure to use protective clothing when using a pressure washer, as water at this speed can be dangerous.
Using a Concentrated Stain Remover
If you're having trouble cleaning your ceramic balcony tiles, try using a concentrated stain remover. Muriatic acid is a popular solution used by professionals and has long been known for removing even the most stubborn stains.
Just make sure that you ventilate any area where you'll be cleaning and follow the manufacturer's instructions for use.
First, dilute the stain remover to one part acid to five parts water. Apply it with a soft bristle brush and wear gloves and protective equipment.
For outdoor tiles, you can try a concentrated stain remover like Fila PS87. This solution works well on ceramic and porcelain tiles. You can mix it with water to create a cleaning solution that will effectively clean even the toughest stains.
Simply apply the solution to the stained area and allow it to sit for two minutes, then rinse it off. Do not mix it with bleach or other household cleaners, and follow the manufacturer's instructions.
Another option for cleaning ceramic tiles is to use baking soda. Baking soda is a mild abrasive substance and will remove stains in no time.
You can even make a homemade cleaning solution by mixing three tablespoons of Castile soap and water. You should also avoid using a sponge mop as it will soil the grout. It is also important to change the cleaning solution frequently.
If you're looking for a quick way to clean your ceramic balcony tiles, a dry mop is an option that you may want to consider.
Steam cleaners are great for revitalizing dingy tile, but they can cause damage to the grout. Using a dry mop will not cause any damage to the grout,
You can also choose a dry mop with a refillable cartridge system. Refillable cartridge systems spray a fine mist onto the floor when a trigger is pressed.
These mop pads can be used 300 times before needing to be replaced depending on level of dirt. When you're done cleaning, make sure to rinse the mop well.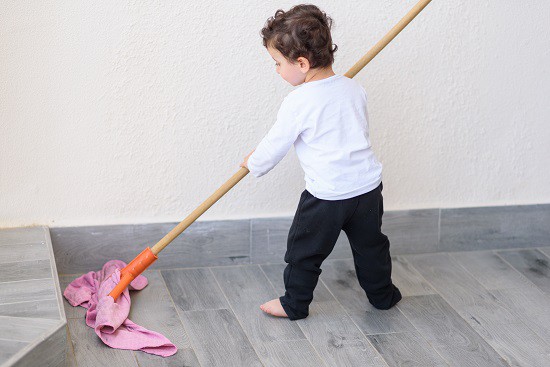 Using a Floor Cleaner
If you want to keep your ceramic balcony tiles clean, you can use a floor cleaner on them. You can add a half cup of liquid dish soap to a bucket of water and use a mop to scrub the stain.
This pH-neutral cleaning solution will not cause the tiles to lose their shine. For stubborn stains, you can use a solution containing three percent hydrogen peroxide.
When cleaning ceramic tile, you should avoid the use of a sponge mops as they push the dirty water deeper into the grout, making it harder to clean. Use a floor cleaner that is specifically made for tile and grout.
If you have a stain, you should use a specialised stain remover or hire a professional tile cleaner. Always remember that soap residue can cause slips and falls, so make sure to dry your tiles completely to avoid any accidents.
Another way to clean ceramic tile is to use a microfiber cloth and a floor cleaner. If your ceramic balcony tiles are lightly soiled, you can wipe them down using a microfiber cloth.
Make sure to dry the area after using a floor cleaner to avoid damaging the surface.
If you do not have a hose to help rinse your balcony or clean it then you can check out this article on alternative methods.
Using a Grout Sealer
After a thorough cleaning, like the extreme cleaning of a pressure washer, you should use a grout sealer to protect the ceramic tiles. This product is available in two forms – a sprayed version and a brush version.
When using a sprayed version, be generous with the sealer application. Using a brush will help you get even coverage of the entire tile area.
Be sure to be consistent, as missing any section will result in discoloration. The drying time of the grout sealer will vary depending on the type you use. The general rule of thumb is fifteen to 30 minutes.
The application of the sealer is done using a small roller or foam paint brush. For horizontal surfaces, the roller type is better
The sealer should be applied in layers. Afterward, let the sealant dry thoroughly before applying another layer if air dried about an hour or so should be enough.
The type of grout sealer you choose is based on the type of tile. If the floor is made of unsealed tiles, you will need a penetrating type. The other type of grout sealer will protect unsealed tiles.
A water-resistant sealer is best for areas that experience a lot of moisture which is most balconies!  
If you have moss on your balcony you can check out this article for tops and advice
Conclusion
A balcony big or small should be a space, an outdoor space where you can relax and spend time. Keeping its ceramic flooring clean is never the most enjoyable task,
but by giving it a quick sweep a couple of times a week with a soft bristled broom, rather than waiting till it needs a deep clean, you can spend more time enjoying it rather than cleaning it.
References