What Is The Standard Height Of Balcony Railings?
When building a balcony, its users' safety is paramount. Building codes stipulate minimum heights for balcony railings to ensure that anybody who makes use of your balcony is completely safe at all times. It's important to consult the local regulations as each municipality has different requirements.
The generally stipulated height for balcony railings is 42" above the balcony deck for commercial properties. In residential homes, railings are permitted to be slightly lower at 36". The railing must extend to this height and then be capped by a horizontal railing for easy gripping.
Ensuring your balcony railings are at the correct height will allow you to remain on the correct side of building laws. It will also ensure the safety of everybody and anybody who uses your balcony. It's important to consult with all relevant regulatory authorities to ensure that your balcony complies with local standards.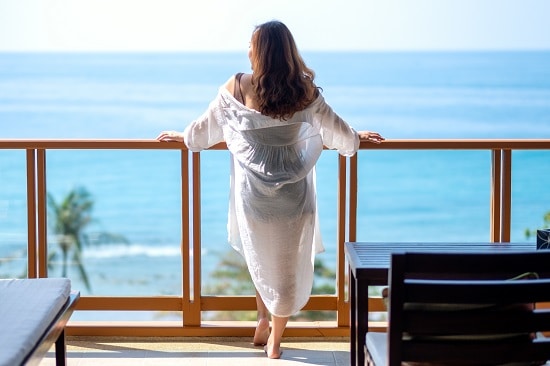 What Is The Standard Height Of A Balcony Railing?
Standard heights of balcony railings exist to ensure that anybody who uses the balcony remains safe at all times. To regulate this, several regulatory authorities in place stipulate minimum height requirements.
While there are general requirements, it's important to consult local requirements in your area. Generally speaking, all building codes require that any floor surface above 30" from ground level have a full railing.
Naturally, a balcony will always be above 30" from ground level, so it must always have a balcony railings.
The International Residential Code stipulates standard balcony heights. In commercial settings, balcony railings must extend up to 42" above the deck. In a residential setting, the balcony railing must be at least 36" high from the deck level. The railing must extend to the aforementioned height, beyond which it must be capped by a horizontal handrail to allow for easy gripping.
Whichever part of the country you live in, you need to consult local building ordinances to find the rules that apply specifically to your building project. Once you have established the best height and other conditions for your balcony railings, you can select the best aesthetic option for your project and make sure your balcony is safe.
Code Bodies & Standards
Railing design and all related components of this are governed by a variety of codes and standards.
Different requirements apply to different regions and towns across the United States. Thus, it's critical to ensure you follow all regional criteria to create a design that complies with all local regulations.
Numerous bodies make up the code bodies and standards that must be obeyed. The International Code Council (ICC), which publishes the International Residential Code (IRC) and the International Building Code (IBC), is the first (IBC).
The National Fire Protection Association (NFPA), which controls the safety of stairs and railings in connection to fire situations and their associated dangers and safety processes, is another set of norms and standards to consider.
The Occupational Safety and Health Administration (OSHA) regulates the design of stairwells and railings to provide a well-designed, comprehensive system that provides a safe environment for building occupants.
The issue of accessibility is an additional consideration that must be made not only in the construction of railings but also in the design of buildings in general. Several acts have considered this and set their own railing and stair rules.
The first is the ANSI-A117.1 Standard for Accessible and Usable Buildings and Facilities, which generally governs particular aspects of accessibility for building users. There are also the Americans with Disabilities Act Standards for Accessible Design (ADASAD) and the Architectural Barriers Act (ABA).
Following the International Code Council (ICC) and OSHA requirements is critical in creating a safe environment within your facility. Their regulations include significant overlaps in terms of fall safety for building occupants and guardrail requirements and specifications.
International Code Council
The I-Codes, which include the International Building Code (IBC) and the International Residential Code (IRC), are published by the International Code Council.
The IBC regulates commercial properties and multi-family residential buildings, whereas the IRC regulates single-family and two-family residences.
The International Code Council develops and publishes "model" codes that are then approved by local governments. These codes are regarded as a minimal standard for building safety; nevertheless, in some jurisdictions, these basic criteria may not be considered acceptable.
It is critical to verify with your local authorities before installing any equipment to ensure that it complies with the safety regulations in your area.
National Fire Protection Association (NFPA)
The National Fire Protection Association (NFPA) is a group of fire inspectors, firemen, and government organizations that developed the NFPA 101 and NFPA 1 series of recommendations. The organization's mission is to help prevent death, injury, and property loss caused by fire, electrical, and other hazards.
The NFPA 5000 and the NFPA 101: Life Safety Code are two of the organization's codes that control building safety. These rules cover things like railing clearances and regulations for limiting the effects of fire and fire-related dangers.
The safety requirement only applies to handrails near fire exits or fire stairs, and it isn't enforced in all parts of the country.
Occupational Safety and Health Administration (OSHA)
The Occupational Safety and Health Administration (OSHA), controlled by the US Department of Labor, supervise locations that are not normally accessible to the general public, such as warehouses, factories, and wastewater treatment plants.
Fall Protection Systems and Falling Object Protection – Criteria and Practices is a specific section that specifies railing standards.
Guard railings, handrails, and stair rails are all specified in this rules section.
Guardrails are necessary when there is a 48-inch or greater difference in floor level. The guardrail must be around 42 inches above the ground's surface. A horizontal intermediate rail is also required located halfway up the track.
The distance between balusters must not exceed 19 inches. A toe board must be installed to prevent the trash from falling into the regions below the guardrail. The rails must be at least 14 inches thick and sustain a minimum 200-pound weight applied in either a downward or upward direction, according to the diameter criteria.
Where there are more than four risers, railings and stair rail systems are necessary. The handrails should be between 30 and 38 inches tall, measured from the top of the nosing (edge of the stair tread).
If the system's overall height is between 36 and 38 inches, the top rail may also act as a handrail when referring to a stair rail system.
Other requirements include a 2.25″ minimum clearance between handrails and other objects and a shape and dimension that allows you to grab the rail properly. Handrails should not have any projecting risks that could injure passers-by, and they should be able to support a 200-pound load.
Ladder Effect
Some municipal architectural codes mention the ladder effect, which means that any balustrade with horizontal elements or ornamental patterns that could be used as a ladder by a young kid, for example, should be avoided.
This threat appears to be less of a concern than it was once perceived to be, and it appears that considerably fewer youngsters than previously thought are in danger from so-called "climbable" balustrades.
Load Requirements
Handrails, balcony railings and guards must be capable of withstanding a uniform weight of 50 pounds or a concentrated force of 200 pounds at the top.
Guard infills must be able to sustain a 50-pound-per-square-foot load.
What Are The Types of Balcony Railings?
Balcony railings can be manufactured from a variety of materials and come in a variety of styles. Selecting a material that can survive the conditions in which it will be put is critical. It's also crucial that the material blends well with the rest of the house and its surroundings in terms of aesthetics.
There is a lot of overlap with the material regarding the actual style or kind of railing. As a result, choosing between two railing styles can be even more challenging, as a single style of railing is generally associated with a specific material.
Certain railing types are better suited to specific settings, whether from an aesthetic or a safety one. Some railings restrict views more than others, so keep this in mind if there are views from your deck that you'd like to keep when the railing is installed.
If your deck is above a particular height, certain types of railings are simply not a smart choice from a safety standpoint. This is inherently defined by the manner the railing is constructed. A poorly constructed railing, regardless of the material, is bound to be a safety issue regardless of the material or style.
Balcony railings are often composed of one or more of the following materials:
Wood
Composites
Metal (most typically aluminum, stainless steel, and wrought iron)
Glass
Rope
The railing's actual style or design will vary depending on how any of the above materials are combined with one another. Each material and style has its own benefits and drawbacks. Still, you can always narrow down your selections by eliminating them one by one until you find the railing that best fits your needs.
While the possibilities are endless, and the number of styles expands by the day, a few railing styles are seen in most homes in the United States. The following are some of the available styles:
•       Chippendale railings
•       Craftsman balcony railings
•       Turned Baluster railings
•       Cable railings
•       Sawn Baluster railings
•       Fan shape railings
•       Rustic balcony railings
Naturally, there is a lot of crossover between balcony railings material and railing design. This is because certain designs are only achievable when certain materials are used. On the other hand, some materials can only be used as railings in specific ways.
We have an article on the safety considerations of concrete balconies here which railings are of course a part of and one here on glass balcony requirements
We have a selection of balcony construction and common questions linked below with loads more information.
Railing Materials & Styles
Wooden Railings
Wood is a popular choice for balcony railings since it is typically cost-effective, low-maintenance, and aesthetically beautiful. Wooden railings can also be customized in various ways to meet your specific requirements.
Wooden railings are available in a range of types. They may be treated in various ways to achieve the best possible outcome for your project.
Standard picket-style railings, Chippendale railings, twisted balusters, and even rustic railings with basic deformed timber balusters can all be made from wood. They are also common on verandas as well as balconies.
Glass
When there are vistas to be had, glass fences are a fantastic alternative. The material's transparency will naturally prevent views from being obscured. This makes it a desirable balcony material. Remember that glass railings must be cleaned regularly and are easily scratched.
Metal
Metal railings are very frequent when it comes to balconies. Various types of metal are used for railings, and each type of metal is used to produce a unique form of railing.
Steel, iron, or powder-coated aluminum can be utilized for standard picket-style railings. Wrought iron railings are another lovely form of railing that was once very common and made for a sturdy and attractive railing on Victorian buildings and other structures.
Metal balusters are mass-produced and available in various colors and styles. This results in a visually stunning and cost-effective railing.
Metal cable railings are another metal option. A series of horizontal metal cables are joined to a series of vertical balusters made of wood or steel in this railing. Cable railings are often made of marine-grade stainless steel, and the modern style will blend with practically any existing aesthetic.
Composite
In recent years, composite balcony railings have become quite popular. These low-cost railings are often pre-fabricated and sold in kit form.
Composite railings are both robust and cost-effective, as well as low-maintenance. Composite railings are available in various forms, although basic picket is the most prevalent.
Rope
Rope railings are a less common choice than the majority. They're most commonly found in nautical-themed locations. Rope railings are made up of a succession of basic ropes tied to vertical timber supports. The safety of this railing style can be questioned depending on how securely the ropes are tied.
Conclusion
When building a balcony, a railing is an essential component that will ensure its users' safety. While local building codes may differ depending on your municipality, general rules require a 36" balcony height for residential properties and 42" for commercial properties.
Sources
https://www.bobvila.com/articles/deck-railing-height/