Can You Build An Outdoor Kitchen On Top Of Pavers?
I plan to create an outdoor living space where I can invite family and friends over for barbeques and gatherings. Without having to entertain from inside the house. I already have a paved area, and I was wondering if you could build an outdoor kitchen on the pavers?
You can build an outdoor kitchen on top of pavers, but there are certain factors you need to remember. The pavers provide a solid foundation, but you must ensure the ground under the pavers is sturdy. The layout and the plumbing are also important when creating an outdoor kitchen.
I found that an outdoor kitchen can be built on top of pavers and can either be done through the work of professionals or as a DIY project, depending on your ideas, plans, and needs. You can consult with experts on the perfect location and the layout of the kitchen, as well as the plumbing involved when designing and building the outdoor kitchen on top of pavers
Can An Outdoor Kitchen Be Build On Top Of Pavers?
You can build an outdoor kitchen on top of pavers; there are just a few things to consider and keep in mind when planning to do so. If you use an expert to do the job for you, great. They will do all the planning, and a professional contractor should make it an easy project for you.
If you are an avid DIYer and considering building an outdoor kitchen on top of pavers as a DIY project to make it more personal, you can consult with experts regarding the planning layout and the kitchen's plumbing to prevent any problems or issues.
Outdoor kitchens are becoming very popular with people creating outdoor entertainment areas. Brick pavers and Travertine are the best materials for an outdoor kitchen to use as the foundation and flooring for the kitchen's fittings and accouterments.
The bricks are solid, and you can build an extended lasting area on top of pavers. There is so much that you can do when it comes to an outdoor kitchen.
Building An Outdoor Kitchen On Top Of Pavers
Unlike concrete, using pavers for the floor area of your outdoor kitchen ensures that the floor surface won't start to crack over time or begin to fade, and they hardly require replacing with age. Pavers are also made in different colors and patterns to choose from according to your taste.
Pavers are also interlocked, creating an even and level surface; they provide a smooth shoveling surface for winter and a non-skid surface for rainy days. Pavers are an excellent idea to use as the surface of your outdoor kitchen.The Pros And Cons Of Building An Outdoor Kitchen On Pavers
Like anything, building your outdoor kitchen on pavers will have pros and cons.
Pros Of Building An Outdoor Kitchen On Pavers
The pros of building your outdoor kitchen on pavers:
Pavers are durable and longer lasting.
Paved platforms and areas are better for different climates, weather conditions, and seasonal changes.
Paver bricks are very low maintenance after installation.
Paver bricks are very easy to keep clean.
Pavers look very stylish and compliment the outdoor space.
Cons Of Building An Outdoor Kitchen On Pavers
Although there are many pros to pavers, there are cons to consider as well:
Paver brick platforms take a longer period to complete than concrete.
Paved areas are more expensive than other options of flooring.
Paved surfaces grow weeds over time between the bricks.
There aren't many cons to having pavers as the flooring for your outdoor kitchen, and the pros are more to consider. Pavers are a good option for outdoor flooring.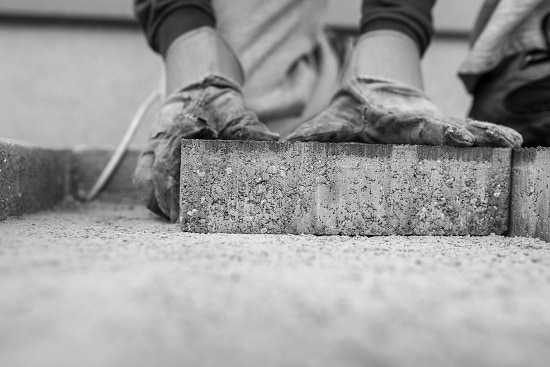 What Are The Steps For Installing Pavers To An Outdoor Area
It is essential to lay your pavers correctly as the finished base is something you want to take pride in and should be an investment and long-lasting. We also have an article on how hard is it to build an outdoor kitchen here on the site.
Step 1
Remove any grass, gravel, dirt, or sand from the area that will be paved.
Step 2
You must level and even out the subsoil. It is important to lay the bricks on a level and even surface.
Step 3 
A compacting vibrator must usually stamp the cleaned area to compress the surface where you will lay the pavers.
Step 4
Pour the gravel and level the area again.
Step 5
Install the bedding sand and level.
Step 6
Lay and place the paving bricks.
Step 7
Layout and hold the edging of the bricks in place.
Step 8
Fill in the joints. Using a broom, you can brush the sand into all the gaps between the bricks and inspect that all the gaps between that gaps are properly closed and sealed, so the bricks won't come loose and shift out of position.
Step 9
Spray the paving bricks with sealant for extra protection. You need to seal the paving bricks within 30-60 days to allow new pavers to breathe and settle.
When laying the paving bricks, ensure they properly mesh and that the bricks have a set period to settle so that the foundation for your outdoor kitchen will be strong. You shouldn't be too hasty with the building of the outdoor kitchen on your pavers, as the pavers may not be properly set and might shift if your kitchen is built on the pavers too early or before they have settled.
When planning your kitchen, prepare the plumbing plan also to ensure that your outdoor kitchen is properly built on the pavers. You must properly plan your outdoor kitchen's layout before laying the bricks. Ensure that the plumbing preparations are properly in place before laying the pavers.
After the pavers have been laid, you need to wait at least a week before building the outdoor kitchen as the pavers need to settle. If you build too early, you may end up with skewed pavers.
Conclusion
Pavers can be used as the foundation and surface for an outdoor kitchen. It is a product of high quality and is easy to maintain. Pavers are suitable for any weather conditions and are fantastic looking and will complement the outdoor area very well.
It is a good investment that will give you great pleasure in your outdoor area and increase the value of your home. You can have barbeques and moments of joy and laughter in your outdoor kitchen.
References