How Do You Modernize An Old Porch?
The facade of a house is often what people use as a basis for how good it looks. Porches are where people will be passing by as they enter your home. The question now is, how do you modernize a porch?
Modernizing an old porch involves changing its materials, finishes, and fixtures. Generally, a modernized porch should be upgraded and compatible with modern living. This can include new lighting, camera doorbells, modern colors and furniture and garden / sprinkler / lighting controls.
Luckily, it's not too difficult to renovate a porch considering that it's an exterior area and doesn't need that many things to function. The challenge of this project is being able to modernize your porch in such a way that it still matches your current house.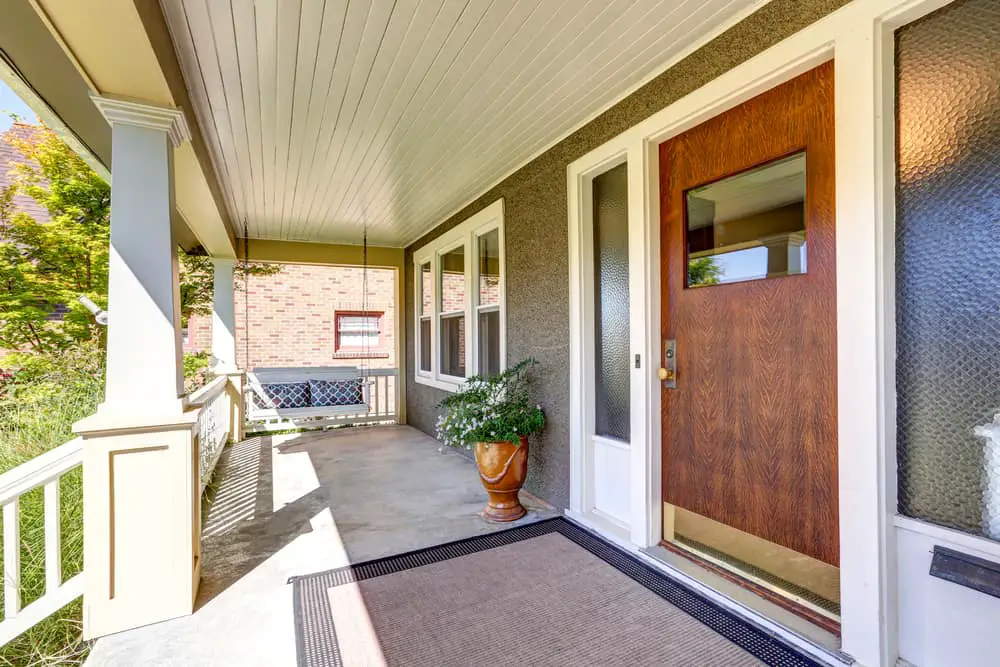 How do you modernize an old porch
Modernization can mean many things in construction, whether in building design or functionalities. For our purposes, modern design can be classified as a constructed response to our technology and lifestyle today.
Modern designs are much less intricate than older aesthetics because they focus more on the functionality and simplicity of forms. This simplicity of forms allows buildings to take all kinds of shapes rather than being limited by decorative ornamentation.
Modernizing involves removing outdated objects and bringing in something new. Old lights(Ex. Lamps), decorative ornamentation( trim, wood carvings, etc.), and obsolete technology need to be phased out. Anything that looks old or weathered should be removed.
Here are a few things that you could add to make a patio more modernized:
Doorbell with wifi-camera
Smart lights
Sprinkler Controls
Mechanical Mailbox
Sensors
How to design a modernized porch
Before anything else, planning is the name of the game when we want to design something that looks good, works well, and lasts. It can get tricky to know how to go about this, but there are some general steps you can follow to ensure that your porch turns out good.
Set the expectations
Before anything else, you must set a budget for a porch renovation. Having a budget lets you know what exactly you can work with, so you can design with the actual materials you'll be using in mind.
Estimating expenses boils down to numbers based on the material you need. You will have to set dimensions for every part of your porch, from roof size to window sizing.
Get familiar with the requirements.
We must establish the result you want and comply with any pertinent building codes in your area. Having requirements helps us design better as it gives direction to what we want to achieve.
These requirements are the personal things that you want, which could range from having good lighting, clear space for a home gym, compatibility with a doorbell camera, etc. For building permit requirements,  you can consult a local building official regarding any codes or ordinances that might be specific to your area.
Protection
Since porches are exposed to the outdoors, they should be able to handle the elements. You have to consider aspects of buildings that involve water protection, moisture protection, insulation, site drainage, etc.
The main components of a patio that will protect it are its roofing and drainage. Roofing protects it from sunlight and rain while ensuring that any water is shed off properly at the right places. Drainage helps prevent any water from building up from underneath your porch or on the porch itself.
Functionality
It only makes sense that our rooms are capable of providing for our everyday needs. You can give your patio some utility, whether that be it an eating area, low-rise steps, sliding doors, etc.; anything you intend to build on your porch should serve a purpose. Utilities and fixtures are what you'll be considering at this stage.
A good tip is to imagine what would make everyday life more convenient. Examples are placing outlets near a chair, designating a place to keep gardening tools, etc. Appliances such as smart lights, sensors, etc., could be considered for more features.
Aesthetic
You should have a general idea of what style you want to emulate with your patio. From there, you can begin to customize it to fit into what you are currently working for.  The end goal is that you can still meet the requirements you set while still maintaining the design you have in mind.
Remember that design decisions have implications. For example, opting for a flat roof porch entails that you'll have to pay more attention to storm drainage, or adding windows can pose an additional security risk.
Whether it be a small makeover or an entire renovation, these are all things you need to consider. Designing structures and building them correctly is the best way to make the most of your spending and the work you put in.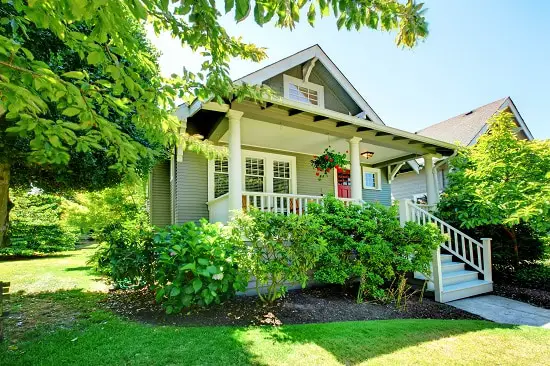 How are porches renovated?
Now, there are many ways to modernize a porch, whether by making it more adapted to modern living or by changing its look. To help you better plan, we'll review the general process for renovating a porch.
Demolition
We'll have to deconstruct your porch to make space for what we want to add to it. What you'll be removing will depend on what you'll be changing, ranging from a few finishes to an entire foundation replacement.
Planning
As mentioned earlier, you will have to plan out how you'll go about this project and the end result that you want for a more streamlined renovation.
Construction
The hardest part of any project is when construction actually begins. Depending on the scale of your renovation, you might need to hire a few helping hands to get the job done.
The general workflow of construction is:
Siteworks
Foundation Building
Structurals(Slabs, Columns, etc.)
Fixtures
Utilities
Finishing
Finishing and Furnishing
This is where the modernized look will come from. Finishing isn't just putting paint on a wall; think of it as the part where you're trying to make your porch look as good as possible. Once your porch is finished, you can begin installing furniture, appliances, etc. 
Renovating a porch costs around $5000 – $10,000 and takes around 3 to 16 weeks to build. For a more streamlined experience, you'll have to plan out the sequence of your work and the time you'll need to do it.
we have a selection of articles on getting the most out of your front porch you can access on the site. we have linked some examples below.
Conclusion
Modernizing a porch involves upgrading its looks while bringing in modern technology. Porches are easy to work with, considering they're neither big nor have many requirements.
Renovating a porch can take between 3 to 16 weeks, depending on the scale of the project.
Sources