What Is A Good Porch Depth? (All You Need To Know)
A porch is a sought-after home feature, even if it mainly exists in nostalgia. This friendly space, mostly furnished, has a street view and is typically used to entertain family and friends. Porches are mostly at the front door but often at the back of houses and are equally suitable for entertaining. You need to plan the depth of a good porch carefully.
A porch's scale and depth relates to a house's size. The depth of a good-sized porch is at least 8 to 10 feet. Porches can be 6 feet deep, but that's scarcely wide enough to gather on. A porch's depth needs space for furniture and movement. The length of a porch is usually more than its depth.    
Though many would say a porch size is your choice. You have to consider that a porch should ideally accommodate a bench or a pair of chairs, side tables, and a coffee table. In some trends, it's an ideal outdoor dining area and needs to be wide enough for at least a six-seater table and chairs. The uses of a porch define just how wide these are. Porches differ from patios and decks.
A Good Width For A Porch
A porch classically is the extension of the front door, an outside lobby area to meet and greet visitors. It's also a space where people sit down for a quick chat. The width and length of a porch are often designed with a vision of what you see happening there. These are mostly furnished with outdoor seating, side tables, and potted plants in standing displays. Or for outdoor dining!
When built from scratch, as part of a house design, a porch can be more than just a classic outdoor meeting-and-greeting lobby. When adding on or making a porch from scratch, you can plan the size to your liking. As a rule, most porches are not less than 6 feet deep. Anything smaller is considered a Juliette balcony – enough space for a pair of café chairs and an 18inch coffee table.
Depth Of A Porch Relates To Its Function
The depth of a porch is designed with its function in mind. Though, a porch's design also has aesthetic appeal. A porch was a design feature in many houses in the past centuries – this fitted into people's lifestyles and a sense of neighborliness. Much changed in the modern era (see below porch versus patio or deck). But, for some designers, houses are again designed with porches.
Porches are designed as part of the front door's appeal. Many porch designs are influenced by classic porticos and are often double-storied in height. The width of a porch is at least 6 feet deep. A porch's depth and size relate to the proportions of the rest of the house. The height and width or the length of a porch follow the elevation of a house's front or back. 
A porch's depth varies. As a rule of thumb, there's no standard, though designers don't go narrower than six feet. The depth of a porch relates to the scale of a house and the intended use of this space. The porch is a clear open area that is an accent for the front of a home. The porch adds an architectural design feature.
Contemporary houses, like the neo-shingle-style houses on golfing estates, have porch depths of at least 6 feet. But the preferred depth is at least 8 feet. Homes with porches at shallower depths, even as narrow as 4 feet, allow for little more than a wooden bench and topiary shrubs! The key design feature of the porch is to face the street. The porch is always in line with the rest of the architecture.
Depth Of Porch Follows Architectural Design
The art-and-crafts-style houses have different kinds and shapes of porches. These are raised to be level with the front door of a home. Often there's a central set of stairs leading to the front porch and then to the front door. Often these porches have a railing. The railing depends on the space, the porch's uses, the types of furniture, and often plants there too.
The arts-and-crafts-style houses have porches that have stone piers or tapered columns. The width is related to the uses of these porches too. The proportions between the house and the porch are aesthetic and functional. The aesthetic appeal considers the design and practical aspects of the uses, including the porch's depth and what the plan proposes. The depth matters.
Porches often are replicated following a rule of thumb measurement of not less than 6 feet in depth. These are:
Traditional-style porches on country houses (farmhouses)
Classical-style porches like the Romanesque porticos on houses
Arts and Crafts porches on houses characteristics of these designs
The proportions of porches in the above styles vary between 6 and 10 feet in depth. For the traditional porch, one that wraps on two sides, the depth of the porch is on average 8 feet. This functions better when people gather there. Contemporary designs are more of a decked platform, a less distinctive transition from the public side into the privacy of the home.
Narrow porches lose a crucial functionality for sitting there. A porch should be wide enough for a bench, a coffee table, and potted plants! The porch is primarily a shelter from the sun and a spot for casual conversations. Many anecdotes are told of master storytellers sitting on front porches – watching the street scenes and recounting these to friends in detail.
Porches are design features in architecture, the loci for plays in literature, and a keen spot for a cameo scene in a film. Photographers delight in portraits there, and porches are scripted backdrops in popular culture. But always ensure the porch is deep enough – design the porch for what it's going to be most meaningful for. The best clue on the depth is how these are furnished (see below).
Measurements For Standard Porch Furniture
The width of a porch relates to what this space is intended for. This includes the furniture you'll be putting there. Though the minimum width is around 6 feet wide, most porches are designed with their uses in mind. But this is at least 6 feet wide. Most furniture sizes are standard. The furniture items need to allow enough room space for people to not feel over-crowded either.
Consider the following if you are likely to furnish a porch:
Seating Arrangement On Porch. This could be a couch or bench, one or two armchairs, and a coffee table for a casual outdoor seating.
Eating Arrangement On Porch. Most homeowners have at least a six-seater table on a porch.
Seating Arrangement On Porch
The width of the porch will have to accommodate the reason for the seating. Porches are not patios but are designed around central aspects of a house, the front door and the backdoor. A porch is attached to a home.
Classically, the front porch was where you stood to wave to a neighbor! In most cases, a porch is a relaxed space, often with a view. It's also the first space visitors enter. And it's the space newcomers often are invited to for a first chat and cup of tea or coffee. The porch needs to be at least big enough for this simple kind of encounter of entertainment.
Some consideration regarding the width of a porch is the kinds of furniture you want to use there. The average size wooden porch bench is 2 ½ feet wide. And with a coffee table at least 2 feet wide, the area on a 6 feet deep porch is too tight. You might be able to squeeze passed but not feel comfortable. That is why you at least need 8 feet in depth for a porch.  
A porch must be deep or broad enough to allow people to walk when furnished. Most interior designers use an average three-foot clearance around a bench or a coffee table. Porches are rarely less than 6 feet deep. If a porch's depth is too tight, being there will be uncomfortable. People need to feel comfortable and not hemmed in by the size of a porch and the furniture.
Also, can you imagine anything more wonderful than sitting on a swing on the front or back porch? Just think of it, sipping iced tea in summer or having hot chocolate while scrolling Instagram? Or looking out to the street and greeting neighbors? The porch has a social history of more than a few centuries – nostalgic for many, the porch is returning in architectural design!  
Eating Arrangement On Porch
With a bench and a coffee table (as seen above), you need at least an 8 feet depth to a porch. When you are thinking of having an outdoor dining area, it's even more. You have to consider a table's width (the standard, or narrower). You also need space to move chairs in and away from the table. A porch is ideal for small social gatherings, but don't let guests feel crowded by a lack of space!
On average, 6-seater tables have a width of 3 ½ feet (42 inches wide). With the chairs in place, you need at least three feet extra for each chair. This is to move in and away from the table. This allows guests to get up easily and move past others seated at the table. The minimum depth for a porch used for outdoor dining thus has to be at least 8 to 10 feet wide.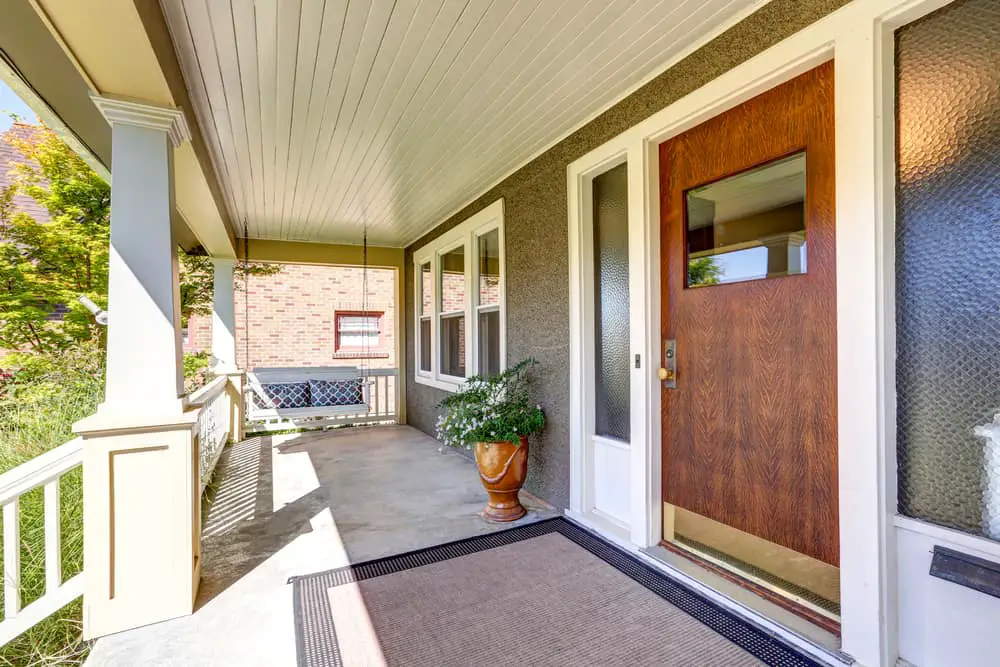 Difference Between A Porch And The Patio
Front porches are not totally off the architectural radar. Most people have memories of porches that stretch back at least two generations. The desire to want a porch somewhat disappeared towards the end of the 20th century. But ask anyone, and they will immediately show their fondness for this iconic architectural feature.
The porch is where you are greeted and meet the host. The style and etiquette of the gracious porch have filled many people's memories. Like stately homes, even an ordinary porch suggests a transition from the street to the house. You don't want the depth of a porch too narrow. Considering this formality in arriving, you can see why a depth of at least 6 feet is needed.
The porch is a retreat space that views your location's street. How porches are decorated differs from that of patios and decks (see below). A porch can be far more intimate than a patio, or a deck. This is where you most would like to put a pair of large wicker armchairs and have plenty of plants!
Porches As Design Option
Porches are spaces to entertain on small scale. Contemporary designers often choose designs between a classic colonial with oversized armchairs, and plants, or a BoHo exterior with a large couch, and a coffee table. Whether off-beat or colonial, a porch has to be big enough to entertain! The porch needs to be between 8 and 10 feet deep for a wrap-around porch.
The house's size and elevation determine a porch's depth. The scale of the porch will be related to that of the house. Also, the porch size, of which the width is most important, will be determined by the size of the plot you're on. But mostly on how you want to use it, the kinds of entertainment you have in mind.
The porch classically is an architectural embellishment that frames the front door – much like the grand porticos did for the Romanesque buildings. During this period, the porch was a colonnaded portico. There were two or more columns symmetrically placed. The design was replicated in 18th-century American and English architecture. 
This function later became a feature in the design of houses, mainly to protect the front door from the weather and to be a protected space to stand and talk before entering a home. Everyone knows that the semi-private area associated with being on a porch is a coveted space with a view of the street.
Though the porch has had a history in houses for almost three centuries, the patio and the deck became architectural rivals.
Patio And Deck Features
The modern replacement, some designers say, of the classic porch is the patio. In some cases, this is also a deck, at ground level or a level above ground. A porch is a projection at a front door or a back door. A porch is considered part of the house. It has a roof, whereas a deck and a patio don't need to have a roof.
A patio is an outdoor garden space usually linked to a house, but this is not a requirement. A porch is part of the main house. The patio is typically paved and connects to the garden and the home. The porch links to the house only. So too, a deck is a raised terrace and usually built in timber. The deck is attached to the house but not necessarily covered, like the porch is.
Conclusion
Though porches are classically seen as the extension to a front door and even that of a back door, these need to be deep enough to cater for small gatherings. The porch is styled symmetrically around the entrance, and the front porch is a design feature of a house.
The porch is strongly associated with nostalgia and features in popular culture, literature, films, and even advertisements. A porch is always designed deep enough to cater for small gatherings!
References