What is the Average Balcony Size?
A balcony is an appealing feature on a property because it can offer many benefits. While people often focus on the size of an apartment or house, few consider the size of the balcony. So, what is the average balcony size?
The average balcony size is 4 ft (depth) by 9 ft (length). Balconies add an aesthetic appeal and give you extra space for outdoor living. While balconies exist for every preference, anything smaller than this means you won't be able to sit down and enjoy the area as much.
A balcony is a lovely addition to any property, as it offers a variety of benefits.With more and more people spending extended amounts of time at home nowadays, balconies are an increasingly popular option. Read on to discover the different types of balconies and how to choose your own.
What Is The Average Balcony Size?
Balconies are an increasingly popular addition to properties the world over. As more and more people work from home and want to maximize their space, balconies are becoming a sought-after option.
Depth and length, are the most crucial aspects to consider when deciding what balcony suits your needs.
A balcony can serve many functions, whether you live in a city or on a farm. These include providing additional living space where you can enjoy your morning coffee or host friends and family for a delicious meal and adding extra aesthetic appeal.
People are very particular about their balconies because they usually serve specific purposes. For example, they could be purely decorative or intended as additional living space and are, therefore, bigger and more accommodating.
While balconies vary depending on where they are built and the owner's requirements, the average size for a balcony is 4 ft (depth) by 9 ft (length). These average dimensions allow you to place a small table on the balcony and move around it comfortably.
Smaller balconies, known as the Juliet, are typically designed for standing and measure 2 ft (depth). These would be the type of balconies that overlook busy streets and enable people to enjoy the view.
A 4 ft deep balcony enables you to have a small table and chairs on it. You will also be able to move around comfortably. This is what most people want to use their balcony for.
However, in some cases, people opt for even deeper balconies and go up to 6ft in depth. This will allow them to host people and enjoy it as an outdoor space.
It would be helpful to think carefully about your requirements for a balcony before you look for a property that has one, or start designing your own.
How Do I Know What Size Balcony To Choose?
Balconies are in high demand. With people generally staying at home for longer, many property buyers will not even consider a property that does not have a balcony to add to their entertaining space.
Choosing a balcony ultimately depends on your own requirements. Balconies can serve different purposes, for example, they can be an addition to aesthetic appeal of the house or apartment, or they can be a functional outdoor space for entertaining friends and family. Either way they add value.
Are you looking to enhance the interior aesthetic by adding large windows? Or are you looking specifically for an outdoor experience, which would be achieved by adding a decent-sized balcony be it an open or enclosed balcony.
The smallest possible size useful balcony is 3 ft (depth). This would be for standing on and looking out over a busy road or park. If you want to have a table and chair, you would need at least 4 ft (depth) and to be able to host friends and family you would need at least 6 ft (depth).
Length is also an important consideration. To make sure your balcony is long enough to accommodate table and chairs and for people to be able to move around comfortably, you should look at at least 9 ft.
How Do I Find The Right Balcony For Me?
If you are searching for a property that has a balcony, here are some things to consider:
How much privacy do you need and would a balcony help provide that?
Do you mind where the balcony is positioned in the house?
Do you have an idea of what you will be doing on the balcony?
Consider how noisy the outdoor space is.
How much sun does the balcony get during the day and from what angles?
Does the balcony suit your spatial requirements?
How Do I Prepare To Design My Own Balcony?
If you are building your balcony, there are some essential factors to consider when designing this aspect of your property. Unfortunately, many balconies are often poorly designed and end up not being used apart from an outdoor storage space.
Since they are expensive to build, it is important to spend some time in the planning and designing if you are feeling the need to build one. We have some tips below.
Avoid long, narrow balconies, which often become unused over time because they do not have enough space to accommodate tables and get-togethers and think about what square foot balcony you might need across all seasons.
It is worth considering the noise level of the area you are thinking of building the balcony. A balcony that is situated close to a lot of noise, like a busy street or highway, or faces a park will only be used for short periods, in which case you might want to consider just adding a small standing area.
However, if the street is full of activity with people walking around and doing their shopping, you can still enjoy the outdoor space, and you might consider a larger balcony where you can watch the world go by.
You will want to find out how much wind the balcony is exposed to. Even the most beautiful view can be compromised by high winds. If there are options of balcony location you could consider building it in the more sheltered part of the house.
You may want to consider adding shading, as this can prevent the glare from spoiling your time outdoors. Many options are available for how to do this, by using a pergola, awnings, an outdoor umbrella, or roller shades. We look at some shade options for balconies here on the site.
How private would you want your balcony to be? Privacy wouldn't be an issue if you lived on your property on a farm or in a house with a garden. However, if privacy is an issue, for example, if you live in a flat facing other flats, many options can reduce your exposure to neighbors.
Possible options include hanging shades, installing privacy screens, outdoor curtains, or bamboo room dividers, to name a few.
It is worth paying close attention to the location of the balcony. It is helpful if it is located off the kitchen or living area because that encourages easy access by guests and family members. If it's situated alongside a bedroom, for example, this makes it less likely people will use it or less likely that guests would use it at least, you would
While some people think a view is essential, don't get caught up on what you can see from the balcony. People mostly use balconies to enjoy time outdoors, not to see the same view they can enjoy from inside their property.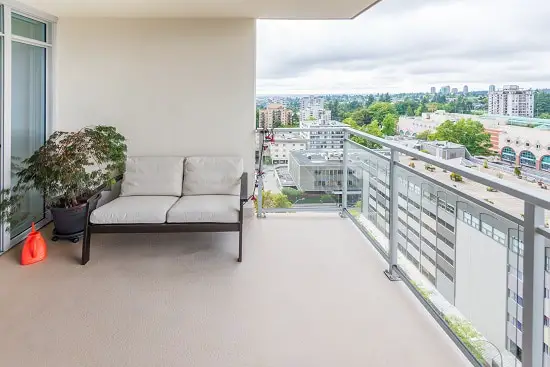 We have a selection of balcony construction and common questions linked below with loads more information.
Conclusion
Like property, there is a balcony to suit everyone's needs. So whether you want a small standing space to watch the traffic from your window or a beautiful outdoor space for meals with friends and family, there is a balcony to suit everyone's needs.
Because balconies are expensive to build, make sure you spend enough time considering your individual needs before creating your balcony or committing to a property that already has one. This way, you're more likely to enjoy your balcony for all it has to offer.
References