Juliet Balcony Vs. French Balcony
It always sounds so romantic and idyllic when someone mentions a Juliet balcony. Our thoughts go to the romantic Shakespeare play "Romeo and Juliet," and one might wonder if this is where the name originated. How does a Juliet balcony correlate with a French balcony?
There is no difference between a Juliet balcony and a French balcony. It is also known as a "false balcony," telling us that the purpose of these balconies is not the same as your usual ones. They are usually very small or not even accessible by foot and more for aesthetics than practical use.
Juliet or French balconies are pretty interesting when you look at what they are, what their purposes are, and how to use them. The French balcony is dated way back to the 1800s but is still used in modern developments today.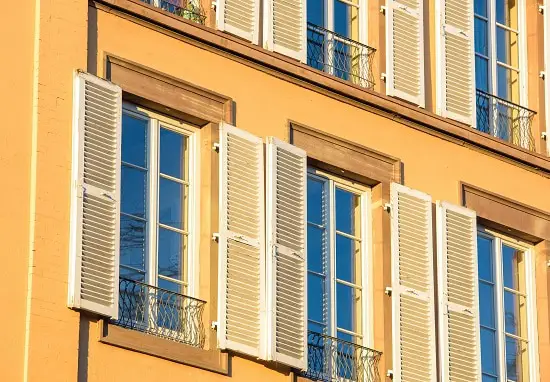 How Do Juliet And French Balconies Relate?
In medieval times, soldiers used a wooden scaffolding named "The Hourd." They stood on this looking afar to see enemies approaching, or down onto wars and sometimes shooting from here.
This surface was an extension of the castle's wall, keeping them safe and allowing them to look down without the opposition to see their bodies, and from this, the balcony was born.
French balconies became famous around the 1800s in Britain, mainly used to give buildings an aesthetic look from the outside. Since then, many houses and properties have added French balconies to provide any home with that unique look and, in the end, add different uses as well.
As you might have guessed, the Juliet balcony got its name from the famous Shakespeare play. However, he never mentioned this in the script, only stating that she spoke to Romeo from her bedroom window. Portraying the theatrical performance, directors have added these French balconies to the stage décor for that romantic effect, and the name stuck.
To identify these balconies, you would typically look for a terrace with no slab for a floor. Some have a small area where two people might be able to stand, and others only have a railing.
These balconies have beautiful French windows or sliding doors opening onto this railing or small balcony. The idea of these balconies is mainly to give a specific look and feel to your house or building, but there are other reasons for having them.
We have links to alternatives for Juliet balconies on the article below and here if you are exploring your options.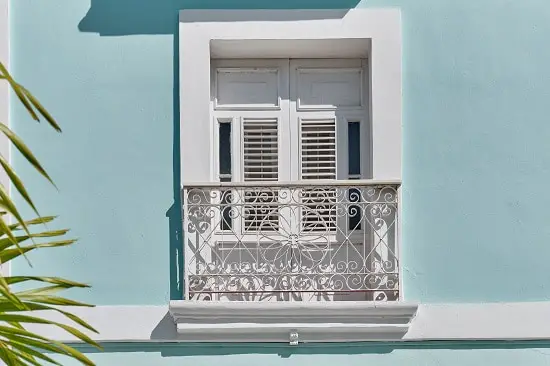 Why Would You Want A Juliet Balcony?
A few reasons are available to add a French balcony to your house. Most architects add these to save space, especially when designing apartments, or saving money because an ordinary patio can push your budget through the roof.
They are letting in natural light. These balcony types are perfect for inviting more natural light into a room, as long French windows cover a wall and sometimes even opening as a door gives them their character.

Invite nature into the room. When beautiful landscape scenes surround you, you can add this type of balcony to your windows or sliding doors to bring the outdoors in. Just be sure if your neighbor might be able to see into your big French windows, to maybe add a tint to them for more privacy.

You are saving space. You might not have the capacity to build a typical balcony, but a Juliet balcony can be a solid second best and give you some of the perks you would find in a usual balcony.

Low maintenance. A French balcony is usually easy to keep clean and, depending on which materials your structure consists of, is effortless to keep maintained.

Always put safety first. You might want the big French windows, but not necessarily a balcony. Then these Juliet balconies are perfect as they have railings to ensure that no accidents can happen while the beautiful windows are open.

You are adding décor to your windows. People love adding plants to their French balconies especially climbing plants. You might live in an apartment with a Juliet balcony, and this is the only place you can decorate or add a personal touch.
Different Types Of French Balcony Railings
There are many different railing options to consider when adding your French/Juliet balcony. Your choice of railings depends on the building you want to add it to and the work you are willing to put into the upkeep. With each type of material, there are positives, negatives, and maintenance levels.
| | | | |
| --- | --- | --- | --- |
| Railing Type | Pros | Cons | Maintenance Level |
| Wrought Iron | Variety of designs to choose from It portrays the typical Juliet balcony look   | Expensive | Medium – treatment to prevent rust is necessary |
| Wood | Inexpensive Modern looking   | Tend to deform over time | High – Wooden railings need to be treated and changed over time |
| PVC and Vinyl | Same designs available as wooden railings It does not warp like wood   | Limited colors are available. | Medium – Vinyl railings need regular cleaning. |
| Glass | Give access to a great view Many options to choose from   | Expensive   | Medium – Glass railings need to be cleaned as necessary |
| Concrete | Sturdy and strong On the cheaper end of the railing price | Not too many options available Not as beautiful as other options | Low – no maintenance necessary |
| Aluminum | Many options and styles are available Light and modern Options to DIY your railings | None known | Low level – very little care needed |
| Steel | Easy to use Stainless steel is weather-resistant | Stainless steel is expensive | Low level – very little maintenance needed |
Interesting Ways A French Balcony Is Used
There are a few ways to enjoy your French balcony. You can hang the plants from the bottom with a flat railing. You can live out your "green finger" dreams by adding flowers, climbing plants, or a small herb garden.
You can choose furniture that compliments your balcony. Suppose your Juliet balcony has space for a chair; you can transform this space into a reading corner or spend some "me time" and let everyone know this is your space. Keep in mind focussing on outdoor furniture to minimalize the upkeep.
Believe it or not, a French balcony inside a house or building is also a possibility. These balconies open up a space, giving the illusion of a lighter, bigger room. This inside French balcony is the type with only a railing on the first floor.
Cruise ships also like to add French balconies to their design. This addition gives members on the cruise the ability to look out over the water, be as close as can be, but kept safe by the railing between them and the water.
Conclusion
Whether you are looking for a romantic balcony idea or have limited space and need to get creative, these French/Juliet balconies are the way to go. With unlimited materials to build your structure and easy to fit into your house design, you will not regret it.
References