What Size Post Should I Use For Shade Sail
Adding a shade sail to your home can brighten up the surroundings while at the same time providing valuable shade to plants, furniture, pets, and family. People living in hotter zones like Arizona or Nevada will know the baking power of the sun in mid-summer when even your swimming pool gets too warm. When erecting a shade sail, you'll want it to stay up, so what size post should you use?
A metal post or pole used for a shade sail should have a diameter of at least three inches and a gauge of 12 or better for rigidity and strength. The owner's requirements will determine the height. A wooden pole should be three inches or more in diameter for a small sail and six inches for larger sails.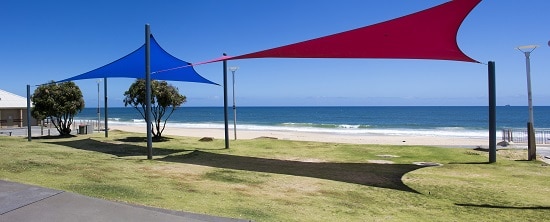 Post Requirements For Mounting Shade Sails
Steel posts are most suitable for shade sails and are available from your local hardware store or steel supplier. The benefit of using steel posts is that they are extremely strong and durable if treated correctly (primed and painted well). Steel poles can be cut to required lengths and painted in the color of your choice.
The diameter of the hollow post will be in the region of three to five inches for a metal pole with a gauge of 12 or better.
The length of the posts will be determined by the size of the shade sail and by the height of the attachment. The footing depth is calculated by the load and height of the extension. Essentially, the higher you go, the deeper you need to sink the footer. Remember to angle posts slightly away from the load's direction.
Bear in mind that you want your tallest guest or family member to be able to walk comfortably under the awning, so don't skimp on height. Anything excessively high will be more expensive and subject to increased wind action.
Can I Use Timber For My Sun Shade Post?
You can, but bear in mind that the wood used will degrade at some point, and poles should be at least 5″ x 5″ and pressure treated. This wood will be exposed to the sun and rain, so it must be correctly prepared.
Is It Safe To Use PVC Pipes For Sail Shade Posts?
PVC is not made to carry excessive weight. Unless your structure is temporary, this is not a recommended option. If you're popping up a shade sail for a kid's afternoon party and there is no wind or rain forecast, and if the sail is not large, PVC will work.
A better workaround might be to use metal or wooden poles of the recommended size, concreted into large drums for a temporary fix. However, this is not safe to use for more than a day or two.
One job I did recently used precisely this method and was on paving where the shade sail protected a bed of valuable plants. This was left in place for the summer, but we only went two yards above the paving, with a 30' x 5' shade sail and poles of a four-inch diameter.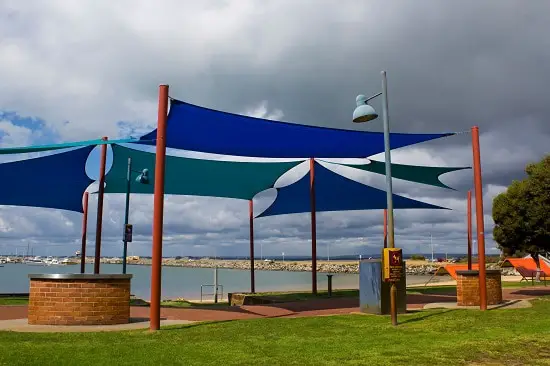 How Deep Should Shade Posts Be Erected?
Dependant on the post height, at least 35", for shorter setups and set in concrete. Simply stamping on the loose soil in the hole will not work. Even without wind and rain, the weight of the shade sail will cause the erection to fall in time. In most cases, it's wise to have footings no less than 50" deep and 12" round. Some bases need to be as deep as 80" deep and 24" round.
Sandy soil in Arizona will require a deeper hole than permafrost in Anchorage, where you might be protecting delicate plants from direct sun.
if you are thinking of shade sails for your balcony you can check out options here in the best shade balconies article.
We have loads of information and articles on shading your outdoor space, while a search will help checking out the articles linked below is also a good way to start.
What Are The Length Options For Sail Shade Posts?
Regarding height, most posts come in eight and ten feet options, and steel companies can provide extenders if required.
How Do I Prepare Sail Post Footings?
As with posts, ensure you follow depth recommendations so that the job is only done once.
Round holes will require somewhat less concrete than a square footing but ensure that the bottom of the hole is the same size as the top. This is easier to achieve with a square hole.
Don't skimp with your filler for the footing. Only concrete should be used, and it should be mixed as per the manufacturer's instructions. If you have not prepared enough concrete and need to add more, I suggest you use the same water: powder ratio as you did initially. This ensures consistency in your concrete. An extra tip is to use clean drinking water to avoid contaminants.
Establish The Best Place For Mounting Points 
Once you identify the location for your shade sail, you should determine the most appropriate mounting points for each corner. These may already exist as a wall, rafter, or sturdy tree, but where there is nothing, you will need to add posts, which must be structurally sound.
What Design Considerations Should I Consider If Erecting A Shade Sail?
Decide what you actively want to shade. As the sun travels across the sky, the shade moves, and if you shade too little of the area, your area of concern will soon be without shade again. If you shade too much, you will have increased costs and possibly a shaded area you'd rather have sunny.
Decide on the shape of shade sail you desire. Triangles are trendy but not cool – simply because the corners are narrow and only the middle section offers any actual shade.
A shade sail greater than a few square yards in size cannot be flat because water, hail, snow, and the fabric itself will be too heavy for the usual amount of support. The answer is to add far more poles that will look a little strange or have a raised section (or three or four) which will dispel water etc., and spread the weight of the fabric.
If your shade sail is going over the pool to enable longer swim times for the family, consider covering just the shallow end. A completely-covered pool drops in temperature very quickly, so if you're in Tucson or Brownsville, this is fine, but elsewhere might spoil your swim.
If your shade sail is close to a building, you will probably anchor it against the wall in at least two places, but if it's away from the building, your poles must be strong and well anchored to prevent accidents.
Be aware of grass and shade sails and try not to keep your green areas completely covered as it could damage the grass over time. Yo can read more about this in our "do shade sails kill grass" article here.
Check Building Codes Before Starting
It's essential to check with your local authorities for relevant building regulations that will apply to your shade sail's installation.
Apart From Poles, To What Can I Attach My Shade Sail?
You can attach it to a roof, rafters, walls, or poles, but it is vital that the building complies with building standards. Permanent walls must be double-bricked, employing the appropriate number of brick ties or using reinforced concrete.
Your rafters must be fixed with triple grips, top plates held in place with cyclone straps, and battens reinforced with a robust screw-type fixture. Wooden framed walls are generally considered unsuitable for attaching sails to.
Support posts will be required if there aren't enough fixing points present. It's essential to ensure all of these fixing points are structurally sound, but if unsure, seek advice from a trusted builder or engineer.
References