How Much Space Do You Need Around A Garden Table?
Creating your dream outdoor dining area can be challenging as there are many variables to consider, like how much space you need around your garden table and which table shape and layout will work best to showcase your gorgeous outdoor space.
To calculate how much space, you need around a garden table, allow for 3 feet, 36 inches per chair to comfortably pull it away from the table. Other important factors include whether you need space for a grill, patio door, walkways, balcony railings, including kennels, or cat houses.
While designing a stunning outdoor dining area that can comfortably accommodate all your guests and showcase your garden's finest elements might sound straightforward, that is sadly not the case. So, if you want great design hacks that work – read on!Garden Table Space: Key Considerations
Creating a stunning and functional outdoor dining space is a relatively simple task if you consider a few matters, apart from measuring and factoring in the space you need around your garden table.
Here are a few key considerations if you are either building an outdoor dining area or shopping for a garden tale set:
Outdoor grills: if you want to include an outdoor grill for your next barbeque, consider how much space you need in that area to freely move around when you are cooking delicious steaks or burgers.
Doors: consider how much space your exterior doors will need, especially if you have French doors leading into your garden.
Walkways: think about the amount of space you will need for pathways or stairways so that you can easily move around without knocking into furniture.
Balcony railings: consider your view from the garden table in relation to the height of your deck railings which is normally about 36 inches high.
Kennels and cat houses: if you have fur babies, don't forget to factor in some outdoor space for their little homes.
How To Calculate Your Garden Table Space
While calculating how much outdoor space you will need is a basic calculation, you have some room to play with. So, let's look at the minimum amount of space you need to sit in your outdoor dining area comfortably.
While you should factor in approximately 2 square feet per chair, plus 1-2 feet to push back a garden chair, 3 feet, 36 inches per chair is the ideal amount of space.
Here's an example of a basic estimate to calculate the space with a round 48-inch garden table and four chairs: 36 inches (chair) + 48 inches (table) + 36 inches (chair) = 120 inches/10 feet
It's important to factor in the scale of your outdoor space, so if there is ample space, 48 inches (4 feet) per chair will provide comfortable seating.
How To See If Your Garden Table Space Is Enough
While having calculated how much space you will need around your garden table, it is often difficult to imagine how your outdoor furniture will look once they are all in place.
So, if you find it hard to visualize whether your layout will work for you and don't want to move bulky pieces of furniture around, try this nifty spacing hack to see what it might look like.
Grab an old dust sheet, bed sheet, or a bath towel, including a few cardboard boxes, then fold the sheet or towel in roughly the same size and shape as your garden table, then space the cardboard boxes around your "table" and see if there's enough space to pull out your chairs comfortably.
It's a quick and effortless way to see if there is enough space in your outdoor dining area and to gauge whether your existing garden table and chairs are adequately sized for the available space.
If you are looking for cooling options for your table area then we have some guides on outdoor misters if you want to check them out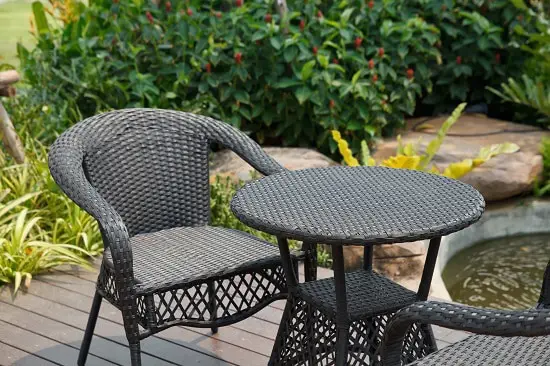 Standard Garden Table Sets
Suppose you realize that your existing garden table and chairs are too large or too small for your outdoor dining space. In that case, it's time to shop around for a patio set that allows for just the right amount of space to create a cozy yet comfortable garden seating area that suits your lifestyle.
Standard garden/patio sets:
3-piece bistro table sets are great for two people in smaller outdoor dining areas.
5–7-piece garden sets are perfect for a family get-together, medium-sized outdoor spaces, and poolside entertainment areas.
9-piece garden sets are an entertainer's dream as it has enough chairs to host lots of guests or large family barbeques
Besides having the right number of chairs, consider which table shape would be ideal for your outside dining area in terms of your available outdoor space, personal style, and lifestyle.
While round tables are the norm, other shapes include oval, rectangular, and square-shaped tables that all have their own pros and cons.
Round-shaped tables are better suited to smaller outdoor dining areas, and it's the ideal shape if you want to have great conversations with friends.
Additionally, round tables feel more informal and will fill your outdoor space nicely. However, larger round tables can make guests on opposite sides feel a little isolated.
Rectangular-shaped tables are a great choice for most outdoor garden spaces without protruding too much, and you can host more guests with 8-seater sets.
Square-shaped tables are better suited to smaller outdoor dining areas, especially square-shaped patios where you can seat four guests and want to create an intimate dining area.
Oval-shaped tables are advantageous as you don't have sharp corners to contend with, and you can easily add additional chairs or even a garden bench to accommodate larger crowds of up to eight guests.
While there is not much difference between oval and rectangular-shaped tables, oval tables use a little more space and work better for larger outdoor dining areas.
Conclusion
While a functional outdoor dining area that is beautiful and comfortably seats your nearest and dearest is an absolute joy, calculating how much space you need around a garden table is essential to showcase your stunning garden and make the most of your precious family time.
Resources