How Much Does It Cost To Reinforce A Deck For A Hot Tub
Hot tubs are a great addition to your living space where you can relax or have friends come over for a good time. However, if you're looking to put your hot tub on a deck outside your house, there are some things you need to ask yourself. One of these questions is whether you need to reinforce your deck and how much that will cost. Luckily there are some simple ways to budget for this kind of job.
Depending on the type of hot tub you have, whether it is in the deck or on top of the deck, and even the original weight limit, the price to reinforce a deck can cost anywhere between $15 and $35 per square foot. The price to add support to a deck can also vary based on location and companies.
Looking at the information above may have you asking whether you need to add support to your deck to support a hot tub, and the answer is that it is always better to be safe. It would be best to consider all the aspects when you want to reinforce your deck for a hot tub because they will help you properly budget for the project without wasting any extra money.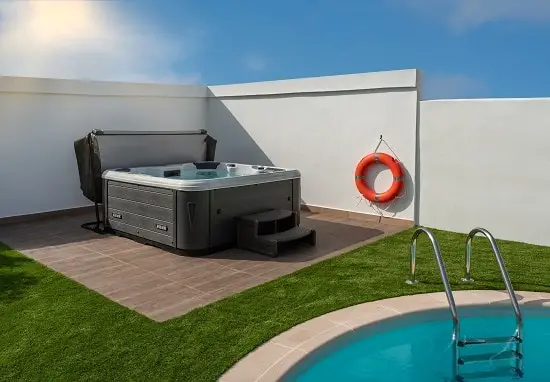 What Is The Price Of Reinforcing A Deck For A Hot Tub?
Though the price for reinforcing a deck for a hot tub could differ dramatically, it is always best to budget before starting a project. Additionally, it is best always to consider some extra work you may not have foreseen and other things like the amount of the deck that needs reinforcing.
There is no solid price for how much it would cost to reinforce a deck that already got built so you can add a hot tub to it, but there is a way to get an idea of what it should cost.
Reinforcing a deck is unlikely to be as straightforward as adding a couple of wooden feet under your deck. The more likely course of action will mean removing a piece of your deck, pouring concrete with wooden supports, and adding the deck planking back on top. For this reason, it is good to assume that the cost of reinforcing a deck will be at least as much as making a new one. Costs may rise as with the height of you deck and we look at 2nd floor decks and hot tubs here.
The high end of the average size for a hot tub is around 64 square feet. With this in mind, you can bargain between $960 and $2240 for the labor needed to build a deck that will support your hot tub
. However, there might be added costs if your original deck's foundation needs to get removed to pour the new concrete layer that helps the wooden pegs that keep the deck reinforced.
Additionally, you must factor in the costs of the project's materials, which can be a considerable extra amount. The cost of pouring concrete is around $140 per cubic yard, with an additional $43 per cubic yard because we don't need a truckload.
To cover a 64 cubic foot area, because we'll need at least 1  foot in depth, we need at least 2.4 cubic yards, which would cost around $440.

The rest of the materials you need depends more highly on your choice of material and how much you feel is necessary.
For this, we will add an extra $150 to be safe. With the materials and labor combined, you're looking at a cost between $1550 and $2830 to get a reinforced deck built for your hot tub.
If you feel confident you can do this yourself, you may be able to save some money on materials if you work carefully. However, you should still budget at least $590 if you exclude the labor cost, and you may need to add extra to rent tools if you do not have them.
Do I Need To Reinforce My Deck For A Hot Tub?
Though we have now discussed how much you should budget to ensure your deck gets reinforced to support the added weight of your hot tub, you may not need to strengthen your deck if you are lucky. How ever we have more information on if balconies can take the weight of a hot tub here.
If your deck is fewer than 2 feet from the ground, there is a high chance that you do not need to add any support for your deck to handle the weight of a full hot tub.
Decks low to the ground, less than two feet, can usually handle a weight of up to 100lbs per square foot.
Depending on the weight of your hot tub and added people and water, your deck should be able to handle the weight.
If you have a deck lower than two feet from the ground, you should be able to stand almost any hot tub on it since hot tubs generally cover a more expansive area the bigger they are.
Because of the way decks and hot tubs are built, the pressure and weight should be well distributed.
If you are anxious about whether your deck can support your hot tub, there are some simple calculations you can do. The steps below will help determine if you need to add support to your deck.
Determine the size of the hot tub – First, you need to determine the size of your hot tub. The one used in the calculations above is around 64 square feet. If the deck is lower than 2 feet from the ground, the deck area the tub is on will carry around 6400lbs.


Determine the weight of your hot tub – The next step is to determine the weight of your hot tub without water. There may be details about the tub's weight on the manufacturer's website or in a manual provided with the tub.


Determine the volume of the tub and the water weight – To measure your hot tub volume, you can count the water meter as it fills or ask the manufacturer for details since a volume calculation will not be accurate. Once you know the volume in cubic feet, you can multiply it by 62.4lbs per cubic foot, which is the water weight.


Calculate the weight compared to capacity – The last thing you need to do is add the tub's weight to the water's weight and see if it is more than the deck's carrying capacity. If the weight is less than the carrying capacity, you do not need to reinforce your deck.
Additionally, if your hot tub is not on the deck but in the deck, there is usually no reason to worry about added support. Even when a deck is built around a hot tub, to make it appear like it is hanging, there should be added support on the bottom to keep it secure and in place and take weight off of the deck.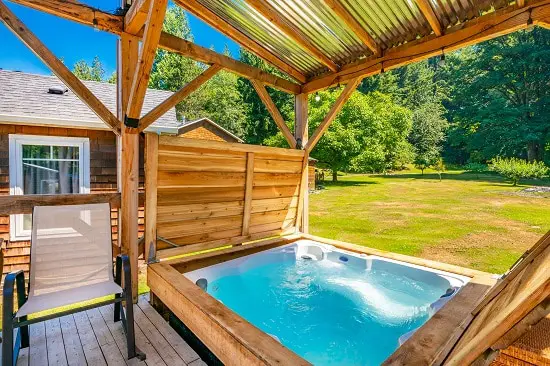 Why to have an Outdoor Hot Tub?
If you are on the fence about if a hot tub outside is a good idea we have articles on the site to help you decide. But in the meantime here are a couple of reasons to consider,
Installation is easier
You don't have to be a home improvement expert to install an outside hot tub. You just need to have an adequate space and a power supply to support a gazebo. A permanent gazebo would be an ideal option if you're working on a bigger home improvement project. Otherwise, pop-up tent gazebos are a good option for a smaller budget. If you're going to use the hot tub infrequently, you can always store the gazebo when it's not in use.
Outdoor hot tubs are easier to maintain
If you own an above-ground hot tub, you should know how to properly maintain it. Typically, you will need to drain it and refill it three to four times per year, depending on usage.
It is important to maintain a clean water level in your hot tub year-round, or the water pump will become damaged. Above-ground hot tubs are also easier to service than those on the ground, which means that you can perform some of the basic maintenance tasks yourself.
Its much more relaxing and natural
Another benefit to an outdoor hot tub is that you can enjoy nature more. While soaking in an indoor tub, you will be confined to the privacy of a room. The outdoor variety can be a great alternative if you live in an area with good views. If you live in a beautiful area, you can enjoy nature all year long. And if you don't live near a large city, outdoor tubs are easier to maintain, too.
Having a water feature from a hot tub to a pool is an awesome addition to your outdoor space, we have a a collection of articles if you are thinking of adding one to help you get started linked below.
Conclusion
The cost of reinforcing your deck to handle the weight of a hot tub can vary significantly depending on whether you do it yourself or hire someone to do it for you
Additionally, the cost of materials can also vary, and you should always budget a bit more than expected. However, having a hot tub does not mean your deck can't support it. It would be best to always calculate before spending more money.
References: