Can You Put A Hot Tub On A 2nd Floor Deck?
A deck is a valuable addition to any home, a marvelous place to relax, entertain friends and family, and enjoy the outdoors without having to leave the comforts of home. A hot tub on your deck takes that enjoyment to a whole new level.
Putting a hot tub on a second-floor deck is certainly possible. But it's not just a question of installing it – a deck more than two feet above the ground will need reinforcement to carry the considerable weight of the hot tub, and that in turn requires some careful calculation and some expertise.
The advantages of being able to open a door, step out onto a deck and enjoy your private spa far outweigh the difficulties of getting it installed, but there are no shortcuts. Whether you're an accomplished home handyman or have decided to get the job done professionally, it's essential to know every detail of what is needed to provide a safe, trouble-free hot tub installation.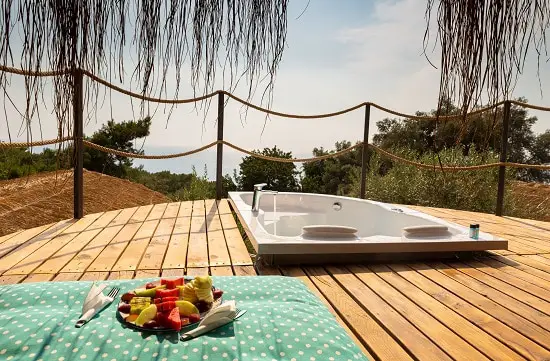 Can I Put A Hot Tub On A 2nd Floor Deck?
From an investment point of view, any addition to the house should add more to value than the cost of that addition. From the viewpoint of the homeowner and the family living in the house, the sheer pleasure of having an elevated deck and hot tub makes it worthwhile at any price.
Things To Consider Before Installing A Hot Tub
Space – if you're installing your hot tub on an existing deck, you'll need to decide whether it will leave enough room to entertain, relax and dine al fresco. A 2-3 person hot tub requires a space of approximately 6 feet x 6 feet, while a 4-5 people tub (the most popular size) needs about 9 feet x 9 feet.
Access – if your deck is on the second floor, it may lead off a living space but possibly off of a bedroom. If it's the latter, do you want guests coming through the room to get to the hot tub, or do you provide a stairway on the outside?
Privacy – with your raised deck and hot tub, are you visible to neighbors? If that's a problem, you might want to reposition the tub or build a screen wall.
Sunshine and wind – ensure you can enjoy the tub for most of the year, ideally with plenty of sun, protected from the wind, and maybe even a view!
Water and electricity – both these services need to be easily and safely connected to your tub. Water needs to be drained, the tub refilled, and the pump needs power, so check on the proximity of the main supply lines.
Cost – you will have budgeted for the purchase of the hot tub, but the cost of installation, including lifting the tub up to the second floor and the cost of reinforcing your deck, may need expert input. We have an article here offering some tips and advice on reinforcing decks for hot tubs as well.
Determining If The Deck Can Support The Weight Of A Hot Tub
Whether you're building a deck to carry a hot tub or installing a tub on an existing deck, you need to know that the deck is strong enough to support the weight of a filled, functioning hot tub with a full complement of people.
What Does A Hot Tub Weigh?
Obviously, the weight of your hot tub depends on its size, but rather err on the generous side when estimating the cost of implementing your plans:
A small hot tub seating 2-3 people weighs around 600 lbs empty and 3000 lbs filled with water, and people
A medium hot tub, suitable for 4-5 people, weighs 750 lbs empty and 4420 lbs filled with water and people
A large 6-8 people tub is 800lbs empty and 5500 lbs filled with water and people.
Inflatable hot tubs are much lighter, with a total filled weight of between 2700 and 3700 lbs.   
Dividing the weight of the filled tub by the area it covers on the deck will give you the load per square foot.
You can also see if your balcony can take a hot tub here as well.
Calculating What Load Your Deck Can Carry
There is no simple way to determine whether your deck can support the load of a hot tub. The only answer is "it depends." Factors that affect the load-bearing capacity of the deck include the underlying soil, the spacing of existing footings, the condition of the footings and support beams, as well as the spacing between joists, and the height of the deck above ground.
To assess how much reinforcement is needed to ensure the safety of the deck and to meet with local government regulations, we strongly recommend that you get a professional deck expert or structural engineer to provide you with the information you need.  
How To Reinforce Your Deck To Carry A Hot Tub
Once you have an accurate assessment of the load-bearing capacity needed to carry the hot tub on your second-floor deck, you can begin to plan the additional reinforcement.
Additional footings and posts – assuming the deck will be more than six feet above ground, additional 8×8 posts and footings need to be provided, not more than 30 inches apart.
Increase the ledger board fastenings – reinforcing theattachment between the deck and the house ensures that the additional weight of the tub doesn't pull the deck away.
An additional beam under the tub and doubling up the joists underneath the tub will be sufficient to carry the weight of the full tub.
Install sway bracing and additional blocking between joists to prevent horizontal movement.
The deck surface carrying the hot tub needs to be prepared. Because water will inevitably be spilled out of the tub, a wooden deck surface will need to get a weatherproof coating or a protective veneer to prevent rot setting in. Alternatively, place PVC sheeting on the deck for the hot tub to rest on.
Make sure all timber is sound and replace any s
Supports, beams and joists that show any sign of deterioration.
Having a water feature from a hot tub to a pool is an awesome addition to your outdoor space, we have a a collection of articles if you are thinking of adding one to help you get started linked below.
Conclusion
Adding a deck is like creating a holiday resort in your home. If you include a hot tub on your new deck or add a hot tub to an existing deck, you'll never regret the investment, as family and friends gather to relax and enjoy life.
If your deck is on the second floor, the hot tub is a more complicated addition, but rest assured it can be done, and it will be worth all the effort you have to put into it to make it safe and secure for a long time to come.
References