Best Outdoor Kitchen Appliances Brands
Today's brands of outdoor kitchen appliances are leveling up the way you can entertain outdoors. An outdoor kitchen is no longer just a grill, smoker, and perhaps a side burner. We are talking outdoor pizza ovens, rotisseries, under-counter fridges and freezers, kegerators, and ice makers.
Premium outdoor kitchen appliance brands like Coyote, Lynx, Hestan, Alfresco, Kamado Joe, Big Green Egg, Marvel, XO, Napoleon, and Viking make some of the best grills and outdoor cookware on the market. These brands have a range of products designed for any type of outdoor entertainment space.
If you are upgrading your outdoor kitchen and you are looking for the best appliances, you have come to the right place! Here we discuss our top 10 picks for the best outdoor kitchen appliance brands – what products we love, what makes them great, and why you should invest in these brands.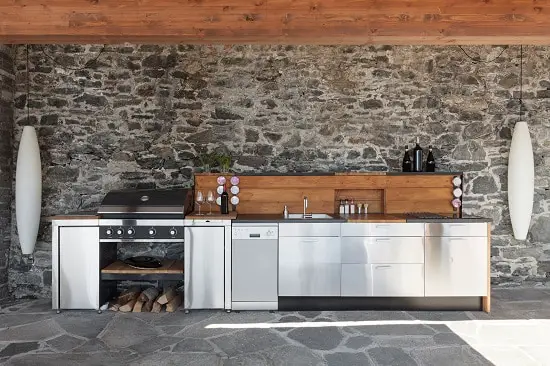 1.    Coyote
Coyote Outdoor Living is a company that is based in Dallas, Texas, in the heart of barbecue country. They specialize in creating the highest quality outdoor kitchen appliances at a range of price points so that anyone can have the outdoor kitchen of their dreams.
$4,299.00
in stock
7 new from $4,299.00
as of October 19, 2023 4:55 am
Coyote has a range of traditional gas grills, charcoal grills and smokers, and innovative pellet grills. They also have a range of outdoor sinks, refrigerators, specialty burners, and storage solutions – everything you need to furnish a state-of-the-art outdoor kitchen. 
2.    Lynx
Lynx is a brand that specializes in luxury grills and outdoor appliances. Their range of built-in and freestanding grills have a gorgeous, sleek construction and are equipped with high-end features that impress professional chefs and pit masters alike.
in stock
as of October 19, 2023 4:55 am
Lynx is not all about barbecue. Their handcrafted appliances are for any type of outdoor kitchen. They have a fantastic range of outdoor ovens, cook tops, side burners, and warming drawers, as well as outdoor refrigerators, cocktail stations, sinks, and storage solutions.
3.    Hestan
Hestan is the name of the game if you are looking for a high-performance grill that is as appealing as it is functional and durable. Heston is like the Le Creuset of outdoor kitchen appliances. All their products come in a range of 12 designer colors.
Whether you choose a grill from their Professional Series or their Aspire range, you will be impressed by small features that make a big difference, like the motion-activated under-hood lights and the LED-lit die-cast knobs on the control panel.
$5,879.00
in stock
2 new from $5,879.00
as of October 19, 2023 4:55 am
Hestan makes a wide range of equally good-looking appliances to compliment their grills. They have side burners, refrigerators, storage compartments, and dishwashers.
4.    Alfresco
Alfresco combines the highest-quality craftsmanship with the latest in grill technology to bring you their premium range of outdoor kitchen appliances.
They have a range of built-in and freestanding professional grills. To call these open-air culinary systems "grills" feels a bit reductive.
All Alfresco grills, from the most basic 30" model to the 56" luxury All Grill model, offer 15 different ways to cook! You can sear, braise, fry, boil, roast, grill, bake, steam, smoke, and much more.
$605.99
in stock
3 new from $605.99
as of October 19, 2023 4:55 am
Alfresco also has a range of outdoor refrigerators, sinks, beverage centers, bars, and warming drawers to turn your outdoor kitchen into a professional restaurant kitchen.
5.    Big Green Egg
Big Green Egg has been producing modern kamado-style outdoor cookers since the 1970s. A kamado is an ancient Japanese style of wood or charcoal burning stove with thick ceramic walls that holds heat in extremely effectively.
Big Green Egg cookers are versatile appliances you can use to grill and smoke delicious meat or as a pizza oven. The Eggs come in a range of sizes from mini to double extra-large. They also have their own line of grill accessories as well.
$12.50
in stock
4 new from $8.40
as of October 19, 2023 4:55 am
If all you want is a stand-alone grill, you can simply buy a Big Green Egg, but if you want your Egg to be a part of a larger outdoor cooking area, you can get a custom Egg table or island.
6.    Kamado Joe
If a kamado-style cooker is what you are after, but green is not your color, you can always opt for a Kamado Joe. Kamado Joe produces a range of traditional ceramic charcoal grills that are top-notch in terms of quality and functionality.
Kamado Joe produces cookers in a range of sizes. They are designed to allow precision control over the temperature, so you can sear, grill, roast, or smoke your meat to perfection.
$610.55
in stock
4 new from $610.55
as of October 19, 2023 4:55 am
It is very easy to clean out Kamado Joe cookers. They have an ash drawer that simply slides out.
7.    Marvel
Marvel has been around for over 125 years, and they know a thing or two about making premium outdoor kitchen appliances. Whether you are looking for an under-counter refrigerator, wine cooler, beer dispenser, or ice machine, look no further than Marvel!
$1,199.98
$1,559.98
in stock
2 new from $1,199.98
as of October 19, 2023 4:55 am
All Marvel appliances have a sleek stainless-steel finish that will elevate any outdoor kitchen and bar design.
8.    XO
XO is a brand that manufactures modular pre-assembled outdoor kitchen islands. They come complete with a gas grill, side burners, trash drawer, and storage compartments.
XO outdoor kitchens look modern and sleek, and they function flawlessly. If you are looking for an all-in-one outdoor kitchen solution, XO is the brand for you!
9.    Napoleon
Napoleon produces a wide range of built-in and freestanding charcoal, propane, and natural gas grills. Their grills, which are all either black or stainless steel, function fantastically and look great in any outdoor cooking area.
$1,499.00
in stock
4 new from $1,499.00
as of October 19, 2023 4:55 am
Napoleon grills have many impressive features and allow you to cook your meat any way you can imagine. You cannot go wrong with a Napoleon grill!
10. Viking
Viking is a brand that produces high-end appliances, and their outdoor range is amazing. Their built-in and freestanding gas grills look as if they belong in a professional kitchen. It relatively easy to buy replace parts as well.
$99.99
$139.99
in stock
3 new from $99.95
as of October 19, 2023 4:55 am
Besides grills, Viking also has a range of outdoor fridges, ice machines, side burners, and storage solutions to complete your dream outdoor kitchen.
We have hundreds of articles on how to use and set up your outdoor kitchens. You can do a search on the site or check out the selection we have chosen below.
Conclusion
You just cannot go wrong with the outdoor kitchen appliance brands that we've discussed in this article.
They all produce premium products that will impress even the most discerning outdoor chef. If you are looking for impeccable design, unmatched quality, and excellent customer service, look no further.
Resources