Do I Need Stairs On My Deck?
Numerous variables should be considered when starting a DIY project, like building a deck. What is the deck's purpose, what materials will you use, how high will the deck be, where will you position the deck and many similar questions. However, one often overlooked question is, do I need stairs on my deck?
Whether your deck needs stairs is related to its height above the ground. Decks require stairs when higher than 7 ¾ in. above the ground. If your deck is lower than 7 ¾ in., it usually does not require stairs; however, some states have different local regulations and building codes.
Although the necessity of stairs depends drastically on the height and design of your deck, there are situations where stairs are a beneficial edition. Below we'll investigate some of the pros and cons of adding stairs to decks, situations you'll need them, and what are some of the legalities surrounding deck stair construction.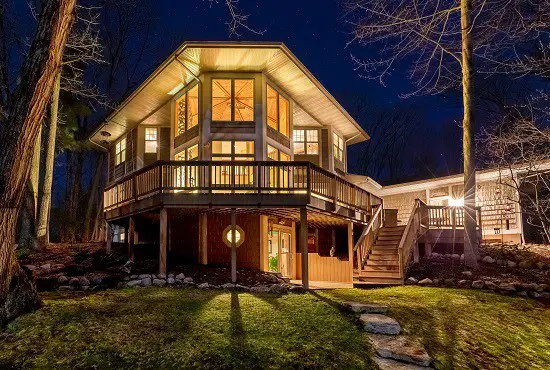 Why You Need Stairs On Your Deck
Stairs are important for most decks as entry and exit points. Although a deck might only be a foot or two above the ground and easy for an energetic individual to climb on and off from, others may not be able to navigate the drop/rise safely.
Decks are often hazardous, with people tripping/falling over them. So, to reduce the likelihood of these incidents, a stairway is a useful entry/exit point.
The common practice is that if a deck is higher than 7 ¾ inches, you'll need to add stairs to reduce the risk of injury and create an accessible deck.
What Are The Legal Stipulations Concerning Stairs On A Deck?
Most states have specific building codes relating to deck building. What is important is that you peruse your state's laws and regulations before planning a deck.
If you don't know where to go to find these regulations, speak to your local hardware shop, or contact a deck building company and badger them (in the most polite way possible) for some info. They should be willing to assist you (provided you're polite).
Alternatively, the International Code Council's website provides access to the International Building Code and the International Residential Code, pertinent legislation for deck building.
Some legalities, according to the International Residential Code (particularly Section R311), concerning steps include:
Rember, when you attach stairs onto a deck, you might need to set up a handrail for safety on the steps. Decks lower than 30 in. from the ground are exempt from requiring handrails accompanying the steps.
Railing on steps must be between 34 and 38 in. above the step (the top of the rail should be this height above each step).
Steps should rise between 7 ¼ and 7 ¾ in. (the vertical distance between successive steps). Steps should not be less than 4 in. apart.
Each step should be strong enough to hold 300 pounds.
Each step should be a minimum of 10 in. deep.
Stairs should be a minimum of 36 in. wide, but many recommend at least 46 in. for better freedom of movement.
Most stairs require a landing. Whether you need to include a landing depends on local regulations, the height (rise) of the steps, and the frequency of use.
Most states require a light over the stairway.
Situations Where You Need Stairs On Your Deck
Although stairs are not necessary for every situation, there are many circumstances where a set of stairs are essential to health and safety while using the deck and accessing the deck.
These situations include:
The deck is more than 7 ¾ inches above the ground. When the physical "step" is greater than roughly eight inches, a step allows individuals to access the deck safely.
The deck is a multi-tiered/level deck. Depending on the height difference between levels, you might need a flight of stairs between levels. For example, you might want a deck that adjoins your sliding door, but you want the deck to drop down into a hot-tub area.
If the drop is significant, you'll need stairs.
Access to the deck is from ground level/below the deck. Although your deck might adjoin your house at the same level as your doors, if you want to access the ground from the deck, you'll need stairs (if the ground is lower than 7 ¾ in. under your deck).
Additionally, when the deck joins onto the house but at a different height from the entranceway, you'll need stairs to bridge the vertical difference.
People with less mobility use the deck. Even if you can access your deck easily from the ground, you might not be the only person accessing the deck. Many individuals benefit from stairs onto a deck, including smaller children and older people.
You can check out the number of the stairs you would need in the article below.
Situations Where Stairs Are Unnecessary On A Deck
While deck stairs are applicable in many situations, there are circumstances where stairs are not required.
Stairs are not necessary when the deck is 7 ¾ inches above the ground or less. This reprieve is often the case with many low floating decks.
Getting on/off the deck does not require a step-down/up. A deck affixed to your house often has an access point directly from your house. If the rest of the deck is closed off with handguards and balustrades, and the access point is in line with the deck, you won't need stairs.
The Advantages And Disadvantages Of Adding Stairs To Your Deck
When planning your DIY project, it's important to consider the advantages and disadvantages of building stairs on your deck. Taking these into consideration will assist in planning the project.
Advantages Of Building Stairs On Your Deck
When you factor in and plan steps, they are part of enhancing your deck. Stairs often become decorative features, either acting as chairs, pot plant holders, or through stylish design.
Affixing stairs to your deck allows you to customize the height of your deck to whatever you desire (within reason). Without steps, you're limited to a deck that is only 7 ¾ in. high or joined your house. With steps, you're able to construct a deck of your choosing.
Stairs make decks accessible to everyone. Whether you have old, young, or people with slight movement impediments, stairs allow more people to access a deck safely.
Well-constructed stairs are relatively safe. When properly constructed, with the correct materials, to code, stairs should not fail and allow individuals to access the deck safely.
Disadvantages Of Building Stairs On Your Deck
Stairs are an additional cost. If you're building a DIY deck, the chances are you're probably trying to save a few bucks. However, steps require additional lumber, hoists, bolts, treatment, and time. Something you'll need to factor into the overall cost.
Stairs often become hazards during wet or icy conditions. No matter how much effort you put into making your steps safe, there is always the risk of someone falling and injuring themselves.
We have other information on the links below about deck stairs and materials to help you make your choice.
Conclusion
While there are several instances where stairs are not necessary for a safe, functional deck, there are many more situations where stairs are beneficial and a requirement.
If your deck is greater than 7 ¾ in. above the ground, you'll probably need to put in stairs. Before starting a DIY deck project, ensure that you check what your state's building code regulations are.
References