What Time Of Year Is Patio Furniture Cheapest?
If your patio furniture looks tired or you're ready to upgrade, the smartest thing to do is to buy when demand is the lowest. That way, you are sure to pick up great deals, and if you time it right, you might be able to take advantage of a promotion on top of a seasonal discount. Being patient, shopping around, and waiting for the best deal can save you a lot of money.
Patio furniture is cheapest in winter. Prices usually start declining in August, and good deals become available as stores clear stock to make way for winter inventory. Labor Day sales often offer further discounts on patio furniture. Black Friday sales are also a great time to buy specific items.
Knowing when not to buy is equally important so you don't spend more than you should. Let's check out when you will be able to find the best deals when purchasing patio furniture so you can get great-looking patio furniture at the cheapest price possible.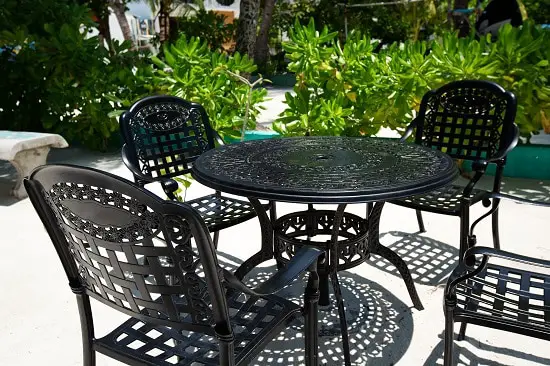 When Is Patio Furniture Cheapest?
August is the best month to find discounted prices on patio furniture. There is also still likely to be a good selection available in-store. If you are confident to wait a few weeks, you may find that the items you want are further reduced to clear and cheapest during Labor Day sales.
You must know what items you need to buy so that you don't simply impulse buy when you see a patio furniture sale. It is easy to be tempted with discount signs, only to realize later that the set you selected isn't your style or doesn't fit on your patio.
Make a detailed list of furniture items you need so that you stay focused while shopping. That way, you won't go shopping for a new patio table and chairs and come home with an outdoor grill and hammock!
As you can expect, once the highest point of summer has passed, retailers start needing to clear space for 'back-to-school' and Halloween displays. After the 4th of July summer high, patio furniture and colorful umbrellas need to make way for leaf blowers and heaters. It makes sense that as the demand drops, and you might find some of the cheapest outdoor items.
If you have your eye on something specific, a pitfall to be aware of is that quantity available in-store may be limited during the low season. Although you will undoubtedly find the lowest and cheapest prices on most patio furniture in mid-winter, a limited selection may be available.
Although lots of focus is placed on Black Friday sales, you may not be able to get stock of the item that you specifically wanted by then. While it will probably be even cheaper than Labor Day, options or colors may have become quite limited. It's a bit of a risk to wait until November.
Don't forget about online retailers when shopping for the cheapest possible patio furniture. As new ranges come out each spring, the previous season's collection may drop in price to clear. If you choose classic, neural style patio furniture, you can always add a patio umbrella or cushions in the season's trendiest colors.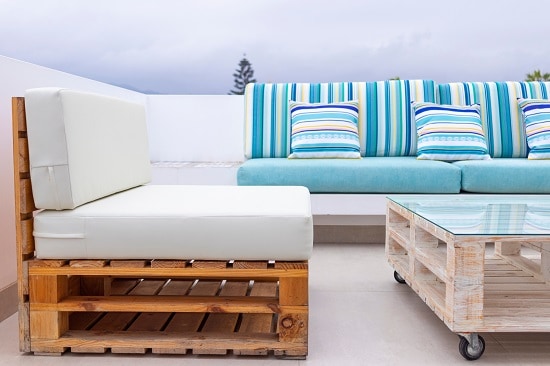 When Should You Buy Patio Furniture?
Patio furniture prices drop in price in August. They continue to fall through November, but as the price falls, so does the available selection. Getting what you want at a discounted price can be a bit of a gamble. If you buy too soon, you may find the item gets discounted further later, but if you hesitate too long, you might not find what you wanted. So you have to balance the cheapest price and the availability.
What is important is that you know the regular price of items going into the sale season. While prices on all outdoor items tend to drop in cooler months, it is not unknown for some retailers to cleverly market massive 'discounts,' especially on Black Friday, when in fact, the price is the same as usual.
There are three major sale low-season sales that you need to look out for the cheapest prices when shopping for patio furniture:
Labor Days Sales – This annual farewell to summer sale is the perfect time to buy patio furniture. The available selection is likely to still be pretty good, and retailers are eager to clear space.
Black Friday – Most people do not need new patio furniture at the end of November, so it can be the perfect time to capitalize on the low demand. While other Black Friday shoppers rush towards the latest TVs and kitchen gadgets, take advantage of the leftover cheapest summer stock that will look amazing on your patio.
Post-Christmas Day Sales – Whether you want an outdoor sofa, a fire pit table, or a comfortable bench for your patio, a great time to look in-store and online is during the week after Christmas.
When Is The Worst Time Of Year To Buy Patio Furniture?
As the weather gets warmer and everyone starts looking forward to summer, patios get a lot more attention. Although you may not get the lowest prices from April to July, that is when the most extensive selection is available. You will also be able to choose from the latest ranges from each brand.
However, if cost is the most important consideration, try to avoid buying new patio furniture ahead of summer. If it is unavoidable, try negotiating other discounts like asking for free delivery or seeing if the store floor model is available at a discounted rate.
we have other articles on maintaining and choosing patio furniture. you can search or follow the links below.
Why Is Patio Furniture So Expensive?
Beautiful patio furniture is expensive because it must be built to look gorgeous and, at the same time, be durable and weatherproof. The materials required must be strong, resist rain, wind, and snow, and still look inviting when you go outside.
Heavy, robust patio furniture may be made from aluminum, wrought iron, wood, or stainless steel. These all come at a high cost, but investing in a solid set will mean it will last for many seasons, no matter the weather.
10 Things To Consider When Buying Patio Furniture
Choosing items for your patio is a little different from buying furniture for inside your home. Items must be practical, attractive, durable, and, most of all, fit perfectly into your available space.
Shopping can be overwhelming as stores offer various discounts and multiple options on outdoor items. We have listed the 10 things to look out for when choosing items so that your patio becomes your favorite chill spot.
1. Choose Items That Fit Your Space
Size is listed first because it is absolutely essential. Unless you plan to do house renovations to fit your new furniture, measure your patio space before you start shopping. Know what you want and how the items should look when everything is set out.
It is much easier to shop and choose correctly when you have an idea of how the furniture will look when it's in place on your patio. Items can look deceptively big or small when staged on a showroom floor.
2. Select Durable Materials
Patio furniture needs to be durable. That is an essential prerequisite when choosing items. Most of us only think of the damage that rain or snow can do, but the intense, relentless sun also takes a heavy toll on outdoor equipment.
Plastic and resin items will last a year or two, but they can become brittle and fade in the sun. Cost is always a consideration, so if you do need to buy these materials, storing them in the garage or another sheltered area when they are not in use will make them last longer.
The most durable materials for outdoor furniture are wrought iron and aluminum, but they may not give the feel you want on your patio. Natural-looking wicker and wood items are very popular, but take note that they need regular maintenance to stay looking their best.
3. Test The Items For Comfort Before Purchasing
Buying items online has become a way of life for many of us. When it comes to electronic goods or tools, things are pretty standard. However, everyone has different preferences regarding fit and comfort. Since you will spend a lot of time sitting on your patio chairs, you want them to be as comfortable as possible.
Before you move your shopping search online, it is advisable to get a feel for different styles of patio furniture. You may find that a seat feels too narrow or the armrests are too bumpy and hard once you try it.
4. Know Your Style
Unless you are particularly going for a Bohemian style, your outside area will look a lot more elegant if you keep a particular style and color scheme in mind while shopping. This will also help you to narrow your search.
Instead of being tempted by super-trendy styles that may not have an enduring appeal, stick with classic colors and styles, especially for large items. You can always dress them up by draping a colorful blanket, changing the umbrella, putting down a mat, or adding gorgeous cushions.
5. Make A List When Buying Patio Furniture
Make a list of what you need before you go shopping. Look at patio furniture pictures online and write down what specific items you want to include on your patio. The outdoor departments in most stores have an extensive and very tempting range of items that may soon have you considering things you probably don't need.
When it comes to patio furniture, less is very often more. The area should look neat, uncluttered, and inviting while retaining all the necessary functional elements. 
6. Consider Your Patio Setting
While selecting outdoor furniture, you need to keep in mind how exposed your patio is and choose pieces accordingly. Some patios are entirely covered, while others may only have the shelter of a large outdoor umbrella. You may need to purchase weatherproof covers for all your furniture, which will increase your outlay.
7. Choose Easy Maintenance Patio Furniture
Wood is always an elegant choice, but sooner or later, it will need to be sanded and require a new lick of paint or varnish to retain its good looks. If you love the look and feel of natural wood, choose cedar or teak, which are highly durable. Ensure that metal finishes are coated to resist rust.
Consider aspects like how easy the patio furniture will be to clean, especially if you have kids or pets. Items that have removable covers or are fully washable are always a good option. If you live near the sea, you may regularly need to rinse your outdoor furniture to remove sticky salt build-up, so keep that in mind while selecting. 
8. Choose Patio Furniture That Can Be Accessorized
When choosing patio furniture, keep the large items like sofa, chairs, and coffee tables a neutral color that will go with your home's overall look and feel. But that doesn't mean it needs to be a dull space!
Remember you may want to add décor to your patio for everything from the 4th of July to a child's birthday party. If you choose the basics correctly and avoid overly bright items, giving your patio a seasonal facelift will be a snap. You can even add different color quick-dry outdoor rugs available from stores like Wayfair and Target.
9. Choose Items That Can Be Added To Later
Most of us don't have the budget to kit out our entire patio with everything we want at the same time. If you find an item of furniture you love, think about if you will be able to find matching or similar pieces in the future, so it forms the cohesive, chic look you are hoping for in your outdoor area.
10. Know When To Shop For Patio Furniture To Save
You will get the best patio furniture deals and find some of the cheapest prices at the tail-end of summer. From mid-August through to the end of November, retailers are keen to clear out their summer stock and make space for winter and Christmas items.
As the months get warmer, particularly in the lead-up to summer, you can expect to pay the most for outdoor furniture. However, you will also have the most extensive selection and the most modern styles available at this time.
Conclusion
Patio furniture will be cheapest from August to November. It is important to know the regular price of items to be able to quickly identify and take advantage of significant discounts as they occur.
Retailers often use Labor Day sales to get rid of bulky items like outdoor furniture and make space for winter season stock, so it is an excellent opportunity to buy patio furniture.
References: