Can a Screened In Porch Have Windows?
When I wanted the sun and outdoor space of a porch, but with the protection from the wind, dust, and bugs, I looked into how feasible adding windows to my screened-in porch would be. It turned out that converting a screened in porch into a sunroom is quite an expensive business and probably wouldn't give me optimal results. Luckily, I found some DIY-friendly alternatives when researching how to add windows to my screened-in porch.
Adding glass windows to a porch is expensive because house windows are designed to be used in an air-conditioned space. Converting the porch into a room may permits. Using polyvinyl porch windows gives protection from elements without converting your screened in porch to an indoor space.
For some, the additional cost of turning a porch into a sunroom is worth the expense, as they find that converting the insulation, flooring, and support walls adds significant value to their property.
For those who are more likely to use their porch if it is converted into a sunroom, adding proper support for house windows is an option they can discuss with their builders.
The expense is too much for many of us, so I have some great suggestions to enjoy the benefits of windows on our screened-in porch without building a new room.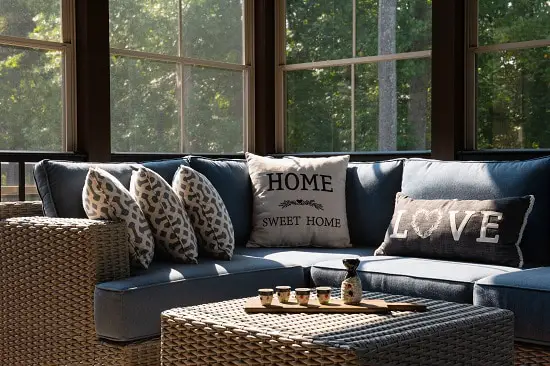 Can a Screened In Porch Have Windows?
Yes, you can definitely add windows to your porch, but adding house windows is the costliest option and might take away the experience of having a porch.
Because regular glass house windows are designed to be fitted into rooms that will have air conditioning and insulation, by simply adding windows to a porch, you don't get the benefits of temperature control.
It is expensive to have glass windows, or sliding doors added to a porch, and while it will stop things like bugs flying into your porch space and cut down on wind and dust, you may end up with a 'room' with variable temperatures.
Depending on where you live, your porch with windows could end up boiling in summer and freezing in winter and issue if you have plants on your porch.
As you'll see below, some people prefer to have their porch converted into a sunroom, which is a large project.
What is the difference between a screened porch and a sunroom?
Whether they're screened or not, porches are outdoor spaces, whereas sunrooms are indoor spaces that are extensions of a house.
Porches are built differently from sunrooms, as sunrooms need to be correctly insulated and built on house foundations and with framing walls to support installing glass windows. Because of this, it is easier to regulate the temperature in a sunroom.
In contrast, a screened porch is just a porch walled off with panels, screens, or windows. Because porches won't have the same foundations, walls, and flooring as a sunroom, they cannot be insulated in the same way.
When windows are added to a screened porch, you don't create a sunroom that can be used all year round.
Adding Windows to a Screened In Porch
You can screen a porch with windows without the hassle of converting your porch into a sunroom by using specialized porch windows.
Instead of using glass windows, you can buy screen windows made from polyvinyl, which are lightweight and won't need the same wall and foundational support as glass windows.
Many companies offer different porch glass screening solutions, which are relatively easy for a handyperson to put up without too much trouble. Polyvinyl windows are clear and act like glass while being more cost-effective.
Using vinyl window screens is definitely a cheaper option than converting your porch, laying foundations, and building support walls.
Using these porch glass panels in conjunction with panel screens lets you easily convert a basic porch into a three-season porch, allowing you to use your porch without worrying about rain, wind, bugs, and dust.
Some window providers have porch windows you can open and close, depending on how much air you need to circulate on your porch.
This video from DIY EZEBREEZE shows how to install vinyl windows on a porch. –
Vinyl windows will not be able to withstand strong winds, so they are less suitable for coastal areas that often have hurricanes.
Adding Clear Vinyl Screens to a Screened In Porch
While they are not windows, sheets of clear vinyl can give you the protection from the elements that a window would, at a fraction of the cost, and because they are removable, you can take them down when the season no longer requires them.
If your porch is already screened in, you can measure the openings and order vinyl sheets to fit. Though the clear vinyl can be set in place either vertically or horizontally, it is better to hang vinyl vertically, as this keeps the pressure on the screen even.
The most common way to use vinyl screens to enclose a porch is to use grommets to attach the vinyl to the wooden frames of the porch.
Using grommets is a quick and efficient method and gives you the option of rolling the vinyl up when you want the 'windows' out of the way.
We have an article on using plexiglass on screened in porches here and below.
Pros and Cons of Adding Windows to a Porch
Pros:
Allows light but blocks wind, dust, and insects
Creates a sunny space to relax
Can add value to the house
Screened porch with windows lets you use the porch for three out of four seasons
Costs can be kept down with vinyl porch window kits.
Cons:
Adding glass windows to a porch could require significant building costs
If converting a porch to a sunroom may require a building permit
Not a simple DIY job; you may have to hire contractors
Will raise utility bills if you need to use a heater or fan to keep temperature stable
Polyvinyl windows are not as durable as glass windows in high winds.
Conclusion
You can add windows to a screened-in porch, but it's best to use windows designed for porch screening unless you plan to convert the porch completely into an additional sunroom extension.
Unlike real glass house windows, they do not need to be fitted into framing walls, are lighter, are usually more cost-effective, and can be installed by anyone with reasonable DIY skills.
Porch screening windows can add value to your house, as your porch can be used more often and gives you an outdoor space with some of the conveniences of an indoor room.
References