How Often Does A Wood Deck Need To Be Replaced?
We moved into a new house a while back, and it had a wooden deck in the backyard. We have been doing a few major repairs on the outside of the house, and we noticed the deck looking worse for the wear. We had never had a wooden deck before, as our other homes had concrete patios, so it made me wonder how often a wood deck needs to be replaced?
The lifespan of a wood deck will depend largely on the type of wood the deck is made from and the maintenance that has gone into it. A pressure treated wood deck left alone would not need to be replaced for over 15 years with proper maintenance, where as hardwoods like cedar and redwood this increases to 75 years.
A friend of mine is a carpenter, and he deals with wood decks a lot, so I asked him to help us determine if it was time to replace our wood deck or repair it. We wanted to keep the deck if possible, but we would rather replace it if it would be more expensive to repair the damage than to replace the deck. After further research, I thought I would share the information I found.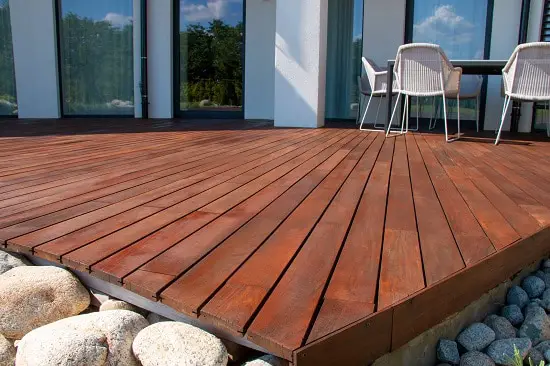 How Often Do You Have To Replace A Wood Deck?
When you have a wood deck, there are certain measures you need to take to make sure your wood deck lasts as long as it can before you need to replace it. There are three factors that will influence when your deck will need to be replaced. Here are the determining factors we will look at:
The type of wood is your deck constructed out of
The maintenance you put into your wood deck
Factors that are beyond your control
The Type Of Wood Is Your Deck Constructed Out Of
The type of wood your deck is constructed out of plays a critical role in how long the deck will last before it needs to be replaced. There are many different types of wood people use to build their decks, but we will look at the most common types and how long they typically last.
Pressure Treated Wood
Pressure-treated lumber, or PT for short, has long been used to build decks. Pressure-treated wood is dipped in various chemicals and insecticides to help it withstand the natural outdoor elements like rain, snow, and the sun, and it protects against insect infestation that would deteriorate the wood.
These chemicals also help prevent wood rot due to rain and mildew during the cold months. If you properly maintain a pressure-treated wood deck, it can last at least 10-15 years before you need to replace it this is similar to composite decking.
It is the least expensive wood for decking because it can still incur damage that would shorten its lifespan. While it is treated to withstand the elements and pest infestation, PT wood also has the shortest lifespan of most wood used for decking as it can warp and bend in extreme heat or cold, and it can shrink with time, leaving uneven gaps between the boards, it can also split or crack.
If you choose to use PT wood for your deck, it will require regular maintenance like pressure washing, staining, and sealing the wood at least once every few months to keep it lasting longer.
Cedar, Redwood, Or Teak
If you want to use the best-suited wood to ensure your deck lasts as long as possible, opt for a wood type with natural anti-fungal, water, and insect-resistant woods like cedar, redwood, or teak. While the cedar and redwood are more expensive than PT wood, teak is by far the most expensive.
Teak wood is one of the toughest types of wood you can use for your deck as it has a natural oil that repels water, bugs, fungus, and mold. It requires minimal maintenance and can last up to 75 years before it needs to be replaced.
Cedar and redwood also last long, but their maintenance is a bit more challenging and time-consuming; if you look after them, these types of wood can last up to 50 years before it needs to be replaced.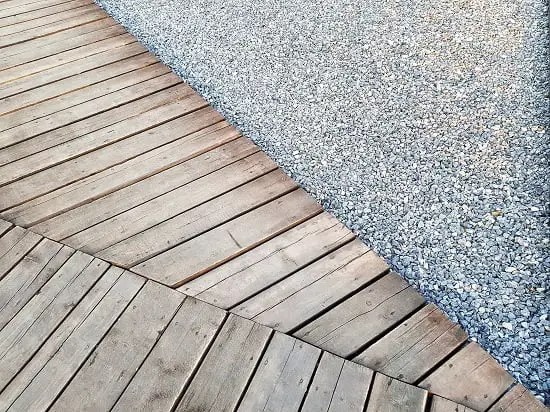 The Maintenance
Let's face it, wood decking can be expensive, so if you want your wood deck to last long, you will have to do regular maintenance to keep it in the best condition. The type of wood the deck is constructed of will determine the amount of maintenance work you will need to put in.
Most wood decks will deteriorate over time as they are exposed to water, sun, and insect damage. Wood is also susceptible to wood rot, fungus, and other diseases that can significantly shorten the wood's lifespan.
That is why properly maintaining your wood deck is critical. You will need to check what maintenance your type of wood will require. Pressure-treated wood will require regular cleaning, staining, and sealing to protect it from these outdoor issues.
Hardwood requires cleaning, staining, and resealing at least twice a year to keep it in the best shape. After a couple of years of heavy traffic, the outdoor elements, and wear and tear, most woods will need to be resanded and sealed to remove old sealants and stains and give new vitality to your wood deck.
Factors That Are Beyond Your Control
The last issue influencing when you need to replace your wood deck is factors outside your control. Should a storm with heavy winds hit your home, you may have irreparable damage and need to replace your wood deck, even if it's not that old.
The other factor that seems to pop up more these days is fire; when natural fires break out, the last thing anyone needs to worry about is the deck, but understandably when you put time and hard work into something, it can be devastating. But with heat that extreme, it will have to be replaced.
Conclusion
You only need to replace a wood deck on average once every 10-15 years when you have a Pressure treated wood deck. You can extend that by at least ten years if you are diligent in your maintenance.
Choosing a more expensive hardwood such as teak will be a once-off investment, but teak and other types of hardwood need minimal maintenance and can last at least 50-75 years if properly cared for.
References