French Balcony Vs. Veranda
When it comes to building outdoor extensions for your home, you may be a little overwhelmed by the options in balconies and verandas. The most important questions are what all these different terms mean and the drawbacks and benefits for you. Different outdoor extensions will work better for different needs, but I'm going to focus on two of the most popular options – the French balcony and the veranda.
A French balcony and a veranda are different types of exterior additions. Verandas are covered ground floor extensions creating extra outdoor living spaces. A French balcony is used on the upper level of an apartment or house and is very small, usually only a railing in front of glass doors.
As you can see, French balconies and verandas are very different architectural designs that serve different purposes. A sprawling veranda extending across the front of the house is only suitable if you have the space to build a sizeable outdoor extension on the ground floor. When buying an apartment, they will come with or without balconies of various types; however, they are an option for multi-story houses where you wish to have additional exterior space.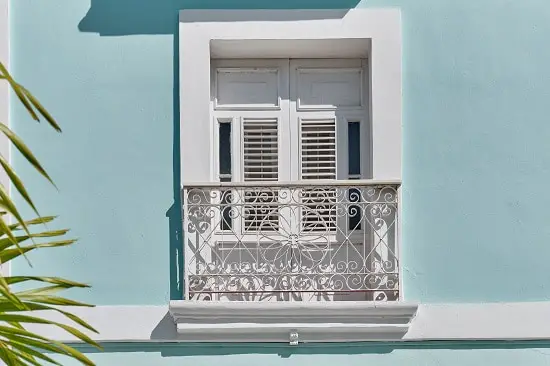 What is a French Balcony?
A balcony is an outdoor extension on an upper level of a house or apartment, usually with a wall or railing. However, some can be completely enclosed to create a small sunny extension to your living room. They cannot be used to access the ground floor.
A French balcony is the smallest kind of balcony you will find and is sometimes referred to as a Juliet balcony. They were very popular with the architects of Georgian Britain, as they added extra detail and flair to the buildings of the time period.
French balconies are often little more than a small extension with a railing in front of large windows. This balconette does not give you space to stand on or use for entertainment, but many people will grow potted plants on them, and they are an excellent way of bringing a little bit of the outdoors into small apartments.
French balconies also create a safety barrier for large windows, especially if the windows extend from floor to ceiling. They come in many styles that will work with modern or period architecture.
There is sometimes confusion over the differences, or not, between a French Balcony and a Juliet Balcony. We have cleared these up in our Juliet Balcony Vs. French Balcony Article here. and if you are looking for alternative to Juliet balconies you can read articles on this as well.
What is a Veranda?
A veranda is a much larger structure and is typical of an open-air porch seen on many American houses. Verandas are ground-level structures that are attached to the house and covered. They may or may not have railings and can stretch across the front of the house or even wrap it on several sides.
Verandas are particularly popular in warmer climates like California because they create open-air 'rooms' that allow you to enjoy the fantastic weather outdoors while still having some shelter. Unlike a porch, a veranda will always have a covering or roof.

With its roots in Spanish colonial homes, Australia, and Victorian England, these elegant and beautiful outdoor spaces became very popular, particularly in 19th-century America. The wealthier landowners added these extensions to their homes to naturally blend indoor and outdoor spaces.
They are often a symbol of luxury and can cost a great deal to add to a house, especially when larger structures wrap several sides of the building. An entertainer's dream, they provide a stunning sheltered space to enjoy a comfortable outdoor experience.
A veranda makes for a striking addition to the entrance of a house, especially when graced with pillars and an elegant, distinctive roof.
Pros and Cons of a French Balcony
If you've visited Europe, you're probably familiar with the sight of charming streets where the buildings have small French balconies looking down on the passersby. Due to the type of architecture, and the prevalence of tall buildings in cities with narrow streets where there is not a lot of ground space, these balconied windows are a common and cheerful sight.
However, they were also a common feature of buildings owned by wealthy nobility, as they made the facades of the buildings richer and more detailed to look at.
Besides adding charm and beauty to buildings where there is little space for a full-sized balcony, these French balconies have several other pros: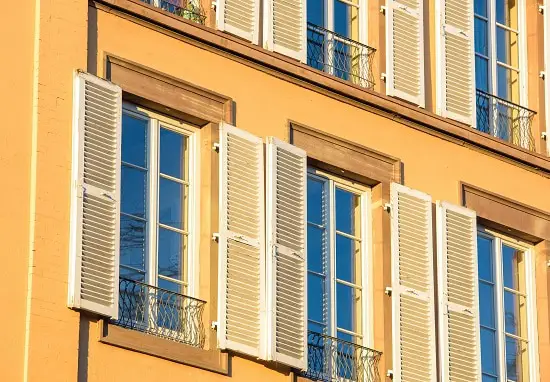 Advantages of a French Balcony
They can visually expand a small living room by opening up one wall with large window doors.
Add a connection to the outside, and the small balcony ledge provides extra space for keen gardeners who live in apartment buildings. Often you will see French balconies overflowing with pots full of decorative flowering plants.
The increased sunlight from a large French balcony window brightens a room and provides a warm spot.
Relatively easy to add to a building as the balcony is essentially an extended window, is not a load-supporting addition, and does not need a roof.
Adding a simple railing design rarely requires architectural planning and approval.
Adding the welded railings does not require much work, saving time on construction.
It is much cheaper to add a French balcony to an existing building than to remodel a building for a full-sized balcony.
Manufacturers sell kits that allow homeowners to quickly and easily add French balconies to their property.
A French balcony railing added to a large window provides an extra layer of physical security, especially for floor-to-ceiling sliding glass windows.
It improves the aesthetics of a building that may otherwise feel bland and boring.
The adaptability of modern designs means a French balcony can be made using one window, two windows with only a small gap between them, or a combination of windows.
Disadvantages of a French Balcony
They provide very little additional space and cannot be used for leisure or entertainment purposes as they are not functional areas.
If a large window is installed, this can increase the cost of heating the room in winter.
A large French balcony window allows a lot of sunlight to enter, which could fade furniture, carpet, and art.
If you convert a window to a large French balcony on a lower-level apartment, you may lose an aspect of privacy.
Similarly, the extra glass will require more cleaning.
Pros and Cons of a Veranda
Similarly, there are pros and cons to adding a veranda to a property. Smaller designs will be more cost-efficient and more accessible, and quicker to install, but some properties, such as apartments, will not have an option for verandas. If you build a large veranda onto a property, you will likely need planning approval to make sure your new addition is legal and structurally sound.
A veranda is a more significant building undertaking than adding the railings for a French balcony but may well suit your purposes much better.
Advantages of a Veranda
A veranda is large enough to be used as a functional space and extends the size of your living area in your home.
Verandas are covered areas that provide protection from the weather and an area of shade while still being outdoors.
These areas are beautiful places to relax, with aesthetically pleasing designs ranging from modern and cool, to charming and grand.
Verandas usually increase the value of a property, sometimes by up to $20,000
Veranda areas can provide additional storage space, particularly for items you may not want to bring into the house, including outdoor play equipment and garden furniture over winter.
Create entertainment areas that provide a zone between indoor and outdoor areas. They are beneficial for parties and spill-over space for interior entertainment, particularly in summer.
The awning of a veranda provides a shady area that can help keep your home cool, alleviating air-conditioning bills, in some places, by up to 40%.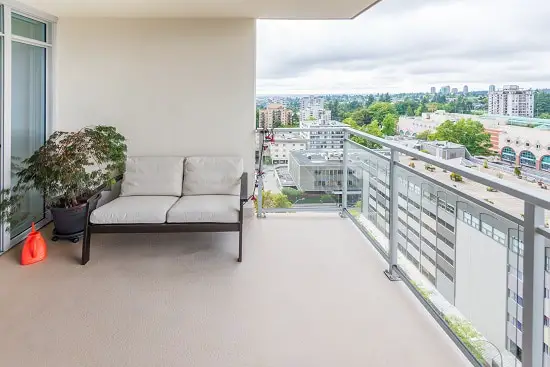 Disadvantages of a Veranda
Verandas are more complicated to add to a property, and planning and building costs will be higher as you will need to consider foundations, flooring, roofing, and railings.
Expect to pay anywhere from $20,000 to $60,000, depending on the size and style of your chosen veranda design.
In some areas, you will need to get a permit to build a veranda extension, which will require additional fees.
Unless you are very knowledgeable, adding a veranda is rarely a DIY job, and you will need to employ contractors to do the bulk of the work.
Even when using a full-time contractor, an average veranda can take 10-12 weeks to build. The more complex and significant the veranda design, the longer the process will take.
The shade of a veranda roof will decrease the light entering the house, making your house feel dark inside. In cooler areas where light is limited, some people get around this by using clear roofing in their verandas to still allow sunlight to enter the house.
Verandas are open-air constructions. While some have railings, this means that although they have roofs, they are not enclosed spaces, and elements such as wind and rain will still blow into the covered area. It's possible to partially close off a veranda with sliding walls to limit this.
DIY Installation of a French Balcony
Since a French balcony is little more than a small ledge with a railing, it is essentially nothing more than a tiny extension of your window space. This construction makes it ideal for homeowners with limited funds and space who wish to improve their property without spending a fortune on materials and contractors.
Installing a French balcony may mean taking an existing window in a non-load-bearing wall and replacing it with large French sliding doors and an additional balconette railing. But adding a French balcony to your property can also be as simple as adding a railing to a suitably large window.
Simple railing kits can be bought online from stores such as Lowes, Home Depot, and Ultra Railing.
As you can see, these kits are straightforward, and you can transform a large sunny upper story window into a safer, stylish French or Juliet balcony within a day. This simplicity makes them ideal for a weekend DIY project. If you decide to replace your windows with French doors first, this will add to costs, and most of this cost will be for the glass window-doors themselves.
If adding to an apartment, you will need to check with your building owner or managing group to see if the railing is an allowed addition. Still, you will not need planning permission as the railing is not an extension or significant addition.
DIY Installation of a Veranda
Verandas will need more planning than a French balcony, and depending on where you live, you may also need to get a permit to build. If you do not get a required permit, your veranda could be torn down, and you will likely be fined, so always check this first.
If you are a competent handyman, you might find that building your own veranda is an appealing project. In this case, a small wooden veranda may set you back only the costs of your materials, rather than $10-20,000 dollars. If this is a DIY route you want to take, be sure to do all your homework when it comes to the planning and design, so you don't make expensive mistakes.
Another option if your home already has a patio or deck in place is to buy a patio cover kit, which will be relatively simple to install.
If the idea of tackling a veranda from scratch seems overwhelming, many companies are offering contracting solutions that help you design and install modular veranda systems to suit your home, budget, and building skills.
Conclusion
Verandas and French balconies are the two extremes of outdoor extensions to your house or apartment, ranging in size and application. A French balcony is more suited to increasing the aesthetics and value of a property while requiring little financial outlay and can only be used on upper floors.
Contrarily, verandas provide more space on the ground floor but will cost more and take longer to build, and in some cases, need to meet legal requirements. Whichever your choice, both serve to improve the comfort and value of your home.
We also have other Versus articles on the site if you have any more questions about the differences between outdoor spaces.
Resources