Should A Deck Be At The Back Of The House?
A deck is a brilliant addition to any home, substantially increasing the home's entertainment space and livable outdoor areas. A well-built deck will increase the value of your home by a significant amount, and it will ensure that you can make the best of the good weather throughout the year.
There are no rules that stipulate one location over another when it comes to deck placement. Many decks are situated at the back of a house because that is the ideal location for that specific project. However, it doesn't mean a deck will always be at the back of the house – it varies by project.
Several considerations go into the decision for locating your deck. When making a significant investment such as installing a deck, you want to be sure that you are making the right decision regarding its location on your property. This will allow you to get the most out of your deck throughout the year.
Is A Deck At The Back Of The House?
A deck is essentially a flat wooden platform attached to a building, and it generally has no roof. It is raised off the ground and will have a railing where necessary. Other than these defining factors (being a flat roofless structure attached to a building), there are very few rules for a deck in terms of its size, location, and various other factors.
If you picture a typical residential deck, the image that comes to mind in most cases is of a deck at the back of the property, attached to the back of the house against the back wall usually. There are several reasons for this placement, including privacy and proximity to other living spaces. However, it does not mean that a deck needs to be at the back of a house.
A deck can essentially be placed anywhere on your property that is convenient, private, useful, and enjoyable for its users. This could mean that your deck could be placed at the front of the house, along the sides, on any corner, or at the back of the house. It's important to find the best location for a deck on your specific property.
Several considerations go into making a decision for deck placement. It's important to carefully consider your deck's placement to ensure that it is located in the best possible spot to get the most use throughout the year. This may be at the back of the house or elsewhere.
It's also important to understand the difference between various outdoor spaces whose names are often used interchangeably. This will ensure you can discuss exactly what you want for your outdoor space. There will be no room for misunderstanding or misinterpretation.
By understanding the difference between outdoor spaces like decks, patios, porches, verandahs, lanais, and others, you will be able to determine your own needs and desires for your outdoor space.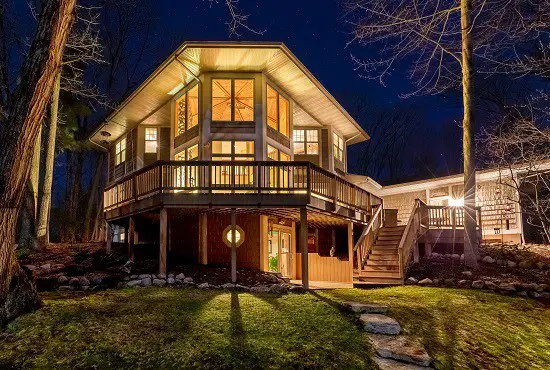 Considerations For Deck Placement
As mentioned previously, several considerations go into the placement of a deck. Each home is different, and its users will have different needs for their deck. A residential deck will always differ in size, location, height, and amenities.
This will depend on how the residents plan to use their deck and what types of facilities they require on their deck. While some people need only a small space for a table and some chairs, others will want a large deck fully equipped with an outdoor lounge, bar, and jacuzzi, for example.
Some of the most significant considerations for deck placement include privacy, sun exposure, proximity to the house, the main purpose behind the deck, location of views, prevailing wind directions, and the placement of trees.
Deck Privacy
Privacy is one of the major considerations for deck placement. In most cases, your deck is a private retreat to be enjoyed only by the home's residents and their invited guests. Nobody wants the prying eyes of neighbors or passersby to watch you while you enjoy your time outdoors on your deck.
Privacy is one of the main reasons decks are often placed at the back of a home. However, depending on your home, there are several ways to achieve the required level of privacy. Privacy is especially important for a deck if it is located around a swimming pool or hot tub.
Your deck should be placed along the most private section of your property. The privacy can be enhanced by carefully placing trees, shrubs, arbors, or simple lattice screens.
Deck Access
The proximity to your home's living areas is another major consideration for deck placement. Depending on your deck's use, you will want it to be placed as close as possible to the living areas of your home. Suppose your deck is to be an extension of your living and entertainment areas. In that case, there should be an effortless flow from the indoor living spaces to the outdoor spaces of your home.
Suppose your deck is predominantly focused on outdoor dining. In that case, you should locate it in a good spot as close to your kitchen as possible. This will make the deck extremely convenient, ensuring guests and residents don't need to walk unreasonable distances or climb several flights of stairs to simply fetch some salt or similar.
A deck that is conveniently located will be well-used. A deck in an inconvenient position away from where it needs to be will receive far less use.
Deck Views
Views are another major deciding factor for the location of your deck. Your deck should be located somewhere that will allow its users to enjoy whatever views your property offers. A deck can easily be built over the edge of a hill, allowing those in the home to take advantage of the views as far as possible.
Deck Lighting
Sun exposure should also be considered. Your deck needs to address your needs for shade and sun to ensure your comfort throughout the year. In addition to this, you must consider the prevailing wind directions and see how you can use the house and other surrounding elements to shelter your deck from the wind.
Conclusion
While a deck will often be situated at the back of the house for several reasons, this is not the only place to build a deck. There are countless options in terms of where to have your deck built.
You will need to weigh up the options and consider several aspects of your property to determine the best location for your deck.
Sources