How Long Does Aluminum Patio Furniture Last?
If you're reading this article, you're likely in the market for new patio furniture. When it comes to patio furniture, you're looking for more than just comfort and style – you're also looking for quality and durability. Aluminum is a relatively inexpensive metal often used in making outdoor furniture frames, but is it a good long-term investment? 
Aluminum patio furniture can last from 15 years to 30 years. Both wrought aluminum and cast aluminum are durable and can withstand harsh outdoor conditions like sun, wind, and rain. A wax coating and regular cleaning will help maintain the aluminum and prevent discoloration caused by oxidization. 
Aluminum is known to be affordable and quite easy to maintain and appears to be a great material for patio furniture. But, how well does this popular metal fare against harsh outdoor elements?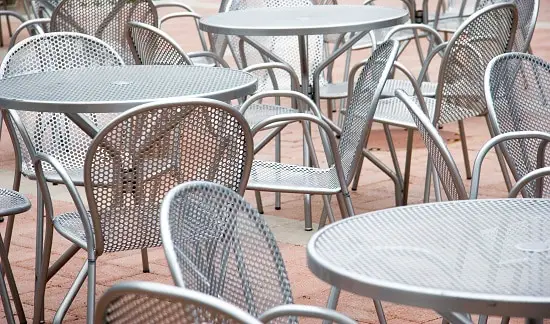 Types Of Aluminum Patio Furniture Frames
Did you know that not all types of aluminum used in making patio furniture are the same? Some of the differences you may notice will be in the furniture's weight, durability, and support. The two different types of aluminum include: 
Wrought (extruded) aluminum
Cast aluminum
Both types of aluminum have key features that set them apart for their specific purpose. It would be beneficial if you considered these qualities before investing in a new set of patio furniture.  
Wrought Aluminium vs. Cast Aluminium For Patio Furniture
Wrought aluminum, also referred to as extruded or tubular aluminum, goes through a process of extrusion that makes it hollow inside and allows it to be bent and shaped into different shapes using different tools. Listed below are some characteristics of wrought aluminum:
Hollow and lightweight frame
Can easily be stacked and stored 
Often comes in separate pieces 
Easy to move around 
Not as strong and durable as cast aluminum 
More susceptible to denting 
Cast aluminum is a solid type of aluminum formed by pouring hot, melted aluminum into a mold. It is more stable and much heavier than wrought aluminum. Some other characteristics of cast aluminum include:
Solid, dense aluminum frame
Heavier than wrought aluminum 
Its heavier weight makes it more difficult to move around 
It does not come in separate pieces
Stronger and more durable than wrought aluminum 
Less prone to denting 
You can also find Aluminum Patio Furniture that contains a blend of both wrought and cast aluminum. Combining both metals is bound to ensure that all your outdoor furniture preferences and needs are met in one set of furniture!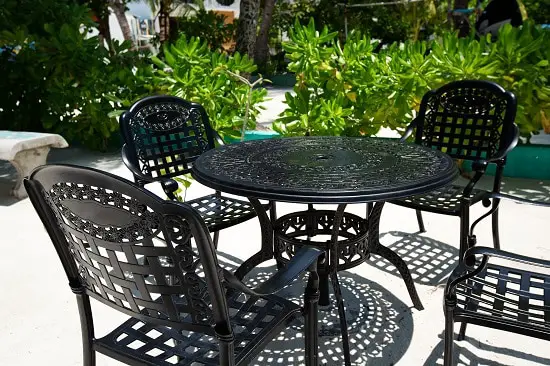 Does Aluminum Patio Furniture Rust? 
Aluminum patio furniture does not form brownish-red rust as other metals do, but unfortunately, it can corrode over time. The corrosion does not occur in the form of flaking as with rust but instead shows up as a blue-grey discoloration on the surface of the aluminum.
Uncoated aluminum is more prone to oxidization than powder-coated aluminum. The powder coating protects the metal and prevents oxidization from occurring. 
Aluminum Patio Furniture Pros And Cons 
Regardless of which type of aluminum your patio furniture is made of, there are some general pros and cons that differentiate aluminum patio furniture from other outdoor furniture materials.
Pros Of Aluminium Patio Furniture
It is easy to clean and maintain
It is weather-resistant and water-resistant 
It does not naturally rust or stain
Lightweight, easy to move or carry
It is sturdy and durable   
It does not easily dent, crack or break
Cons Of Aluminium Patio Furniture
It can erode if near salt water or chlorine
Its light weight makes it less ideal in windy weather (especially wrought aluminum)
It absorbs a lot of heat from the sun – can become very hot 
The powder coating can become faded or scratched over time
How Long Does Aluminum Patio Furniture Last? 
Although there's no specific timeframe, good-quality aluminium patio furniture can last anything from 15 years to 30 years while requiring minimal care and maintenance. Aluminium patio furniture doesn't rust like other metal furniture, but oxidization can cause it to fade or discolor over time.
This is especially true for uncoated aluminum, whereas powder-coated cast aluminium generally lasts longer and is easier to maintain. 
Aluminium patio furniture doesn't need to be covered for protection because it does not easily get damaged when exposed to outdoor elements like sun, wind, rain, or snow. However, you may want to store it away if you're not using it to keep it clean for longer. 
Aluminium patio furniture is an excellent long-term investment that you won't regret! However, always remember to consider reputable brands before you buy new aluminum patio furniture, as not all manufacturers offer the same quality. 
How To Maintain Aluminum Patio Furniture 
In general, aluminum patio furniture requires very little maintenance, which is one of the reasons why it is so popular among consumers.
However, every bit of maintenance and care will be beneficial in ensuring that your patio furniture looks good so that you can enjoy it for as long as possible! Below we have listed some basic tips to help you care for your aluminum patio furniture: 
1. Keep Your Aluminium Patio Furniture Clean 
Your aluminum furniture will last and retain its color much longer if you keep it clean. Some warm water and soap will do. We advise that you avoid using harsh cleaning products on uncoated aluminum, as this will wear down the metal and cause it to oxidize. You can use vinegar or lemon juice to clean off grubbiness like bird droppings or tree sap. 
2. Coat Your Aluminium Patio Furniture With Wax
Applying a wax coating will protect the metal part of the patio furniture and give it some shine. You don't need any fancy type of wax – good ole' car wax does the trick! Apply a thin layer of wax and rub it gently with a dry cloth. Let it absorb and set before putting the furniture back out in the sun.  
3. Restore Faded Or Discoloured Aluminium With Vinegar 
If you start to notice slight discoloration or fading on your aluminum furniture, then this tip is for you. Mix 1 part vinegar with 1 part water and use a cloth to wipe the metal with the solution. This will clean the oxidization off the aluminum and help restore its color and shine.  
4. Avoid Getting Chlorine Or Saltwater On Your Aluminium Furniture
Both chlorine and salt water will cause oxidization on the aluminum parts of your furniture. If you have a swimming pool, always try to avoid splashing chlorine water near your patio furniture.
If you live near the beach, saltwater can cause oxidization to occur quicker. However, as mentioned above, a wax layer and regular cleaning will help maintain your furniture. 
Conclusion
Aluminum patio furniture is low in cost and always looks sophisticated and stylish in an outdoor space. If you want a long-term investment that will transform your patio without requiring constant maintenance, then aluminum patio furniture won't let you down!
References