Best Waterproof Spray For Outdoor Cushions
Decorating with outdoor cushions is a simple way to enhance your area, whether it's a rooftop, patio, balcony, or planted garden. However, protection in rainy climates helps protect them from mold and mildew, which is when waterproof sprays need to spotlight their appearance. As a result, the following are some of the best waterproof sprays for outdoor cushions.
Star Brite Waterproofing Spray
Scotch Guard Sun And Water Shield
Kiwi Camp Dry Heavy Duty Water Repellent
303 Fabric Guard Water And Stain Repellent
Nikwax TX Spray-On Waterproofing
Rust-Oleum NeverWet Outdoor Fabric Water Repellent
Atsko Silicone Water-Guard
Simple in design, waterproof sprays offer an additional layer of defense to the surface of your products to repel water. Still, not all manufacturers offer water-repelling protection for various fabrics. However, this list of waterproof sprays is the best for multi-surfaces, including all fabrics, without damaging any material and throwing in a couple of extra unique protection.
Sitting on a wet cushion is not going to be the most welcome of experiences, we have an article on how to make and keep your outdoor cushions more comfortable here on the site, but one of those steps is certainly waterproofing with a good waterproof spray.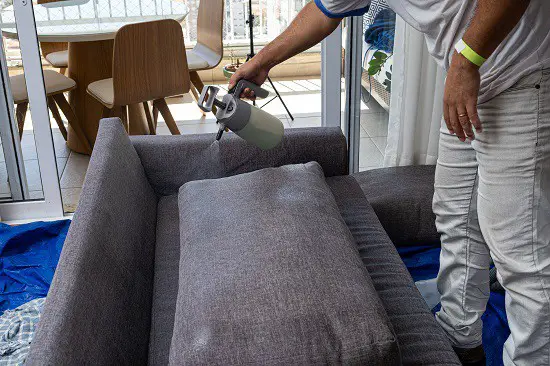 7 Of The Best Waterproof Sprays For Your Outdoor Cushions
Outside cushions are most suited for extensive outdoor usage if they are waterproof, UV resistant, and built of sturdy materials that can survive unpredictable weather conditions. However, it would be best to check the manufacturer's care instructions to be on the safe side.
Generally, placing them outside in warm weather is okay, but when not in use, store them in a cool, dry area. Avoid leaving it outside all year long (particularly during periods of heavy rain) to avoid mold and mildew.
However, applying an excellent waterproof spray might be the solution to get through the seasons if you are frequently too busy to go home to save the day. So, starting with the Star Brite Waterproofing Spray, here's what makes this list the best waterproof sprays to help you find the perfect protector for your outside cushions.
1. Star Brite Waterproofing Spray
The time it takes to dry: 6 hours
$51.37
$83.99
in stock
14 new from $49.49
as of November 30, 2023 2:41 am
Suppose you have outdoor cushions consisting of acrylic, nylon, cotton, leather, or good old recyclable canvas. In that case, you should find room to stock up on Star Bite Waterproofing spray bottles (or at least one 128Oz bottle).
Star Brite has captured the hearts and confidence of many Americans, with over 6,000 excellent ratings on Amazon and a "best choice" with a 4.5-star rating. Star Brite Waterproofing polymers penetrate deeply into fabrics to provide marine-grade performance and prolonged service life in the most severe wet weather situations.
Considering that this waterproof spray was initially targeted at fabrics from the marine industry to withstand journeys on the sea, Star Brite became widespread for outdoor fabrics found at home since their product was made to tick all the right boxes, even for the biggest jobs.
Star Brite also contains UV inhibitors, which function like sunscreen to prevent fading and sun damage. Furthermore, Star Brite's PTEF protective polymer barrier layer repels future dirt and stains, making cleanup easier.
This waterproof spray is made explicitly for fabrics, vinyl, and outdoor furniture. It also comes in a huge 1-gallon quantity that delivers up to 465 square feet of coverage, which is excellent if you need to waterproof large objects like a boat cover, convertible top, sail, or just to stock up.
For smaller outdoor cushion sets and other outdoor fabrics, it's also available in 22-ounce spray bottles. One of Star Brite's best features is that it does not affect the fabric's breathability, color, or feel. While it is available in larger bottles, its exceptional waterproofing properties make it a preferable choice for large goods that will be exposed to water often.
The main disadvantage of this waterproof spray is the powerful odor, which many reviewers claim is unpleasant; therefore, it would be best to use the product in a well-ventilated place and avoid using it inside.
2. 303 Fabric Guard Water And Stain Repellent
The time it takes to dry: 6 – 12 hours
$89.99
$99.99
in stock
8 new from $89.99
as of November 30, 2023 2:41 am
This 303 waterproofing and stain-repelling spray is a flexible choice that is safe for any fabrics, including natural fibers and synthetics. It's an excellent solution for shielding clothing and furnishings from severe weather and spills.
This 303 Fabric Guard is a popular solution for outdoor patio umbrellas, so why not use it on your patio cushions as well? Like Star Brite, the 303 Fabric Guard comes in various sizes, so you can buy enough waterproof spray to cover even the most prominent outdoor furniture sets.
This high-quality waterproof spray restores lost water- and stain-repellency to factory standards, allowing your fabrics to seem fresher for longer. It also does not affect the fabric's color, texture or feel, flammability, or breathability.
Customers trust that this waterproof spray will preserve their outdoor fabrics since it has over 5,500 reviews on Amazon with a 4.5-star rating. "It covers more area, it is easier to apply, and most of all, it protects for a lot longer than any others I have tried," commented one reviewer.
While it works on almost all materials used for outdoor cushions, it is not suitable for leather, rubber, or vinyl. It's also available in various quantities ranging from 2 to 128 ounces for smaller or more extensive applications.
3. Scotch Guard Sun And Water Shield
The time it takes to dry: 2 – 6 hours
$8.97
$9.99
in stock
5 new from $8.97
as of November 30, 2023 2:41 am
Suppose you have pricey suede cushions you like to bring outside for special events. In that case, you're used to keeping an eye on the weather—any hint of a sprinkle in the forecast, and those items stay securely tucked away at home since even a tiny amount of water may ruin the material beyond repair. But that's a pity since you should be able to rock the suede all year.
Fortunately,  the Scotchgard Sun and Water spray protects your cushions and materials from water damage and keeps the fabric's color from fading by blocking off the sun's UVA and UVB rays. This spray is safe to use on practically any outdoor fabric, including leather and suede, and was designed mainly for outdoor goods such as umbrellas and patio furniture.
The waterproof spray is odorless when dry, and Amazon customers agree, with one saying,
With almost staggering 20,000 ratings on Amazon and a 4.6-star result, it's evident that this waterproof spray gets the job done. However, the only downside is that the Scotchgard Sun and Water Shield is more expensive than its competition and only comes in smaller quantities that consist of one can (10.5 Oz), two cans (21 Oz), and four cans (42 Oz).
4. Kiwi Camp Dry Heavy Duty Water Repellent
The time it takes to dry: 1 – 2 Days
$34.99
in stock
5 new from $34.22
as of November 30, 2023 2:41 am
The Kiwi Dry Camp is another waterproof spray in the Amazon's Choice spotlight. It is a famous brand of waterproof spray that is frequently used in conjunction with waterproofing shoes. This water repellent with a camp theme is ideal for breathable fabrics and outdoor furniture. In addition, it leaves a flexible and waterproof covering on anything sprayed with it!
One happy customer commented, "We bought one approximately a year ago and then another this year. This has been used to cover a complete tent! We coated our camper chairs, cushions, and the top of a screen house. Having camped twice while it was strongly pouring, I can confidently report that no water was able to enter the areas where we sprayed this. Will be buying again next year!"
Because of the silicone in its composition, this product may lend a slightly deeper tone to your materials. Reviewers have also commented that the Kiwi Camp Dry has a strong fragrance, so it would be best to allow it to ventilate in a spacious ventilated room during the application and drying process.
On the other hand, this Kiwi water repellent works effectively, and many customers report good results with their camping gear after spraying it according to the manufacturer's directions.
As a result, unlike most of the other excellent alternatives on the list, the Kiwi Camp Dry requires your material to be dry before application. And when applying the spray, you would need to be around 7 to 10 inches away from the target, suggesting a second coat after 4 hours for maximum protection. 
The only drawback is that this waterproof spray comes in a small 10.5 Oz can and takes the longest to dry compared to its competitors.
5. Nikwax TX Spray-On Waterproofing
The time it takes to dry: You must apply the waterproof spray after washing the material and letting it dry afterward.
$15.95
in stock
4 new from $15.95
as of November 30, 2023 2:41 am
This Nikwax spray is meant to maintain your waterproof and water-resistant outerwear, such as rain and ski coats, and it can also be used on other outdoor fabrics for cushions. Furthermore, you can also use Nikwax to restore any waterproof material to its former splendor if they have lost any of its water repellency.
After cleaning your gear, spray it liberally with TX. Direct while it's still damp. (TX. Direct can also be used as a wash-in product.)
According to reviewers, you could readily identify parts that hadn't gotten any product yet and areas that had received too much (to the point that excess was streaming off). Then next, you work to level the application out, applying extra spray where required and removing the areas that had too much with a moist towel or cloth.
Nikwax then suggests placing your fabric into a dryer on low heat or letting it air dry thoroughly before putting it through the wet test. This method is also effective on water-resistant sleeping bags and Gore-Tex. Because this spray is water-based, it should be sprayed on wet fabric.
Allow the item to dry after application. The company advises cleaning first with Nikwax Tech Wash for the best results. Overall, it's best suited for products that were designed to be water-repellent or waterproof in the first place.
6. Rust-Oleum NeverWet Outdoor Fabric Water Repellent
The time it takes to dry: 24 hours
$19.98
$24.99
in stock
21 new from $19.98
as of November 30, 2023 2:41 am
The Rust-Oleum NeverWet is a well-known brand for protecting everything outside, including your outdoor cushions, with its Shield H2O fabric spray.
This spray bottle formula may cover 20-6 square feet in a single bottle and will keep your outdoor patio furniture covered in wet situations. Furthermore, the crystal clear solution will not damage the look or feel of your fabric.
One customer stated,
This silicone-free fabric waterproof spray is suitable for all surfaces except indoor upholstery and carpets. Simply spritz evenly over your cushions until they are moist. Then, wait 24 hours or longer before getting your cloth wet—this is a critical step.
While this product is suggested for suede, leather, canvas, polyester, and cotton, Rust-Oleum also has many other products that may waterproof your shoes, automobile, and glass, among other things. Overall, their goods are made so that water beads up and flows off your cushions rather than soaking in.
7. Atsko Silicone Water-Guard
The time it takes to dry: 24- 72 hours
$12.99
in stock
15 new from $12.44
as of November 30, 2023 2:41 am
Finally, the Atsko Silicone Water-Guard excels at waterproofing outerwear, footwear, outdoor patio fabrics, tents, sleeping bags, and suede, among other things!
This silicone water guard has been carefully designed to provide optimum repellency in a single application. It restores the factory waterproofing while allowing the materials to breathe. In addition, it is water and stain-resistant, and the included Dauber formula was created to suit the waterproofing demands of thicker fabrics.
Another Seattle resident commented,
Even though it may be used on almost everything (according to reviews), the manufacturer claims that it achieves the most significant results when applied to stone, concrete, brick, wood, canopies, awnings, covers, umbrellas, and outdoor furniture.
Finally, Atsko Silicone Water-Guard has a more potent fragrance and takes about 24 hours to dry. Fortunately, the strong fragrance will completely disappear within 72 hours.
Conclusion
Protecting your outdoor cushions from the elements is critical to ensuring their longevity. Fortunately, that remedy may present itself in a can or a bottle. Any of these seven waterproof sprays would be perfect for outdoor cushions and various other surfaces.
The best option from this list would be to select a waterproof spray that covers not just your outdoor cushions but also a variety of other possessions that you have that may find plenty of use for it. At some point you will have to replace your cushions and we go into that here.
Finally, remember that every manufacturer has precise directions to use their product; follow the manufacturer's directions, and you'll have dry cushions all year.
References