Whether you're hosting a barbeque or simply unwinding after a long day at the office, your back porch is always the perfect place to kick back. Choosing the right color scheme for your back porch can transform it into a vibrant living space. There are many great ideas to inspire you!
The color you choose for your back porch can camouflage windowsills or draw attention to design elements. You can extend your home's interior to the back porch or draw inspiration from your garden. Ultimately, the color scheme you use should complement your home's style and existing colors.
Due to the privacy of most back porches, choosing the right colors is the perfect way to let your creative side shine. Whether you're looking for a vibrant back porch or just a classy splash of color, one of these ideas will inspire your inner interior designer!
Top 8 Back Porch Color Ideas
Here are eight fantastic ideas for the color of your porch! Whether you want it to blend in or stand out you can find something to inspire you in the article below. Our best porch color ideas.
#1: Use Your Garden As Inspiration
Gardens are all about color – whether those colors come from flowers, plant pots, benches, foliage, or even furniture. The colors in your garden can be soothing or exciting – or a mixture of these elements! Regardless of the color scheme you have chosen for your garden, these colors can be used to choose a color for your back porch.
If your garden has a monochromatic color scheme, where different shades of the same color are used, you could select one of those shades for your back porch. For instance, shades of green are popular choices for back porches. If there are many different colors in your garden, you could choose one to highlight with the color of your porch.
#2: Keep Your Home's Color And Style In Mind
When choosing a color for your back porch, many designers advise that homeowners choose hues that complement their home's architecture, style, and color scheme. While your back porch doesn't need to be the exact same color as your house, it should be on the same color spectrum as the rest of your home's exterior.
Ultimately, this depends on the visibility of your back porch. If your back porch has a lot of privacy, you might prefer a more vibrant color. However, if your porch is more visible, you may prefer colors complementing your home's color.
#3: Choose A Contrasting Back Porch Color
This idea builds on the previous one we discussed. While it's possible to choose a color on the same spectrum as your home's exterior siding, it's also possible to choose a color that contrasts its exterior colors. White is the easiest color to contrast again and we have a full article on painting a porch white here.
By painting your porch a color that contrasts your home's siding, you can draw attention to that color and your porch. Instead of blending into the rest of your home, your porch can become a prominent backyard feature that stands out.
#4: Camouflage Back Porch Ledges And Windowsills
If you're deciding on a color for your back porch, you may want to consider a color that camouflages any visible ledges and windowsills. Ledges and windowsills that stand out are known to attract birds. However, by painting your porch in a way where ledges and windowsills blend in, you can prevent this from happening!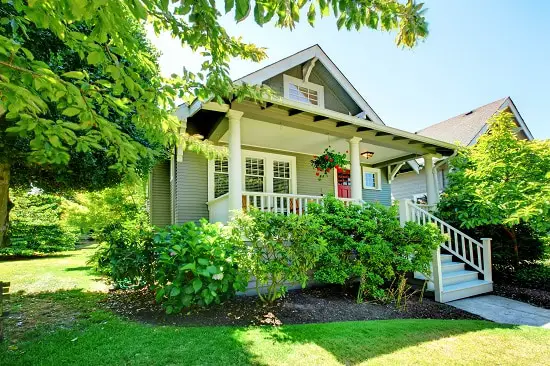 #5: Match Your Back Porch's Door And Ceiling
While you're brainstorming ideas for the color of your back porch, you should consider the color of your porch's door and ceiling. The color you choose could match the color of the door or ceiling. However, 'matching' doesn't necessarily mean choosing the same color!  
Many people prefer bold colors for exterior doors for homes with neutral exterior colors. Furthermore, a darker door color is used if a home has light exterior colors. For homes with darker colors, lighter color doors are typically used. These design principles can be used to choose a color for your porch!
#6: Bring Your Home's Interior Outside
Many homeowners struggle to make their porch feel both stylish and comfortable. Of course, color plays a vital role in this! One of the best ways to accomplish this is by bringing your home's interior design and color scheme onto your back porch.
Comfort and style are important features inside your home, particularly in living spaces. Due to this, one of the best ways of making your porch feel homier is by drawing inspiration from within your home. In this way, your back porch can become an extension of your home's existing living spaces!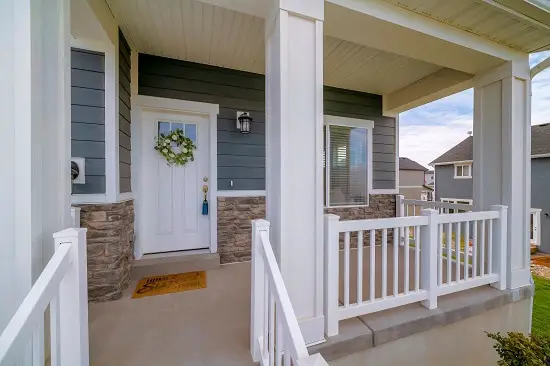 #7: Keep It Classic With A Light Blue Back Porch Ceiling
The color of your porch ceiling is an important design consideration. Of course, you can keep this a neutral color or use it to add a splash of color to your back porch. However, you should consider the tradition of painting your porch ceiling a light shade of blue. A blue porch ceiling is a great way of creating a shady yet atmospheric environment.
This tradition originated in the American South to mimic water and keep evil spirits away. Regardless of the color of your home's exterior and the porch, a light blue ceiling is a great way of keeping with this tradition. This color can also be used for window trims and even the door on your back porch.
#8: Consider Monochrome Back Porch Colors
While a monochromatic porch color scheme may seem bland, it's one of the best ways to craft a visually appealing back porch! By sticking to shades of a certain color for your back porch, you allow other colors to stand out.
With a monochrome back porch, the colors from your garden will feel more vibrant. This idea brings us full circle with our first idea of drawing inspiration from your garden's color. Any back porch décor and furniture that feature vibrant colors will also be more visually striking!
f you are looking for color ideas for your lighting as well as your porch then you can check out this article as well. We cover lighting options for porches.
Conclusion
There are many great colors to consider for your back porch! You could bring the garden closer or extend your home's interior design.
You could keep it classic with a light blue or use a monochrome color scheme with a pop of color. You could use colors to camouflage elements or highlight them – the choice is yours
Just be careful what else you use to decorate your porch, pineapples need careful thought for example. !
Sources: