Is A West Facing Balcony Good?
Vastu Shastra is – literally translated – the science of architecture and are texts on the traditional Indian system of architecture, much like Feng Shui on the surface. Rather than only considering the placement of objects in a room or other area, Vastu Shastra considers the positioning of the room itself. Whether modern architecture follows these principles, the fact that a west fancy balcony is popular cant be an accident.
A west facing balcony is good if you plan to sunbathe or barbecue in the afternoon sun. It's great for sundowners and a practical place for hanging washing. It is an excellent place to read a book or blog on your laptop in the morning, out of direct sunlight, but breakfasts in the warm sun are out.
These texts in Vastu Shastra describe layout principles, measurements, design, ground preparation, spatial geometry, and arrangement. It is an ancient guide for a home to be positive, from the home entrance to the bedroom, bathroom, kitchen, and gardens. Vastu experts say that the west – like the south – is not a good place for a balcony as the vibe is negative.
It appears that most hotels, and apartment blocks would not agree however. Sunset views are highly popular in most countries, and even with the sun shining into the apartment a sunset balcony is always a bonus, and even more desirable than a East facing, unless you really are a rise at the crack of dawn type person.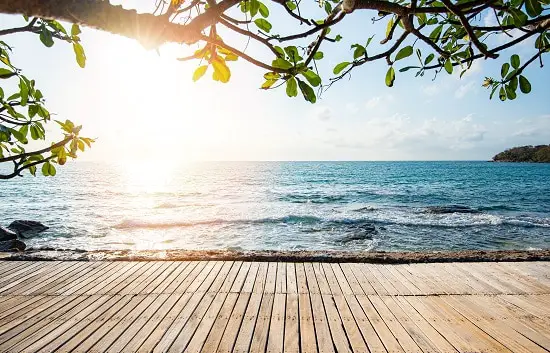 Which Side Of The Home Gets The Most Sun?
Ancient beliefs aside for the moment, a balcony is generally used for one of four things:
Soaking up the sun
Hanging the washing
Storage of seldom-used items. (And unwanted gifts!)
Sundowners
These functions require a good knowledge of where the sun spends most of the day. In the Northern Hemisphere, the south-facing wall gets the most sun, all things being equal. (Presuming there's no large building blocking the rays off, etc.) Conversely, the folk in the Southern Hemisphere have more sun daily, striking their north-facing walls.
Soaking Up The Sun
For many of us, a balcony is the closest we will come to sunbathing on a beach somewhere for most of the year. No, I'm not suggesting you add a paddling pool (though many have!), but a balcony is safe and very private for sunbathing.
This is where you face a simple dilemma: Do you want to sunbathe on your balcony? If so, then a west facing balcony is excellent, caressed with afternoon sunshine as it will be. If, however, you want to nibble on a breakfast croissant and a cup of joe in the morning sun, then a west-facing balcony is not ideal.
Hanging Up The Washing
Since many of us live in apartments, certainly here in the center of Barcelona, where I find myself temporarily, hanging washing on the balcony is the only realistic option on laundry day. In this case, a west facing balcony will not be ideal, though if your location is a warm one, it will probably suffice.
Storage Of Seldom-Used Items
Unless you have infinite willpower, your balcony will accumulate a plethora of seldom-used items (read junk!). Of course, if this is the case, a west-facing balcony is perfectly adequate as is most directions.
If you have items that may suffer in the sun you may need to reconsider keeping them out there as a west facing balcony will get that late afternoon sun.
Sundowners on A West Facing Balcony
Yes, please! This is the ONLY balcony to share the sunset with your significant other, a beverage in one hand and a good sandwich in the other. You'll be snidely aware of your neighbors opposite, who, sitting in shadow, have no idea whatsoever what the sunset looks like.
Also the after noon sun does feel less hot after about three which is when it will start to hit your balcony full on so the temperature will cool rather than increase as it would on a East Facing balcony.
What Is The Downside Of A West Facing Balcony?
Some west facing balconies are simply in the wrong place climatically. The balcony may be great, but if it's in the wrong place, the results can be unpleasant:
Rain – The prevailing winds in your area will determine whether or not rain will be an issue. Indeed, if your rain generally comes from the west, you and your balcony may be regularly soaked.
Wind – In some ways and some places, worse than the rain is the wind. Howling at you incessantly until you go inside or go insane, wind can cause depression in severe cases.
Sun – Your buddy, the sun can be really intrusive when you are not out on the balcony with your beverage and instead get blinded by the sinking orb as you watch the golf indoors. You may want to invest in some blinds to help with this.
None of these factors are insurmountable but are all well worth preparing for if you have a west facing balcony or, in the case of wind and rain, one facing any other direction.
How Do You Safeguard Your West Facing Balcony?
Rain – Not all balconies are roofed, and if yours is not, there are several ways to protect it from rain:
Install Outdoor Blinds – Sometimes called rain curtains or rain screens, these can be in the form of transparent or patterned polyvinyl chloride (PVC). A significant advantage of these blinds is that they can be retracted when not required. They are fully waterproof, and the transparent ones allow you to enjoy the rainstorm if you wish. We have a long article on shading options for balconies here and at the and of this list.
Install Sliding Glass Shutters – Can be used in conjunction with the Blinds. The sliding shutters are placed inside the balcony wall and can slide open when required.
Install a retractable awning – Add chic to your favorite spot in the home with a decent range of patterns from which to choose. Actually a vast umbrella, the shelter will still allow you to experience the rain if you wish.
Wind – Wind is a less dramatic weather feature, but it comes and goes at will, so a solution needs to be more permanent if you are to enjoy your west facing balcony:
Glass walls are the obvious choice and have the added allure of being transparent, visually enlarging the balcony, but they can be costly and, if you are near the ocean, are murder to clean.
Potted plants can add warmth to a balcony and help keep out some of the wind, provided the blow is not too strong.
Roller shades can work and can be rolled away entirely for those calm winter days.
Sun – Sun on a balcony is only a problem when it is low in the sky. In your west-facing situation, it is the setting sun that will pierce the rooms off the balcony, but this is easy to rectify:
Sunblinds are ideal and are relatively inexpensive.
Curtains work perfectly, though be aware they will fade over time.
Conclusion
A west facing balcony is good. Just how good depends on what you want to use it for. If that use includes watching sunsets wherever you are then you are in luck, West facing balconies are perfect for this, jsut add sunglasses and a cocktail.
References