How Long Does An Outdoor Kitchen Last?
Outdoor kitchens are sought-after additions to a family home but are costly investments that require space, specialist construction, and expensive appliances. The longevity of an outdoor kitchen is therefore of primary concern, so how long can an outdoor kitchen last?
An outdoor kitchen should last up to 15 years or even longer if it is well maintained and has proper protection. The lifespan of the kitchen depends on the durability of the building materials used, the quality of the equipment and appliances installed, and shelter from the natural elements.
Food always tastes better when it is cooked and eaten outdoors, that is why outdoor kitchens are increasing in popularity. There are many aspects to consider to ensure an outdoor kitchen lasts and provides years of prolonged use and enjoyment, but for how long can your outdoor kitchen last??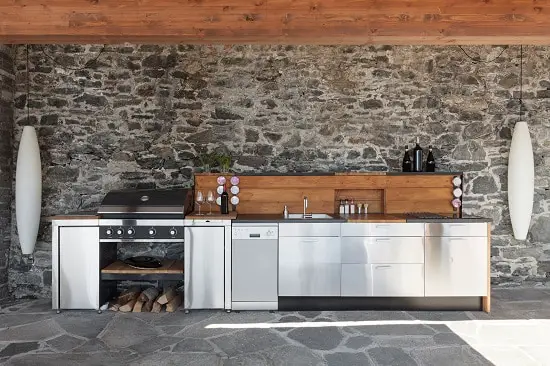 How Long Should An Outdoor Kitchen Last?
With an excellent design and layout, high-quality construction, top-of-the-range equipment, and adequate protection from the weather an outdoor kitchen can last for decades.
For an outdoor kitchen to have such longevity, it is vital to use the best available resources in every aspect of the kitchen from conception to completion.
Although it is impossible to cover every facet of what could add years to an outdoor kitchen, pay attention to the following factors.
Factors Determining The Lifespan Of An Outdoor Kitchen
The main factors include design options, appliances, and fittings to be considered when building an outdoor kitchen, as this will determine how much use you will get out of the kitchen and how long an outdoor kitchen lasts?
The usage of an outdoor kitchen will determine how long it will last, along with a combination of the construction that houses the kitchen, the appliances installed, supporting utilities, weather, and maintenance. Also how far away from the house, if it is free standing or not sheltered can also play are part in your kitchens lifespan
Building A Durable Outdoor Kitchen
To make an outdoor kitchen last it needs supporting structures to house appliances and can get built onto an existing patio or deck, or they can go onto a raised platform or a flattened part of the ground. The base must be strong enough to support the frame of the kitchen and must have a firm foothold to support any overhead structures installed to provide shelter.
Consult a landscape contractor to ensure that the construction process is correct. Experts can help with grading and leveling by checking that the surface is flat and even and has adequate sloping for water drainage. Contractors can also assist with the layout of water pipes and gas inlets.
The determining factor for how long an outdoor kitchen can last is the choice of building materials. Frequently, kitchen bases and frames get built from timber, concrete, steel, or a combination of all three.
| | | | |
| --- | --- | --- | --- |
| Material | Advantages | Cost | Durability |
| Timber | Wood is lightweight, sturdy, and flexible. It can be easily manufactured offsite and there are endless design options. It is also environmentally friendly. and aesthetically pleasing.   | Treated timber or bamboo can be the least expensive base material for a small build but has high maintenance costs. Reclaimed wood can be repurposed further reducing the price. | Timber is very durable but needs proper treatment and maintenance as it is susceptible to fire, water damage, mold, and termites. |
| Concrete | Concrete is low maintenance, it won't rust, perish and is non-combustible, retains heat, and is wind and water resistant. Blocks can be prefabricated offsite. | Base materials are available and cheap, but they are heavy and expensive to transport. Concrete requires formwork  and has a long curing period. This means increased labor costs. It is more cost-effective than steel. | Concrete is highly durable as it is impervious to water, fire, and natural decay. Little to no maintenance is required.   |
| Steel | Steel is strong, flexible, and relatively lightweight, it cannot crack and is resistant to stresses. Steel is water and airtight, and impervious to fire. | Steel has a high base cost. Maintenance costs are also incurred for corrosion prevention and fireproofing. Continuous high heat can reduce structural integrity. | Fabricated steel is extremely durable due to its tensile strength and high resistance to temperature, water, and if treated properly, corrosion.           |
Concrete, wood, or steel will produce structures that can last 40 years or more, with timber providing the best value for money and steel having the highest durability. Other options include brickwork and marble. The structure of an outdoor kitchen is not the only determinant of its lifespan.
Long-lasting Outdoor Kitchen Grills
An outdoor kitchen can only last as long as the life of its components, so choosing appliances is vital, but the most important is the grill. The three popular options are gas, electric, or wood-burning pizza ovens.
Gas-burning grills will last for about 15 years. It is relatively easy to prolong its lifespan with simple maintenance schedules.
Outdoor electric ovens and grills are robust and last around 13 years. They need protection from the elements with overhead shelter.
Wood-burning pizza ovens are available fully assembled or to be built from scratch. A pizza oven can last for decades. Usually, you can expect the lifespan of a pizza oven to be around ten years, depending on usage.
Supporting Utilities Needed For An Outdoor Kitchen
Plumbing and electricity or gas are required for an outdoor kitchen to function. Specific subcontractors may need to be employed to help pass an inspection of building codes. These installations require underground piping, and electrical circuits must connect to the main breaker box.
Utility supplies can reduce the life of an outdoor kitchen if they are not up to standard. If they are not installed properly, this can cause damage. If you want an outdoor kitchen lasting as long as the frames and appliances then keep an eye on the power and water coming into it.
Protecting An Outdoor Kitchen From Weather
One of the main determinants of the lifespan of an outdoor kitchen is the weather. Extreme sunlight will damage any surfaces left unprotected. Overhead structures like roofs, pergolas, awnings, and umbrellas can protect from the sun and rain, prolonging the use of an outdoor kitchen. 
Walls and windbreaks can protect appliances from dust, and having shelter from wind will enhance the outdoor dining experience.
Prolonging The Life Of An Outdoor Kitchen
Ongoing maintenance of appliances, surfaces, and utilities is tantamount to extended use of an outdoor kitchen. A cooking area that is grease and grime-free will keep operating optimally for long periods.
Surfaces should be cleaned and treated as required. Wood needs sanding and varnishing periodically. Steel will also require painting every few years to prevent rust. Pipes and drains should be free from blockages to avoid seepage, water damage, and gas leaks.
Amenities That Affect The Lifespan Of An Outdoor Kitchen
Appliances like refrigerators, microwave ovens, garbage disposal units, freezers, and dishwashers will also reduce the lifespan of an outdoor kitchen with a shorter lifespan of around 8 to 10 years.
Built-in storage units, cupboards, dining facilities, and furniture needs to withstand outdoor conditions. Wrought iron is probably the best for tables and chairs. Marble makes for the best work surface and can last a lifetime.
We have hundreds of articles covering all aspects of outdoor kitchens here on the site, while we have selected a few in the list below a search will be your best bet here if you need to know more.
Conclusion
Outdoor kitchens are a great asset and can last for many decades. Keeping equipment in good condition, protecting exposed surfaces, and a regular maintenance schedule will increase the lifespan of an outdoor kitchen.
It is best to build using high-quality, durable materials and purchase the best appliances within your budget.
References