Can You Use An Indoor Stove In An Outdoor Kitchen?
An increasing number of homeowners have been creating outdoor kitchens in their back gardens. After all, who wouldn't want to kick back in their garden while some delicious food is cooked in the open air? However, many people have questioned whether it's possible to use an indoor stove in an outdoor kitchen.
The natural elements will damage your indoor stove when it is used in an outdoor kitchen. Ultimately, this is because indoor appliances like stoves are not treated or designed for outdoor use. Exposure to the elements eventually leads to discoloration, rusting, warping, and a shortened lifespan.
If you've considered using an indoor stove in an outdoor kitchen, we'll explain why you should think twice about that. Once we've discussed why you should avoid using indoor stoves outdoors, we'll examine why outdoor kitchens require specialized appliances and some alternative stove options for your outdoor kitchen and here if you need is an article exploring if you need an oven in an outdoor kitchen.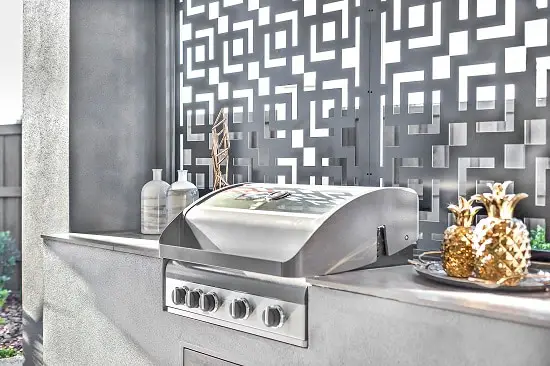 Can Indoor Stoves Be Used In Outdoor Kitchens?
Outdoor kitchens are becoming more popular each day, yet many homeowners are still unsure about the types of appliances that should be used in these spaces. One of the most common questions people have is whether indoor stoves can safely be used outdoors.
When used in an outdoor kitchen, your indoor stove is likely to be damaged by natural elements like rain and UV rays. As a result of prolonged exposure to these elements, an indoor stove will eventually discolor, rust, warp, and have a severely reduced lifespan. This is because indoor appliances are not designed or treated to be used outdoors.
Unfortunately, outdoor kitchen appliances need to be more durable than those used indoors due to natural weather conditions. If you were to use an indoor stove outside, your stove would need to be durable enough to withstand whatever elements nature may throw its way.
Even though it's not recommended that electric stoves be used outdoors, some homeowners have successfully used an indoor stove in their outdoor kitchens. However, this is typically done when there is some coverage. If you decide to use an indoor kitchen appliance outdoors, it will be done at your own risk.
However, by attempting this, you will risk voiding any warranty coverage your indoor stove may have. If your indoor stove is still covered under warranty, you should first contact the appliance's manufacturer to enquire about using the appliance outside. The warranty is an important aspect to check because even the best warranties won't be able to repair appliances damaged by the elements.
Do Outdoor Kitchens Require Specialized Appliances?
To set up your outdoor kitchen, you should use specialized appliances for the best long-term results. Overall, appliances that are treated to be used outside are more durable than their indoor counterparts, allowing them to be safely used outdoors without the risk of damaging the appliance and voiding its warranty.
You'll be glad to know that countless appliances are designed and optimized for outdoor use. These appliances include stoves, fridges, and even dishwashers! If you want to use an indoor stove in your outdoor kitchen, you should first consider your alternative options, which we'll discuss next and also linked in the article here and below. Consider Alternatives To Indoor Stoves For Your Outdoor Kitchen
As we explained earlier, it's not recommended to use an indoor stove outside. Luckily, there are two fantastic alternatives for you to consider; you could purchase a specialized outdoor appliance or use a portable stove in your outdoor kitchen setup. The solution that's best suited to you will depend on your outdoor cooking needs.
Purchase Specialized Outdoor Kitchen Appliances
Naturally, the best permanent solution for your outdoor kitchen is purchasing appliances designed for outside use. Doing this will ensure that your chosen appliances are durable enough to withstand elements like rain and harsh UV rays. Luckily, there are no shortages in options to consider, with outdoor stove options for every budget.
In terms of high-end outdoor kitchens, many homeowners love the convenience of Char-Broil's Medallion Series. While there's the built-in Medallion kitchen, which functions as a complete outdoor kitchen, people also love the modular kitchen appliances from Char-Broil, which feature free-standing designs that can be purchased separately.
Ultimately, the benefit of these appliances is that they're designed to be placed and used outdoors. Using specialized appliances is the perfect solution for homeowners who want a full outdoor stove to use. Should you experience any weather-related damage with your specialized outdoor stove, the appliance's warranty will cover the repair or replacement of your oven.  
Use Portable Camping Stoves In Your Outdoor Kitchen
Another fantastic option is using a portable camping stove as part of your outdoor kitchen. There are many different portable options to choose from – and even more benefits to using this type of portable stove in your setup. Firstly, these portable camping stoves feature both stovetop burners and an oven compartment.
While these portable models come in various sizes, they are typically smaller than full-sized outdoor-rated kitchen appliances. Furthermore, while these camping stoves are safe to use outdoors, they cannot be left outdoors permanently. Like a camping tent, a portable camping stove must be stored when not in use.
Luckily, many popular models come complete with a carry bag for storage. Furthermore, the portable size means you can use your portable oven anywhere outside, whether you place it on a counter or on a table.
Whenever you have the hankering to cook a delicious meal in the open air, you can simply take out your portable camping stove and set it up in minutes. These models are also more affordable than full-size outdoor kitchen appliances. However, they can prepare your meals just as well as the larger models.
Conclusion
Due to the many ways natural elements can damage indoor-rated appliances, indoor stoves should not be used in outdoor kitchens. Doing this will lead to the stove discoloring, warping, rusting, and having a shortened lifespan.
Specialized appliances treated for outdoor use should be used for maximum durability. Luckily, there are many specialized stoves ideal for outdoor use!
Sources: