Can You Put A Traeger In An Outdoor Kitchen
Traeger grills and smokers are very popular cookers in outdoor settings like camping, fishing, and hunting, whether on the tailgate or at the campsite. But, can you put a Traeger in an outdoor kitchen, and how would you do it?
Yes, you certainly can put a Traeger in an outdoor kitchen, but you need to install it safely and safely and with proper airflow. You also need to provide enough ceiling clearance from the grill to avoid damage from the smoke and ensure your fuel is safely stored.
Let's get into the details as to how you can safely install a Traeger in an outdoor kitchen, the safety and storage aspects, and the installation options you would have that would give you the best results in your outdoor kitchen.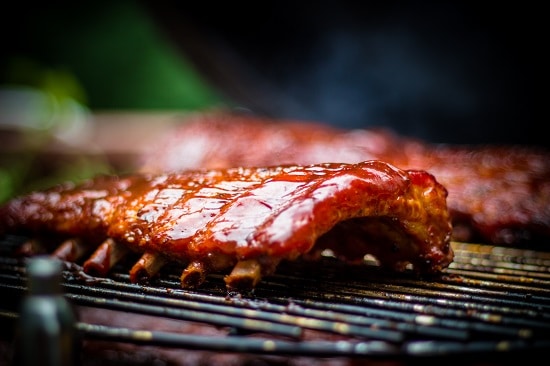 Traeger Safety Considerations For An Outdoor Kitchen
Whether you choose a permanent or portable installation, fundamental safety concerns must be addressed before you consider putting a Traeger in an outdoor kitchen; the first of those is the airflow.
Airflow is critical when using a grill or smoker indoors as it is essential for the cooker itself and ensures that smoke and other toxic fumes don't affect people or animals in the vicinity. Having proper airflow will also ensure that your ceiling doesn't get damaged by the smoke from the Traeger.
Another essential consideration that would need to be factored into the design is that there are no combustible materials within at least three feet of the cooker, which is applicable regardless of whether the cooker is installed permanently.
Finally, you need to consider your storage for both the fuel and the cooker. Like most other cookers, Traegers must be stored undercover and protected from the elements, or they are at risk of corrosion.
So you would need a dedicated cover or storage space or protective cover in your outdoor kitchen if the unit is installed or an undercover area like a shed or garage where you can store the Traeger once you have finished using it.
If your Traeger is a permanent fixture, then your gas would be securely installed away from the cooker and fed via a gas line. If you are using a portable cylinder, make sure you have a secure space to position your fuel while cooking.
Putting A Traeger In An Outdoor Kitchen – Portable Or Permanent
Traeger grills and smokers are mostly portable and have legs and wheels so they can be moved around as needed, and while they are quite heavy, they certainly can be installed as permanent fixtures.
This poses a question for the outdoor kitchen: whether you allocate a space in the design for the Traeger and move it in and out as you want, or do you create a tabletop or countertop space and mount it permanently?
The Portable Option For Your Traeger In An Outdoor Kitchen
If you only have one cooker and it needs to be portable, then you would have to create a space for it in your outdoor kitchen, which is best done in the design phase, and you need to consider the following:
Make sure you have easy access to the area as you don't want to have to fight obstacles and appliances when you want to move your cooker into the kitchen.
Another consideration is to position the cooker where you have the best access to your cooking utensils.
Create a cleaning area to remove the ash and soot without cleaning up the kitchen after cooking.
How To Install A Traeger In Your Outdoor Kitchen
The best place to install the cooker is a countertop, and here you would need to determine what size cooking surface you need and then create the space on the countertop to accommodate the cooker. You would need around three to four feet of the cooking area allocated.
Whether it's a grill or smoker you want, you only need to ensure you have enough space in the worktop, and this should be part of the kitchen design and, of course, ensure you have enough ceiling clearance to prevent heat and smoke damage.
You can either build the cooking top from scratch as a DIY project or look at ready-to-fit (RTF) pre-built options to take the Traeger cooker. Then you bolt the sections together and install the grill or smoker, and you are ready to get cooking.
If you are installing your Traeger as a DIY project, you need to install a heat shield between the cooker and the surrounding surfaces, and here you can use a metal heat shield or concrete slab that sits between the Traeger and the worktop.
A great option for this is to install a dedicated island that can accommodate the grill, and this means that you can go to town on a fully customized cooking station with all the culinary accessories you want so you can cook ribs and sear steaks and burgers as you want.
Remember to give enough clearance on the backsplash to raise the lid and have enough depth (around 24 inches) to accommodate the cooker's body in the island worktop and leave enough airflow and exhaust.
The Traeger Timberline Series With Trim Kit For Outdoor Kitchens
If your Traeger isn't one of the new Timberline series designed for installation, you would need to remove the legs and ensure that your countertop can safely handle the weight, so a solid and robust material and construction would be required.
But if you want the best-fitting cooker, then the new Timberline series that debuted in 2022 would be the best way. These grills are specifically designed to be built into outdoor kitchens and come with a trim kit to facilitate this.
They also have leveling feet rather than wheels to keep them level with the rest of the kitchen appliances, and they come with a powder-coated kickplate that assists with ventilation and a clean and stylish finish.
Conclusion
Putting a Traeger in your outdoor kitchen is certainly doable and practical; provided the basic safety and ventilation factors are incorporated into the design, there will be no issues when cooking.
Traeger's new Timberline series is the ideal option for an outdoor kitchen. Still, with the right planning and materials, any Traeger grill or smoker could be installed and add that extra dimension to your cooking, offering a greater range of meals for family and friends.
Resources