How To Make Outdoor Cushions More Comfortable
With the lifestyle most people live in this day and age, the outdoors are a privilege, a sacred area where you spend after a long day at the office. How can you make this relaxing area's seating more comfortable?
You can make your outdoor cushions more comfortable by adding more inner to make them softer or removing unwanted items like buttons or zippers that keep you from enjoying your seating. You can add new cushions with firmer and thicker inners, covered with durable outdoor material that lasts longer.
When it comes to outdoor seating, you can do a few things to your current cushions or add something new to increase comfortability. Let's look at what options you have to enjoy your patio set for longer and those outdoor cushions more comfortable.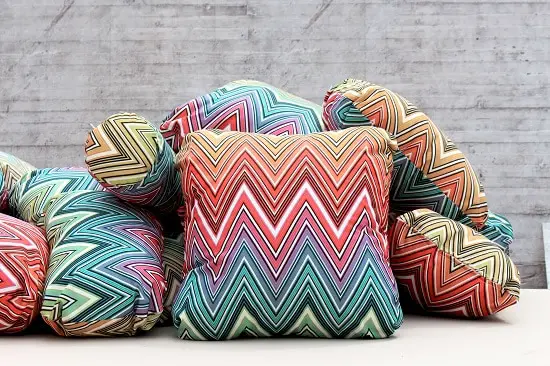 How To Increase The Comfortability Of Your Outdoor Cushions
You can apply certain things to better your seating experience: you may have an outdoor patio set that dates back a while, or it got passed down from family or friends. Another reason might be that you bought this fantastic set you love, but the cushions are not as great.
Puff out the cushions. outdoor cushions tend to press together at the same spot where someone would typically sit. This compression causes the hard surface feel to come through, making the seating experience unpleasant. Make sure to take your cushions, shake and puff them out to distribute the stuffing evenly again.

Deal with the decorative extras. Sometimes outdoor cushions come with buttons or zippers for décor rather than practical reasons. These tend to be uncomfortable when you have to sit on them. Use a seam ripper to remove the cover (only if it has no zipper) and remove buttons or décor that are in the way.

Add to the inner of the cushion. When the outdoor cushions have gone through wear and tear, many people enjoy sitting on them, and the inner tends to deteriorate and thin out. You could add stuffing that is the same type that is already inside, or you can take everything out and replace it with a new kind of inner.
Upgrading Your Outdoor Comfort With Deep Seating
The best feeling is to sink into a couch or chair and enjoy the fresh air. By adding deep seating to your outdoor furniture, you will undoubtedly add more comfort to your experience. Deep seating refers to outdoor cushions that are 4 inches – 8 inches thick.
Replacing Cushions With Deep Seating Ones For More Comfort
The best part of deep seating is adding it to any existing furniture. Whether you have a vintage set that is uncomfortable or old outdoor cushions that need to be spiced up, you can certainly get what you want.
The more durable fabric will last you longer, and this thick inner will guarantee that your outdoor cushions last longer. These fabrics are obtainable in various colors, and you can customize them for your cushion sizes.
The pricing of these cushions can be relatively high, but if you are willing to invest in a long-term solution, this might be the best idea.
A single-seat buffer, with welding; the size of 20″ seat depth x 21" width x 20" height of the back pillow; thickness of 4 inches; and basic inner can range from $250 to $265 per seat.
Add Versatility With Deep Seating Ottoman For Comfort
Suppose you have an ottoman as part of your patio set; what better idea than placing your feet on a soft cushioned surface after a long day on your feet. This ottoman can be versatile because deep seating is firm; as a footstool or a coffee table, add a tray on top before placing your coffee cup there.
We have an in-depth article on choosing the right cushions and pillows to use outside including waterproofing and care here on the site.
Keep Your Lumbar Health In Check With Deep Seating
Lumbar pillows on a patio set increase the décor aspect of your space and increase the comfortability of your seating. No one wants to rest their back against a hard surface for an extended period, and these pillows can ensure that your guests enjoy their visit.
A lumbar pillow's price can range from $50 to $100 depending on the fabric, pad size, piping, and filling you would like to add to your pillow.
If you are looking for comfortable hammocks as well we have a full guide on choosing these on the site as well. You can check it out here.
Other Things That Increase Your Outdoor Comfort Experience
Although seating and your outdoor cushions are the primary comfort giver for your outdoor setting, other things can distribute to the perfect location for relaxation.
The correct lighting can change the mood. Think about adding lighting to your patio area. Add warm lights or even drapes of fairy lights. Lighting can extend your outdoor experience to night time too, and allow you to share this precious space with friends under the stars.

Adding protection to your porch can lead to more time spent there. By thinking about adding coverage to your outdoor relaxation area, you can enjoy this sanctuary during the hot summer days, rainy days, and even cold winter days. Depending on your climate, adding tented walls that can roll up or just an extended roof can change the amount of time you spend here.

Controlling the temperature increases your time spent on the patio. You can think about adding a fan to the ceiling of your deck or small sprinklers that cool off the air around you in summer. In wintertime, you might want to think about adding a tabletop fireplace or some heating to give your patio a cozy feel.

The view and sounds can increase the relaxation. Add exceptional natural viewpoints to look out on when relaxing on your patio. These can include a birdhouse that attracts different species of birds or adding a water feature. Adding a stereo hidden or made up to look like part of nature (hidden behind leaves or made up to look like stones), playing natural sounds will set the tone to relax.

Prioritize privacy to increase comfort. No one can be comfortable or relaxed if under the impression that someone is spying on you. Add blinds, a drop-down gazebo, or a wooden grid for creeping plants to grow against and close the gap.
Conclusion
Implementing comfort on your patio doesn't have to cost you too much. You can create an idyllic space by adding your cushion inners and blankets and moving things around. If you want to customize your outdoor cushions, you will have to budget for it, but no one said you could not "DIY" yourself into a comfortable setting.
Of course at some pint you will have to replace your outdoor cushions, and we go into that here.
Every human being needs a time during the day or during the week to chill and relax in comfort. Alone or with friends, make efforts to transform the patio into an area where you can snuggle under a blanket, sit back with a glass of wine and forget about everything for a while.
References