Coastal Small Front Porch Ideas
It is an exciting thought to decorate the front porch of your coastal house. The excitement could pressure you, as the front porch is the part most people see when they pass by, and all your guests have to go through to enter your house. The patio sets the tone for your home, so you might wonder what great ideas to decorate your small coastal front porch are?
Ideas for a small coastal front porch are to add accent sea-like colors in the form of pillows, use every inch of space on your small porch to bring about a flow to the area, and add greenery to accentuate your space. You can add a mirror to enlarge your site or add a focal point on the front door.
You might feel that decorating a small space is more complicated than a larger space. It may be valid to some extent, but focusing on certain elements will help you pull off the coastal look and give your front porch a homey, open feel.
How To Set Up A Small Front Porch
There are certain things to consider when decorating and setting up a small front porch. The porch is the entrance to your home, and taking note of a few things will convert it into your favorite part of the house.
#1 Use Color For A Pop
You can trick the eye to expand the space by adding color to your outdoor furniture. Pastel colors are a win to use on a small porch to complement the natural light on the patio and disguise the limitation in space. Depending on the colors you use, it can also create a feeling of comfiness.
#2 Add Greenery To Expand Your Porch
Add hanging plants or wall-mounted greenery to extend your space into your yard and make it feel like one. You can also repeat something in your garden or on your porch to portray this same feeling of expansion.
#3 Get Rid Of Your Small Porch Clutter
Garden tools, beach attire, or requisites – make sure you have a space for these items, preferably not on the front porch, and set up a shelf or something similar to store things you might need here to ensure your space is clean and clutterless. The front porch seldom becomes the space where most items get dumped.
#4 Think About When You Will Use Your Front Porch
When will you use your front porch? Is it just the entrance to your house, or would you be lounging here with a breathtaking ocean view? According to this, you will have a better idea of what you want on your porch.
You can add a mirror to expand your space or a small side table to be practical when having a coffee or wine outside. You can add soft window tint to make the porch private and block out anything that might distract you from inside the house.
#5 Add Key Factors To Your Small Porch
You can add specific essential décor or furniture pieces to your porch to make it unforgettable and not feel small. Make sure the pathway to the door is open for visitors or residents to enter and exit the house, with no restrictions quickly.
If you have a corner available, add a wicker chair or two with accent cushions in the color combination of your porch, with a small rug to accentuate this specific space. Suppose you have a horizontal line on the floor like planked flooring; add a cushion with a horizontal line to repeat these textures and format.
#6 Keep Your Small Porch Furniture To A Minimum
To keep your area looking clean and spacious, use as little as possible outdoor furniture. If you only have room for two chairs and a table, try for a round table. The round edges make movement more achievable in a small space. Opt for chairs without armrests, giving more freedom and direction to a small area.
Another great idea is to use multi-functional furniture. You can use this piece as a side table or extra seating, making your porch more inviting and versatile.
If you are looking for color ideas you can check out the two articles below which asks and answers if you should paint your porch white, and if not what color should you paint your porch.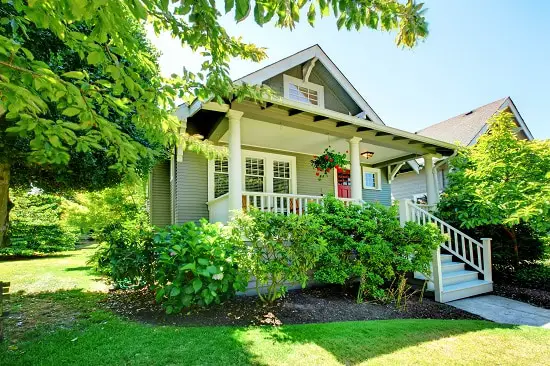 Design Ideas For Small Front Porches
If you have a small front porch, using architectural elements like brass lights and gutters is an inexpensive way to add visual interest. You can even hang a few potted plants for instant brightness. Here are some examples of design ideas for small front porches:
Use vibrant cushions to bring out the best in your porch's seating area. Consider using a color scheme for the cushions, so you'll be able to change them easily. Changing the seat cushions is a simple way to change the look of your porch without having to replace the entire structure.
You can also use a colorful outdoor rug or doormat to add color and fun to the space. String lights and hanging lanterns are also a fun way to create ambient lighting.
Choosing the right furniture is important, but smaller pieces of furniture will help your porch look larger. Avoid heavy furniture, and opt for a round accent table. You can also go for comfy chairs without arms, as they won't add visual bulk.
A sectional sofa is a great option for a small porch, as it can be separated as needed. Adding a few key accessories will complete the look and feel of your porch. For instance, a cushioned wicker chair next to a wooden crate will make the porch look complete.
If you want extra seating, a few stools may serve as extra seats, as well as serve as a side table.
Railings add charm to your porch. You can use standard balusters or pickets to decorate the porch with decorative railings. You can also choose hand rails if you want a more sophisticated look. These railings can be simple or elaborate, and will fit with any house style.
If you want to maximize the space available on your small front porch, you should select furniture that is both stylish and functional. Mirrors can hide unsightly walls and artwork can visually expand a small porch.
A small table can add character and make it useful for meals. Soft window treatments can also be used to block unsightly views. You can also opt for a striped rug to make the space feel more inviting. And remember not to clutter your porch with too much stuff; a few decorative candles and plants will do the trick.
A charming porch with rattan furniture and light textiles is an excellent design idea. Although this porch is small, it can still be a relaxing and cozy place to relax. You can decorate it with matching plant stands and rocking chairs.
For a more formal look, you can place a welcoming welcome mat on the porch. You can also decorate your porch with a classic bistro table and a French-inspired design.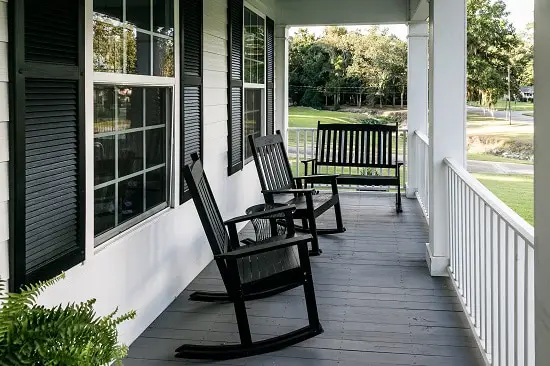 How To Add A Coastal Theme To Your Porch
It is pretty easy to transform your porch into a coastal one giving a peaceful feel, whether you are next to the waves or want to apply this feeling to your home.
Scatter cushions –adding big patterned pillows to your seating with blue or turquoise color can enhance the look of your porch and bring in the coastal element, and set the tone for a comfortable, cozy setting.
Add paint – by painting your ceiling or some of your outdoor furniture a coastal color, you can save money and add the coastal feeling to your porch. Another idea is to keep your patio neutral colors and paint your door a striking blue.
Wicker elements – Add a wicker chair or hang a plant in a wicker pot to add a coastal part to your porch. You can also add distressed wood-looking furniture, seagrass, rustic elements, or rattan. Rope décor also gives the coastal vibe, so you may want to implement it somewhere in your area.
Rug – for a coastal kick, add a light blue patterned rug to your porch, and it will give a comfortable feel to your patio with the coastal theme. Adding a rug will also categorize the space by showing this area as the seating area.
Color – coastal is not only hues of blue or green. Coral also goes well with ocean blues and greens. Coral can also be a coastal color, and adding coral in the form of flowers, table decorations, or wall art can give your porch a pick-me-up.
Contrasts – a great idea is to add contrasting hues of blue and navy to give a more modern look to your coastal porch idea. Navy walls with light grey furniture and light blue accents will make the perfect coastal picture.
Add a sign – add a sign to let people know they are entering a coastal porch. This sign can be engraved on a white rock or painted on a piece of distressed wood. It will depend on what the feel of your house is. It could be your house's name, family name, or a fun slogan inviting guests.
Conclusion
It is a great idea to plan timeless items, like outdoor furniture, plants, and décor. Remember that all these things will have to withstand the weather; thus, you should choose wisely to make sure your items last a long time.
You may have a small porch, but if you put a bit of effort into planning the layout and decorations, you can quickly end up with a cozy, coastal-themed, budget porch that will give you endless relaxing times.
References