Cheap Outdoor Countertops
I will renovate my outdoor kitchen area soon, and the first thing I want to replace is my kitchen countertops. I don't have tons to spend, so I need a budget-friendly option that is high quality and looks expensive. I am looking at cheap outdoor countertops that will suit my budget.
Laminated outdoor countertops are one of the cheapest options for new countertops. If you want to use existing countertops, painting them is one of the cheaper options. It is much cheaper to repair and paint your old countertops than to install new ones. Another cheap option is to use concrete
With so many different countertop options, it's hard to choose. There are many creative ways to have high-quality countertops on a budget if you need countertops that won't break the bank. We have come up with some innovative and easy-to-do ideas for less expensive countertops we wanted to share.
Cheap Outdoor Countertops To Use For Your Outdoor Kitchen
Whether you are building a brand new outdoor kitchen or renovating your existing one, there are many different ideas and options to get great-looking, high-quality countertops for cheaper. So if you are working on a limited budget, what are the cheaper countertop options you can use for outdoor applications?
Considerations When Looking For Cheap Outdoor Countertops
When you are looking for inexpensive countertops for outdoor kitchens that are not under cover and thus exposed to the elements most of the time, you need to consider the following;
Resistant Properties
Suppose you have an existing outdoor kitchen exposed to the elements. In that case, the countertops you choose need weather-resistant properties so they won't be damaged by adverse weather conditions like rain, snow, wind, hail, extreme heat, or extreme cold.
Durability
The countertops you choose need to be durable and able to withstand the wear and tear associated with outdoor kitchens. For example, wooden countertops are not the best choice as they will deteriorate in a few years and won't last as long as other materials.
The Price Point
When you need to stick to a budget, you need to look at cheaper counter options that will still last long and look good. This does not mean you have to buy the cheapest but looking for countertops that are value for money with good weather proofing attributes is the best option.
Easy Installation
When you need cheaper countertops, look for options that you can install on your own that way, you save money on installation as well as the price of the countertops. The more expensive the material the more likely you will need to see professional help in installing them, and the more likely the repairs when needed will be expensive as well.
We have a large selection of articles on outdoor kitchens here on the site which you can search for or check out some pre selected ones here below.
Cheap Countertop Ideas For Your Outdoor Kitchen
When looking for cheaper countertops to use in your outdoor kitchen, there are many inexpensive options available. Some options will work best when you have them installed, but there are a few DIY options so you can save on labor costs.
Painting Your Existing Countertops With Outdoor Paint
Painting is a budget-friendly way to revamp your existing countertops with the color you want. You can use different textures or types of paint. If you choose this option, you should use outdoor paint that is long-lasting and durable.
You can also apply a few coats of high-quality sealer to seal and protect the paint. It is one of the cheapest options that also allows you to do it yourself. You can use stencils and create interesting designs and more than one color to make the counters pop.
Installing Epoxy Countertops
If you are installing brand new countertops in your outdoor kitchen, you can install epoxy countertops as epoxy is durable and can withstand being exposed to the elements. Professionals can install epoxy countertops, but if you have experience, you can install them yourself.
Epoxy countertops are durable, versatile, and easy to maintain. The resin and hardeners in the epoxy bond together to form a strong material when it is fully cured. So. You are left with a material that is waterproof, mold, and insect resistant.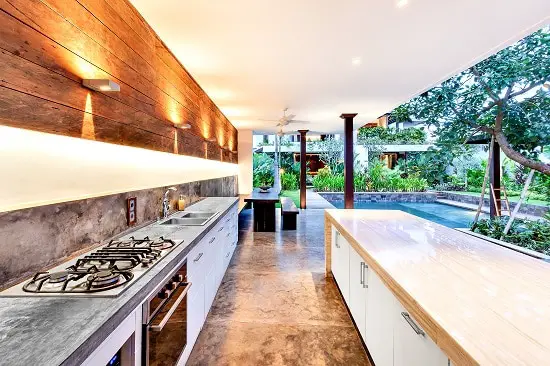 Concrete Countertops For Your Outdoor Kitchen
When building your outdoor kitchen, you can use bricks and concrete. Place your kitchen cupboards in the center of the bricks, and then form your countertop surface as a part of this structure using concrete.
A concrete countertop offers a strong and solid surface and will also be weatherproof and stain and heat-resistant, so they are perfect for your outdoor kitchen. To decorate a concrete countertop, you can use acid etching, paint your concrete countertop or have it tiled. If you like the rough look, you can opt for a sealant to give your counters a shiny look.
Pouring your concrete countertops saves you the cost of installation. Remember that the support structure on which the concrete countertops will be poured needs to be robust as it needs to withstand and easily support the heavy concrete countertop.
Tiled Countertops for Concrete Surfaces
With tiled surfaces, ceramic and porcelain tiles are both considered affordable and cost-effective options. The tiles are manufactured and supplied in a variety of colors and designs. And with different patterns of your decorative choice creating an attractive countertop for your outdoor kitchen.
Natural stone is also a great option to consider for your outdoor kitchen's tiled countertop surface. Natural stone is a natural-looking product that blends beautifully outdoors; although a more expensive option than ceramic and porcelain tiles, it is cheaper than other natural countertops such as marble or granite.
Wooden Countertops For Your Outdoor Kitchen Surfaces
While many people avoid using laminate countertops for outdoor purposes, if you have time, don't mind the extra maintenance, and you like the look of wood, you can use solid wooden countertops.
The wood will require staining or varnishing regularly to keep them in good condition and protected from outdoor weather conditions. Wooden countertops also create a natural look and a more rustic mood. Countertops created from wooden materials are also a fraction of the price compared to stone countertops.
Black Shale stone Countertops Looking Like Natural Stone
If you like the look of natural stone for your outdoor kitchen countertops like granite or marble, then this might be an option you can consider. Stone countertops don't need to break your budget. There are a lot of options that are significantly cheaper than they seem.
Black shale stone is a product available through the Formica group. These countertops supply a dark deep charcoal grayish color that is stylish and reminiscent of more expensive options like marble and granite.
Conclusion
There are endless budget-friendly materials to choose from for outdoor kitchen countertops, including epoxy countertops, painting, or tiling existing countertops. When installing new countertops to your outdoor kitchen, some cheaper options include materials from concrete, tiles, wood, and stone.
Remember you don't need the bank to have a good looking functional outdoor kitchen countertop that fits in well with your perfect outdoor space.
References