Best Paint Color For Outdoor Wood Furniture
Enjoying the outdoors is popular, especially in the summertime, and you may wish to spruce up your outdoor wood furniture with a fresh coat of paint. Not only can paint revive your faded-outdoor furniture and bring it back to life, but the right color paint will give your wood furniture that extra edge it needs. Let us look at the best paint color for your outdoor wood furniture.
Gray is the best paint color for outdoor wood furniture. Gray is a neutral color that presents well, cleans easily, and does not absorb as much heat from the sun. Gray paint adds depth and sophistication but still leaves it light and chic and is a good base for any decor style.
Many people scour their garages and hardware stores to find the right paint to freshen up their outdoor wood furniture. Nothing prevents you from choosing any color for your outdoor wood furniture, but the advantages of choosing the best color will elevate your wood furniture to new heights. Let us examine the ideal paint color for outdoor wood furniture.
What Color Paint Is Best Suited For Outdoor Wood Furniture?
Although there may be a few factors you need to consider before deciding, choosing the right color for outdoor wood furniture is not as tough as it may seem. You must choose a paint color that will present well outside, will not be too overwhelming, and emphasize your outdoor wood furniture's best features.
Gray, at first glance, may seem dull and a poor choice, but once you see the benefits it adds to outdoor wood furniture, you will find its versatility refreshing. Whether you are looking to buy new wood furniture or bring your old wood furniture back to life, gray is the best color choice, and here is why.
Gray is a fashionable-neutral color that gives outdoor wood furniture a sense of luxury, works well with greenery, and creates a stylish yet laid-back appearance. Gray gives a modern tone and uniqueness in its simplicity and makes for a beautiful canvas that highlights decorative elements without losing its harmony.
The ability of gray paint to hide little scuffs and swirls from washing is one of its best features. Because gray hides imperfections well, your outdoor wood furniture will continue to look new and clean for a longer period and is effective at hiding dust and dirt.
Gray is known for its classic, formal, and refined features as the paint color choice for outdoor wood furniture. Dark gray is a masculine color and has some of the same positive qualities as black but less of the negative ones. Light gray is feminine and cool and shares white's crisp, light, and airy qualities.
Colors absorb heat through light from the sun. Because gray reflects more light, it absorbs less solar heat and energy. Gray is the best option because it has lighter hues that can help prevent the sun from destroying your outdoor wood furniture and will leave it lasting for many enjoyable years.

Shades Of Gray Available For Outdoor Wood Furniture
Various hues of gray are available to help you achieve that desired look. Whether it is bright and fresh or warm and inviting, different undertones found in the range of gray paint available will give that pop to your outdoor wood furniture.
The beauty of gray color paint is its variety of undertones that transform it from a light-cool experience to a darker tint that brings warmth. There are numerous hues of gray, and you will find one for your outdoor wood furniture. Here is a list of five popular grays with undertones added to give a different feel to the color.
Flagstone Grayhas a cobalt undertone and is a cool-rich-indigo gray. This darker but chic color is the ideal shade for painting outdoor wood furniture if you want to make a sophisticated statement.
Slate Pebble is a rich and forgiving mid-toned gray with a beige undertone. This greige color has a warm feel and is brilliant if you want your outdoor wood furniture to have a natural element.
Amazing Gray is a pleasant paint color with a beige and green undertone. It is a saturated hue that intensifies the color and will showcase the best features of outdoor wood furniture paint if it gets a lot of natural light.
Gravity is a light gray with a subtle-red undertone and a good substitute for white. It has a flat finish, ideal if you do not want that glossy look, and will hide minor surface imperfections on outdoor wood furniture.
Stonington Gray is not as bright and has a stormy blue-purple undertone. This elegant, refined, and popular gray is soft and a good choice for outdoor wood furniture and will put emphasis on your decorative extras.
With more than a hundred shades of gray available, each with a unique undertone and finish, you should easily find a gray uniquely suited for your outdoor wood furniture.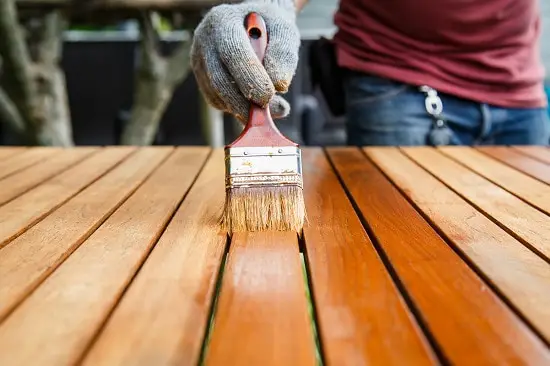 What To Know About Outdoor Wood Furniture Paint
Choosing the best external wood paint that offers additional weather protection will enhance your outdoor wood furniture. Nevertheless, there are numerous paint choices, so learning about outside wood paint will help your outdoor wood furniture last longer.
It would help to consider certain factors when looking for outdoor wood paint. The manufacturer should list the paint applications on the tin and whether they are appropriate for outdoor wood furniture. A good indication of the paint quality is that the manufacturer offers warranties of several years for their long-lasting protective properties.
There are all-in-one paints that can assist in simplifying and speeding up the procedure using preparative undercoats that offer a good finish. Some exterior paints for outdoor wood furniture need a primer, but other exterior paints do not. Again, verifying that the manufacturer stated that the product is a dual-function paint with a wood primer is essential.
Applying sealant beforehand to seal the wood's pores is a good idea because wood contains natural compounds that eventually deteriorate paint. Some brands claim that the paint has self-priming capabilities and that sanding and priming are not essential to smooth and seal the surface.
Read the manufacturer's directions because some outdoor wood paints already feature these protective qualities.
Wood furniture for outdoor spaces must be water-resistant because of exposure to the weather. Even though all outdoor wood paints should be waterproof, it would be a good idea to check the label.
We have tips, advice and suggestions for painting your outdoor spaces on the site. you can do a search or check out the selection below.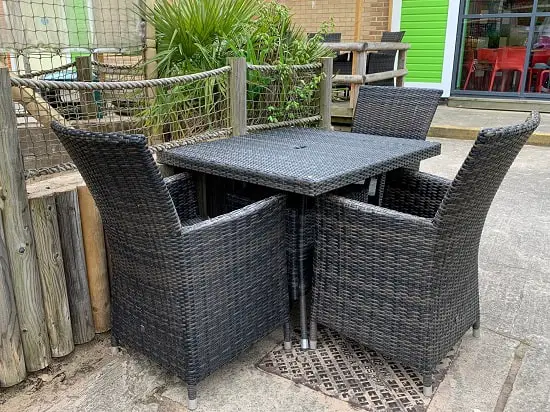 Conclusion
Painting outdoor wood furniture gray gives it that added benefit it needs to bring a fashionable, sophisticated flair to your home. Despite people thinking that gray is dull, it has proven to have numerous shades, undertones, and the ability to accentuate decorative extras to be the best color for outdoor wood furniture.
Outdoor wood furniture paint needs to clean easily, repel the sun's rays for protection and hide small scuffs to prolong the outdoor wood furniture's life. Gray ticks all the boxes as the best color to paint, and painting your outdoor wood furniture gray will leave you smiling every day for many years.
References