What Is The Easiest Patio Furniture To Keep Clean?
Patio furniture is pretty resilient when it comes to withstanding the elements. However, that doesn't mean it cannot pick up a little dust and mold over time. Anything left outdoors for extended periods is bound to get dirty. Depending on the material it is made of, most patio furniture shouldn't be too hard to clean. But some types of patio furniture are much easier to clean than others.
Patio furniture made from synthetic materials like plastic or resin is the easiest to keep clean. Plastic and synthetic resins are water-resistant and do not stain or mold. Patio furniture fabric that is the easiest to keep clean is olefin. Olefin is one of the best waterproof fabrics and does not fade or stain. 
I'm sure you'd prefer to spend your time lounging and enjoying your patio furniture rather than cleaning it.
Read on to find out which patio furniture is the easiest to clean and maintain.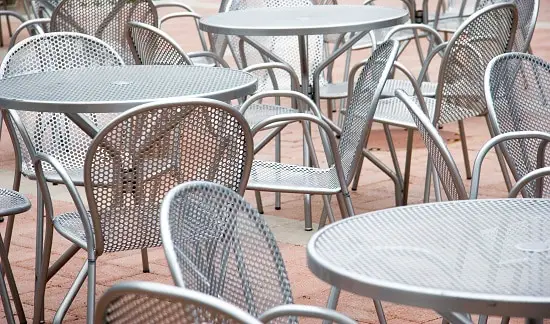 Types Of Patio Furniture Materials 
Patio furniture is made with a variety of different materials and fabrics to give you the unique feel and style you have in mind for your outdoor space. A quality set of patio furniture can significantly improve the aesthetics of your patio as long as you keep it in good condition. 
Some patio furniture frames and fabrics are more low maintenance than others. Below we take a look at the different types of patio furniture materials. 
Materials Used For Patio Furniture Frames
1. Wood Patio Furniture 
Hardwoods are a popular material used for patio furniture. Hardwoods are durable, strong, and resilient in harsh weather conditions. Some different types of woods used for patio furniture include teak, cedar, acacia, white oak, and eucalyptus. 
Hardwoods like teak contain high levels of natural oil that maintain and protect the wood from moisture and sun. Eucalyptus is a good option for outdoor furniture if you're looking for quality, rustic-style furniture at a reasonable price. 

2. Metal Patio Furniture 
Metal is stronger and more resilient than wood and is, therefore, one of the best materials for outdoor furniture. Metals can be shaped into various shapes and offer greater versatility in style. 
Some metals most commonly used to manufacture patio furniture include aluminum, stainless steel, and wrought iron. 
3. Synthetic Patio Furniture
Patio furniture made from synthetics like resin wicker and plastic is extremely durable and requires minimal maintenance. They are very lightweight and therefore easy to move around. Synthetics are also manufactured in a wide variety of colors and shapes that can be utilized to create stylish and unique outdoor spaces. 
Fabrics Used For Patio Furniture Cushions And Upholstery
1. Acrylic Fabric
Acrylic fabrics are synthetic fabrics consisting of acrylic fibers. Acrylic fibers are resistant to mold and mildew and don't get damaged by moisture. They are usually "solution-dyed" and can retain their color for a long time, even when exposed to direct sunlight for extended periods. Acrylic fabrics are very breathable and are easy to clean and maintain. 
2. Olefin (Polypropylene) Fabric
Olefin fabric is a synthetic fabric derived from refined petroleum. Olefin is stain-resistant and very durable, making it one of the best fabrics for outdoor use. It also has mildew-resistant properties and dries very quickly. In comparison to acrylic fabrics, olefin is a more affordable option.  
3. Polyester Fabric
Polyester has many good qualities that make it suitable for outdoor use; however, it tends to stain and fade much easier than other outdoor fabrics due to a high amount of dye sites within the fibers. Polyester is one of the cheapest outdoor fabrics. Although the fabric is strong, flexible, and water-resistant, polyester cushions do much better on a shaded patio with minimal sunlight and heat. 
What Is The Easiest Patio Furniture Frame To Keep Clean? 
When it comes to the frame, plastic or synthetic resin patio furniture is the easiest patio furniture to clean and maintain. Plastics and resins do not absorb moisture as wood does, and they don't rust, corrode or stain as some metals do. Plastic and resin patio furniture does not easily fade or crack and is resistant to saltwater, insects, and mildew. 
You won't need any special cleaning solutions or tools to keep your plastic patio furniture clean. Wiping your furniture down with soap and water easily does the job! A bonus to having plastic or resin patio furniture is that it does not require any paints, sealants, waxes, or oils to protect the plastic frame. 
Another upside is that plastic and resin are very lightweight materials, making it easy to pick up and turn your patio furniture over if you want to clean the bottom sides. 
It is safe to say that cleaning and maintaining plastic or resin is simple, quick, and affordable.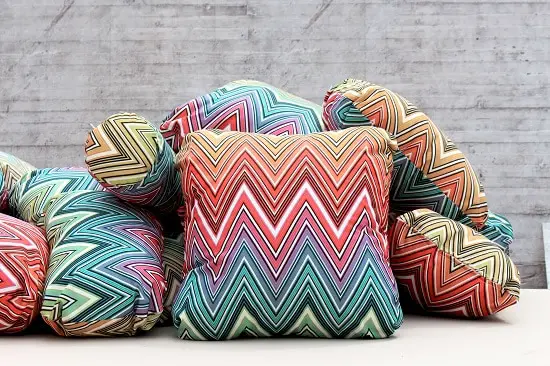 Which Patio Furniture Fabric Is The Easiest To Keep Clean? 
There's little point in keeping your patio furniture's frame polished and clean if the cushions and upholstery are constantly filthy. Hence, it is important to choose quick and easy-to-clean fabrics. 
The best fabric for outdoor furniture that is the easiest to clean is polypropylene or olefin fabric. The fabrics have no dye sites with the fibers and therefore do not stain easily. You can easily wipe them down if something gets spilled on them. Polypropylene dries very quickly when it gets wet and is considered one of the best waterproof fabrics. 
Because polypropylene basically consists of plastic fibers weaved together, the fabric is strong enough to handle cleaning agents like bleach and does not get damaged through abrasion or rubbing. Cleaning polypropylene cushions or upholstery won't damage the fibers or fade the fabric's color.  
How To Clean And Maintain Your Patio Furniture 
Cleaning Your Patio Furniture & Cushions
The cleaning method for the different types of patio furniture materials may differ slightly, but these general cleaning tips apply to most materials. 
Remove all cushions and upholstery before you start cleaning the frame
Use a soft-bristle brush and gently scrub down the frame of the furniture to remove any loose surface debris, twigs, leaves, etc. lodged in the furniture 
Use a soft brush with a mild soap or detergent and warm water to clean the furniture's frame 
Dry the patio furniture with a soft cloth
Apply a protective oil or wax (wood or metal) 
Cleaning patio cushions are usually quite simple. These tips apply to most outdoor furniture fabrics:
Use a vacuum cleaner to vacuum your patio cushions and remove most of the dust and loose dirt or debris 
Remove the cases from the patio cushions or pillow (if pillows are detachable)
Wash the pillowcases in the washing machine following the laundering instructions 
You can also handwash the pillowcases in lukewarm water using a mild detergent 
If you notice mildew on your cushions, mix ¼ cup borax with water and apply it to the mildew. Rinse off after 15 minutes. 
Leave your cushions to dry before placing them back on your patio furniture 
Tips For Maintaining And Keeping Patio Furniture Clean
Move your patio furniture into storage if you're not going to use it for a long time. This will help it stay clean until you want to use it again.
Invest in patio furniture covers if your patio furniture is too heavy to move into storage. Furniture covers will keep the patio furniture clean and prevent damage or fading. 
Try to avoid getting your patio furniture wet. Although most patio furniture frames are resistant to water, mold, and mildew, the upholstery and cushions may not be. We advise you to move your patio furniture to a dry area when it's raining or snowing. 
Clean your patio furniture regularly to avoid the build-up of dirt or mold formation. A quick wipe down every few weeks will make keeping your patio furniture clean a breeze and also help it look fresh and new for longer. 
Thinking about a She Shed, then check out our shed Shed articles starting with this one! Can you sleep in a She Shed
Conclusion
Patio furniture no matter how cheap or expensive should last for many years, however like all items that spend most of their time outside you this life can be extended with a little care.
Regular cleaning and maintaining it with help to prevent problems before they arise and keep your outside space looking great and continue to be a relaxing place to spend your days.
References