Where Should You Put Power Points In Your Kitchen?
There are a few things you want to ensure flow properly when building or remodeling your home – one of those is your power outlets. The kitchen is one of the most often overlooked rooms when it comes to adding luxuriously functional power points. So, where should you put them?
It's common for a kitchen to have at least two to three power points – one for your fridge, one for kitchen accessories (like microwaves and kettles), and one for a large appliance like a dishwasher. But there are so many additional places you can place a power outlet to elevate your kitchen.  
Strategically placed power points increase any kitchen's functionality and aesthetic value. Here are some great tips for putting power points in your kitchen.
Where To Put Power Points In Your Kitchen
Power points are a vital part of any kitchen – without them, you won't be able to run a proper kitchen.
Often, people only realize where they should have placed additional power points when they're done building or remodeling – but not today.
While it can be time-consuming to determine where to place these outlets, it will surely make you happy when you have to make food for guests and require more than one appliance at a time.
Before You Get Started On Placing Plugs In Your Kitchen
When adding additional power points to your kitchen, you want to be mindful of the following things to ensure your safety and ensure that you don't waste your time or money.
Know The Electrical Rules, Codes, and Restrictions
There are many rules and regulations about electricity. Fortunately, many states and local codes are quite simple to find and follow.
Before you go about adding power points to your kitchen (or elsewhere in your house), you want to familiarize yourself with the rules set by:
The International Residential Code
The National Electrical Code
The codes local to your state and area
The nice thing about these codes is that they outline the minimum distances or requirements your house should meet, making it easy to add more according to your preferences and design direction.
Kitchens and bathrooms have requirements other parts of the house don't.
Here are common rules when it comes to electrical requirements in your kitchen (but not the only ones!):
Ground-fault circuit interrupters, or GFCI outlets, should be placed higher than your countertop level.
Outlets cannot be placed face-up on workspaces or countertops.
All major appliances should have a dedicated outlet.
These are only some rules that exist to ensure your safety – don't ignore them.
Determine What You Want From Your Kitchen Outlets
A kitchen is a powerful place in the home – not just because you can cook amazing things there, but also because it uses the most electricity compared to the rest of the house.
There are a few things you want to do when you're considering where to place your outlets.
Looking at your current or past homes is a great place to start. What about them did you like the most? Maybe your old home had a power outlet on the kitchen island that made it easy to use multiple appliances.
Or perhaps, you can look at areas where power outlets are lacking, and that frustrates you most – you now have the freedom to change that to best suit your needs.
But before you can do that, you want to determine where to place the outlets for all your fixed appliances.
By code, fixed and big appliances will require dedicated circuits as they're unlikely to move and require a dedicated circuit.
As for smaller, fixed appliances, you also want to ensure they have a dedicated spot.
Now for the trickier part – where should the plugs go for your portable appliances? Deciding the plug placement for these appliances requires some thought.
You have to think about:
How often do you use the appliance?
If you use the appliance often, where do you usually place it and use it in conjunction with another appliance?
Can you easily move the appliance to a storage spot in your kitchen?
How much of the cord will be exposed? Is the exposed cord stretching over an unsafe spot on the counter?
After this, you want to think about where it is that you'll probably stand and cook the most.
To best determine the most likely spots, you'll have to do a bit of mapping and acting to determine the most likely positions you'll assume.
Where will you most likely do food prep? Will you have enough space for all the appliances you want on display? Do you use a device when cooking, and will you need to plug it in?
These are all super important questions you want to ask yourself – if anything, you want to overdo it here to ensure you have enough space to do even the most excessive tasks.
When doing this, consider the positions where the ceiling light/s will shine onto the workspace.
The final thing you want to look at is whether you will use your kitchen for only kitchen purposes. Sometimes it's nice to have outlets close to a drawer or open space on the counter to charge tablets, phones, extra batteries, etcetera.
Keep The Overall Design In Mind
Once you've mocked out the general idea of where your kitchen power points will be, you want to think about what space they'll occupy.
You have to decide if you want to hide, camouflage, or keep the power points open.
If you choose to hide the outlet, you want to plan this in advance.
Here are some of the best options if you want to hide your plugs:
Install an under-counter or cabinet power source.
Inside the cabinet outlets.
Recessed plugs that you can hide behind appliances.
If you don't want to hide the plug, you can also go with concealing them.
Here's how you can conceal your kitchen outlets:
Add flush or pop-out plugs where you won't really see it when it's not in use.
Where possible (like on an island), install horizontal outlets.
If none of these matter to you, you can embrace the outlet look and perhaps even elevate it by adding impactful outlet covers.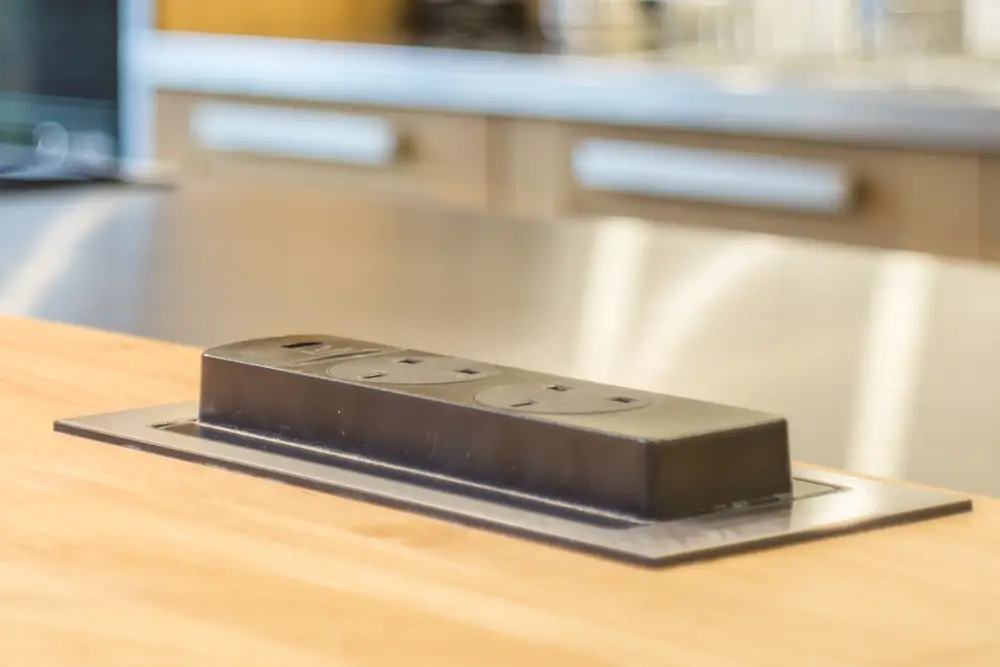 How To Determine Where To Put Power Points In Your Kitchen
So, now that you have the general idea of what kind of plug you want, it's time to make the changes.
The functionality of your kitchen is just as important as the aesthetic value.
Too many sockets and switches can look strange, but a lack of outlets can be a bit problematic – especially if you have a few appliances you want on display.
Here's how you can go about implementing the outlet layout:
Create A Diagram Of Your Kitchen
One of the easiest ways to determine and indicate where you want to place outlets is by using your floorplan.
Much like in the brainstorming process, you want to indicate where your outlets should be and what type of outlet they should be.
It can greatly benefit you to have a visual guide to see where you intend to place your appliances and see what the available space will look like.
If possible, avoid using single sockets – you'll have to buy an adaptive plug to make the best use of it, and these can be a sight for sore eyes.
Unsure where to place outlets? Generally, it's a good rule to have one power outlet every two to three meters.
Remember to indicate where you'll require those separate plugs for the oven, stove, fridge, dishwasher, and laundry – these will require their own special circuitry, so be sure to check the guidelines and rules as to what they require.
Wherever you have a more social space in your kitchen (like an island, breakfast bar, etc.), you want to look into adding at least one power outlet nearby to charge devices.
A protip: When looking at the various types of outlets available, be sure to get one or two that have different outlet formats. For example, look for an outlet with a two-point plug, a three-point plug, and a USB outlet.
Having more than one adapter installed as part of the outlet itself will avoid you having to buy additional plugs to have that functionality.
Determine What Height The Power Outlets Should Be
You want to install your outlets at an appropriate (and legal) height.
Generally, you'll want to install the plugs 10 to 15cm above the counter. If you decide to install a plug close to your social spot, you want to position it 45cm from the floor.
As for your larger and fixed appliances, you want to adjust the height of the plug according to the available space and the length of the cord of the appliance itself.
Before installing any of these, it's a wise idea to call an electrician to confirm the placement of these outlets – this way, you'll know it has the thumbs up from a professional and that you'll be safe.
Decide Which Outlets And Switches You Want In Your Kitchen
Now comes the part you'll see the most – the type of outlet and the switches.
Which design you go for will depend entirely on your kitchen and personal style.
Generally, you'll want to ensure that you have the following:
A 13A outlet on your wall every two to three meters.
An outlet behind all of your major and fixed-minor appliances – ensure that these are well isolated from appliances that heat up.
A double-pole switch for large appliances like your washing machine or dishwasher.
An appropriately placed light switch – if applicable, a two-way light switch.
A 45A switch for your burner or stovetop – you'll want to consider using a cooker control unit.
These are guidelines and should be adjusted according to you and your kitchen's needs.
Overlooked Areas To Place A Power Outlet In A Kitchen
Now that we've covered all the basics, let's get into the places where people often don't place an outlet but sure wish they did!
Consider placing a power outlet:
On the side of your kitchen island or where the kickback is.
Under your wall-mounted cabinets or over your splashback.
Close to where you'd leave a device to charge.
Inside a cabinet or large drawer where you can charge a handheld vacuum.
Additionally, if you have a butler's pantry or a coffee bar, add all the plugs you'll need for the appliances.
Some common appliances you'll find in a space like this include:
Microwave
Toaster
Juicer
Air-frier
Kettle
Food processor
Stand-mixer
Coffee machine
Having these appliances ready for use makes using them a whole lot easier, so ensure that you have all the outlets you'll need to keep them on display.
Frequently Asked Questions About Power Points In A Kitchen
People have a lot to ask when it comes to power outlets in a kitchen – here are some of the questions that come up regularly:
Can You Install a Power Outlet Anywhere In Your Kitchen?
If where you want to place the plug aligns with the set rules, then yes, you can install a power outlet anywhere in your kitchen.
General power outlets, or GPOs, can be installed anywhere in your home, including your kitchen.
You'll obviously want to avoid placing the outlet somewhere where it'll annoy you or get too dirty with food splatters.
How Close Can A Power Outlet Be To Your Kitchen Sink?
Power outlets must be installed 150mm away from the edge of the water source and its container (like the kitchen sink).
Ideally, you'll want to place the plug 300mm away from the source, just to be super safe.
If you place an outlet above a source of water, you'll want to install it 400mm above the source.
These are the standard rules, but always ensure that you abide by your local regulations.
How Many Power Points Can You Have In Your Kitchen?
In an ideal kitchen, you'll want to have at least 4-6 outlets.
You'll also want to ensure that you place these outlet points in positions where they'll be utilized most often and where they'll make appliance usage simpler.
How Far Should A Socket Be From The Hob?
You'll want to make sure that you place the outlet no closer than 100mm from the cooktop. By doing this, you'll ensure that you (and your homecooked meal) stay safe and avoid unwanted injury.
Conclusion
There you have it – a whole guide on where to place power outlets in your kitchen and how to optimize their placement.
Generally, you'll want to have a power source for each of your major and fixed appliances – some of these require specific outlets, so be sure to check with the international, national, and local regulations.
It's also a great idea to have an additional 4-6 power outlets around your kitchen and attached dining areas.
Be sure to select power outlets with functionality and aesthetic value in mind!
References