Where Should I Place My Patio Heater?
Where should you put your patio heater now that summer has gone and the weather is cooler? Don't let that nip in the air stop you from venturing onto your patio. Put your patio heater in the right place, and you will keep warm in winter.
A well-placed heater is crucial to gaining warmth. Choices for positioning your patio heater depend on patio size if you have a covering or awnings and how exposed it is. The type of heating you choose, propane gas, infrared, or natural gas, will influence the positioning of the heater.
Get yourself a patio heater to prolong your outside time. Why not entertain outside throughout winter? It's so possible with a heater. To continue barbequing in colder weather, you must consider where to place your heater. The right position for your patio heater will keep you warm and prolong your outside time in winter.
Where To Put Your Patio Heater To Maximize Warmth
Before placing your heater on your patio, you need to consider several factors to get the maximum benefit from it. The heater can be ineffectual if you put it anywhere on the patio where you think it looks good. You could lose all your heat by incorrectly positioning it, thereby losing your outside time on those chilly nights.
Answer the following 10 questions to assist you with deciding where to put your heater.
Is your patio large, medium, or small?
Is your furniture in a fixed position, or will you, at some point, change your design?
Do you want to heat the whole patio or only where people sit?
Do you want to heat a few separate areas?
Is your patio exposed, or are there sections that are enclosed?
Does it have a ceiling, and what is its height?
How cold does your outdoor space get on a summer's evening?
How cold are your winters and
How exposed to wind is your patio?
Do you have an area on your patio used as a passageway?
Once you have answered these questions, you will be in an excellent position to decide where to place your heater. Your answers will guide you in calculating areas you want to heat. You will also be able to discern what type of heating you need and where you should place it.
Patio heaters generally heat from above and are designed to heat a specific area. If installing a fixed infrared device, place your heater either above or higher than the space you want to be heated.
If going with a freestanding patio heater, place it next to the area you want to be heated.
Infrared ceiling and wall heaters are a good choice if your patio has a ceiling or a walled section. You can install them directly above your sitting area or fit them diagonally to a wall or side beam to heat a specific location. You could install several infrared heaters if your patio is extensive, with more than one entertainment or eating area.  
Bear in mind, however, that moving fitted infrared heaters is a feat, so think carefully about your patio design before committing to their installation. Remember to factor in walkways that don't require heating. You don't want to change your mind about the design once you have put the heater up, as it requires electric work.
Suppose you go with a freestanding propane heater, giving you more flexibility. You can choose where to place it, as you can move it when you decide to redesign your patio or change your seating area. If you have a large patio to heat, having more than one heater close to tables or couches is desirable.
Positioning Your Patio Heater Correctly Ensures Safety
Placing fixed infrared electric heaters or freestanding propane heaters requires the correct clearance; therefore, your patio, clearance areas, and heating areas need measuring.
Generally, fixed infrared heaters need a clearance of 6 inches (0.5 feet) above, 36 inches (3 feet) below, and 18 inches (1.5 feet) on each side.
As these heaters need to be installed by an expert, they will check your desired location and advise accordingly.
They will consider any doors, drafts, or appliances that might be in the way of the clearance. Draw a diagram of your patio and indicate where you'd like the heaters, this way, you can see if the heaters' positions comply with the safety clearance regulations.
Choosing a freestanding propane gas heater also requires clearance of 24-36 inches (3 feet) around the heater and 18 inches (1.5 feet) above the heater.
Furthermore, don't place freestanding heaters in drafts, windy areas, or near other flammable goods in case of ignition or someone knocking them over, like in walkways. The propane gas also gives off carbon monoxide, so it's essential the space is well-ventilated to allow fumes to dissipate.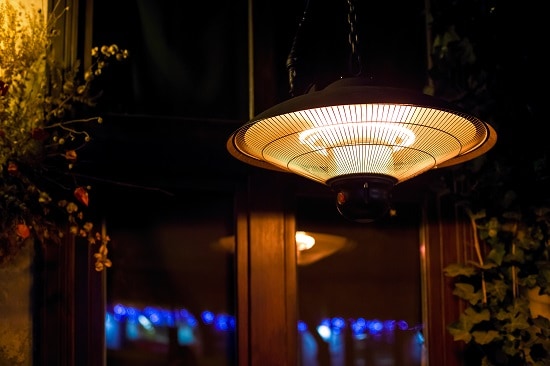 Choosing Your Patio Heater Based On Type Of Heat
Understanding the type of heat your patio heater generates will also affect your desired location. Besides a freestanding propane gas heater, you can also use natural gas and pipe it from your household gas. It's cost-effective, but you need to install it.
However, infrared electric and freestanding propane heaters are by far the most popular for homes. Compare the two to see which would suit your situation.
Factors to consider
Propane Freestanding Heater
Electric Infrared heat
Type of heat
Heat from a Flame
Electricity is converted to radiated heat  
Area heated
Heats the air around it
Heats objects and people  
Heating zone
20 feet radius
Small space to larger spaces 400 watts – 500 watts  
Advantages
Propane fuel is easily accessible
Is clean burning
It's not expensive
Considered eco-friendly  
Works well in cold climates because it heats objects.Can be mounted on ceiling or wall
Disadvantages
Run out of gas
Heats air so not as efficient in icy climates
Only heats people and objects within its radiation orbit
Patio design cannot easily be changed with mounted fittings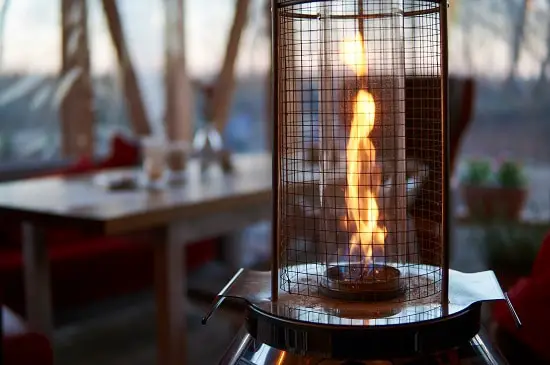 Conclusion
Design your patio before calculating your space so you can install your heating. Do the math to place your heaters in optimal positions for long-lasting warmth while you entertain throughout the year.
Why go inside at the end of summer when you can create warmth outside? With different heating choices correctly placed, you can have it all: warmth, open spaces, and cozy corners for entertaining outdoors.  
References