What is the Most Cost-Effective Patio Flooring?
Stylish patio flooring adds value and beauty to a home; it must be durable, comfortable under foot, and, most importantly, cost-effective. Most patio flooring is typically expensive. This article looks at the most cost-effective patio flooring that will save you money. Let's find out!
The most affordable patio flooring that is durable, versatile, budget-friendly, low-maintenance, hard-wearing, and easy to clean and install is concrete. From all the many patio flooring options available, we found that stamped or poured concrete is the most cost-effective on the market.

Homeowners on a budget are always looking for ways to save money. Patios are an important part of a home and a favorite gathering place for family and friends, but no one wants to spend a fortune on them. We found the cheapest material for patios to help you make the best choice.
The Most Budget-Friendly Patio Flooring Options
Several patio flooring options are available on the market today, and even though some are expensive, others are cost-effective and easy to install. These are:
Concrete
Artificial Grass 
Brick 
Colored stamped concrete 
Gravel
Paving 
Stone
Terracotta Tiles
Wood Composite
Poured Concrete
Concrete is the most cost-effective patio material for patios and is manufactured from paste and aggregates like sand, gravel, crushed stone, or shells.
The next part of concrete is the paste, made of cement and water to bind everything together. Using a professional to install concrete on your patio is better.
The versatility of concrete allows it to create stunning effects and is hard-wearing, durable, low-maintenance, and easy to keep clean. It needs only an occasional sweep and a power wash now and then to stay clean. 
Because concrete is so versatile, it can be colored, shaped, or stamped to create any design you like.
Concrete typically goes for $6 to $13 per square foot and lasts 20 to 30 years. Concrete has many benefits, but the best is its affordability.   
You can find cement colors online on amazon below.
$28.98
in stock
as of August 26, 2023 11:26 am
Stamped Concrete
Stamped concrete is another creative way to use concrete; by using a stamp or stencil to press a design on the newly poured concrete, you can replicate stone, brick, or geometric patterns and textures. Concrete can be colored to match your home décor.
Contact a concrete surfacing contractor to help you achieve the different designs and colors with stamping stencils.
Stamped concrete offers a great look for less money and time. Once colored and stamped, you will be surprised by the fantastic results. Some stamped concrete patios look indistinguishable from original terracotta tiles. Regular poured concrete can be smoothly applied by adding a solid color to give it a beautiful finish.
Concrete poured or stamped is the most cost-effective option for patio flooring because of its versatility and durable lifespan.
Find stencils and accessories for stamped concrete below or you can create your own!
$12.95
in stock
as of August 26, 2023 11:26 am
Pre-Cast Concrete Paving Blocks
Pre-cast concrete paving is manufactured in advance and is available in several colors and shapes.  Pre-cast concrete paving costs around $13 to $20 per square foot and lasts 50 to 80 years. These pavers are easy to install, and if one should crack, it is easy to replace, unlike poured concrete that requires the whole patio to be replaced.
Installing pre-cast concrete is not difficult, but some expertise is needed to correct the levels. So, if you are not a regular handyman who does this kind of thing often, we recommend getting professional help installing your patio.
Because the pre-cast concrete paving can be replaced individually in case of a crack, they are a little pricier than poured concrete but still a good choice.
Pre-cast concrete paving offers better drainage than poured concrete because water drains more easily. Pre-cast concrete pavers rarely crack because they move with the ground if it moves, unlike poured concrete. Pre-cast concrete paving is durable, easy to replace, and cost-effective.
$69.99
in stock
2 new from $68.99
as of August 26, 2023 11:26 am
Brick Flooring
Brick is another budget-friendly patio flooring option. It costs around $15–$20 per square foot and has a durable lifespan of 80 to 100 years. Using bricks for your patio flooring, you have the flexibility to style and design patterns as you like.
With so many options available, it is difficult to choose only one kind. Paving bricks are manufactured to be installed on the ground, unlike the bricks manufactured for chimneys and walls.
Installing bricks can be challenging. If you are not a regular DIY person, we advise you to contact a professional contractor to install the brick flooring if you are unsure of your abilities.
Brick colors are limited and cannot be colored; however, it offers the option of being layered into many different designs to create a beautiful finish.
Another cost-effective option is to use salvaged bricks, an environmentally friendly option. Bricks are porous and provide excellent drainage, unlike poured concrete.
Bricks have a long lifespan, but bricks can crack due to weather conditions and freezing temperatures but can easily be replaced individually.
Bricks don't typically lose color, so when one brick needs to be replaced, no one will be the wiser because the replaced brick will not be noticed.
Bricks are a bit uneven and do not offer a completely smooth surface that might cause garden furniture to sit unevenly.
Bricks are challenging to clean because it is porous and typically gather moss. Scrub the patio with a bristled brush a couple of times a year to keep it in the best condition. Brick patios with good maintenance and care will last forever.
Several brick paving options are available to order online at Lowes
Artificial Grass
Artificial grass is a great cost-effective material to use for any patio floor. It costs around $6.00 to $19.00 per square foot, including labor. Artificial grass is a great choice for any outdoor space where animals and children frequent.
Artificial grass is cost-effective, easy to keep clean, maintain, and effortless to install. Without effort, you will have a lush, neat patio floor for a fraction of the cost.
Realistic artificial grass is an excellent budget-friendly choice if you don't like concrete flooring. The thick artificial grass feels and looks like the real deal without the hassle of watering and mowing, and it offers excellent flooring, perfect for outdoor patios. 
Its durability comes from the high-temperature synthetic material used when it is manufactured. Artificial grass offers excellent resilience and durability at a low cost.
Artificial grass is easy to manage and has excellent drainage. Use water to rinse and wash the grass occasionally to keep it clean and in good condition. Artificial grass is safe for kids and pets alike.
It is excellent for patios, gardens, backyards, front porches, and outdoor spaces.
Artificial grass is easy to install even if you are not a regular DIY person. Save money with artificial grass for your patio flooring.
$216.99
in stock
as of August 26, 2023 11:26 am
Wood Composite Decking
Wooden decking is stylish and classic but can be expensive. Composite wood decking has gained popularity in later years as an environmentally friendly, cost-effective alternative to natural wood decking. It is more cost-effective than natural wood but more expensive than concrete and brick patio flooring.
With composite decking, you can achieve significant effects on your patio floor. It is easy to maintain and clean, unlike natural wood, which requires considerable maintenance and care.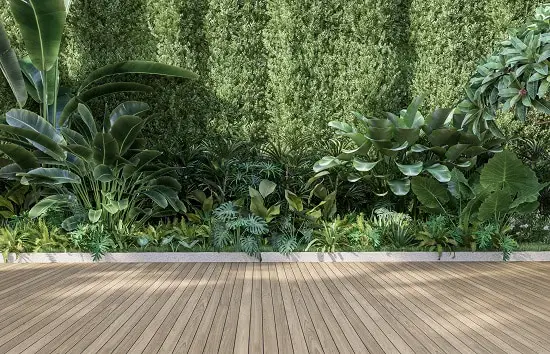 Composite wood is manufactured from recycled plastic and a mixture of wood particles. It does not expand and crack like natural wood does when exposed to the elements.
Choose composite wood decking for your patio if you are looking for a wooden finish for your patio floor without the hassle of natural wood. Composite decking is available in various colors and textures that replicate natural wood's appearance.
Choose composite decking if you want to bypass the issues with natural wood decking. Composite decking is manufactured from wood particles and recycled plastic and is entirely eco-friendly.
This product is hard-wearing, weather-proof, long-lasting, and durable, perfect for any outdoor patio. We have a cost effective patio flooring solution below.
$394.99
in stock
as of August 26, 2023 11:26 am
Terracotta Tiles
Terracotta tiles and natural stone are on the high end regarding the cost but provide a superior finish. Terracotta tiles offer endless shapes, sizes, designs, and colors. Finding one that fits your décor and style won't be challenging. Terracotta tiles are easy to keep clean and low maintenance in fact we have an article on this on the site. They occasionally need a good brush and a mop to stay in top condition.
Unfortunately, tiles can be slippery when wet, which is a consideration to make when you have small children. 
Terracotta provides a Mediterranean feel to your patio and is famous for its deep warm colors. They are hardy and durable and slightly less expensive than ceramic tiles. Terracotta tiles have deep earthy tones that compliments and natural outdoor area.
There are so many garden and patio accessories available that will complement the natural warm colors of Terracotta tiles will be fun to mix and match different styles.
Tiling can be challenging for anyone, so we suggest you contact a professional tiler to install the tiles properly. Terracotta tiles cost more than the other patio flooring we listed in this article but are worth it because of their beauty and durability.
Find the best tiling options online at many sites including Amazon.
$139.99
in stock
4 new from $110.00
as of August 26, 2023 11:26 am
Gravel
One of the cheapest materials for outdoor patios is gravel, which costs $5-$10 per square ft. Gravel is easy to install. Just wheelbarrow it in and spread it around evenly. The most challenging part is to create a border to hold the gravel in place.
Unfortunately, because gravel is loose, it can be difficult to clean when weeds or grass take hold. To stop weeds from invading your gravel, spread it over landscaping fabric.
Gravel is available in several shapes and colors, from small round pebbles, also called pea gravel, to bigger rougher stones. Pea gravel consists of loose, smooth, earth-toned stones smaller than an inch, almost like a pea, which is why it's called pea gravel.
Pea gravel is softer underfoot but shifts when you walk on it, which can be uncomfortable. It is also harder to keep patio furniture level on pea gravel. Larger gravel stays in place better but is not comfortable underfoot.
Because the stones can be placed anywhere, creating any shape in the garden or patio is easy. Installing gravel is quick and cost-effective and can last forever if well maintained.
The only drawback with gravel is that it can shift out of place over time and occasionally scatter outside the designated patio area. It then needs to be swept up and collected, which can be labor-intensive. 
If you live in an area where it snows during winter, gravel might not be the best option for your patio as you don't want to risk shoveling the stones away.
$16.95
in stock
as of August 26, 2023 11:26 am
Natural Stone
Natural stone patio flooring is the costliest option for patios, but it offers lifelong durability and a stylish finish. If you have more room in your budget, consider natural stone patio flooring; it costs $15 to $30 per square ft.
Installing natural stone patio flooring is best done by a professional. The beauty of slate, flagstone, limestone, and bluestone surpasses other patio flooring materials by far.
Natural stone is durable and hard-wearing and can easily be replaced individually if a stone should crack. Natural stones are heavy and don't shift quickly, providing a sure-footed surface for garden furniture.
Natural stone offers a classic elegant look to any patio but doesn't wear temperatures very well and can be cold underfoot and heat up in the summer.
A natural stone patio requires minimal care and maintenance and can last forever if well maintained. Give it a proper wash with a power washer once a year to keep it in optimum condition. Find a selection of natural stone flooring at Lowes
Conclusion
The most cost-effective patio flooring is concrete. If you want a different feel and look for your patio other than concrete flooring, then gravel, natural stone, artificial grass, and Terracotta tiles can provide that. The patio flooring options above are affordable and not too complicated to install.
We hope you found this article informative and use it as a guide to making the best choice for cost-effective patio flooring. Don't for get to check out the other flooring articles on the site for ideas and links.
We have more details on the lifespan of some of these patio flooring materials here on the site.
Sources: