What Is The Cheapest Way To Finish A Basement Floor?
We typically use basements as a storing space or storm shelter. However, you can find man caves, family, and game rooms in basements these days. I wanted to utilize my basement, but I had to finish the floor on a tight budget. It made me wonder what the cheapest way to finish a basement floor is?  
If you need to finish your basement floor on a budget, some of the best ways are using concrete stain and sealants, epoxy and paint, rubber and foam mats, ceramic tile flooring, linoleum, or vinyl flooring. These are all durable and cheap ways of finishing a basement floor with minimum effort.
I wanted to turn my basement into a game room and needed a durable floor. It took some time for me to decide on a budget-friendly way to finish the basement floor. Still, I found the best option for my basement and thought I would share the different ideas and inexpensive solutions to finishing a basement floor.
The Cheapest Ways To Finish A Basement Floor
We all want to use all the space we have, and the basement is often overlooked in this regard. Some of the best game rooms or man caves are in basements, and it becomes a high traffic area. There are many different options if you want to finish your basement floor but need a cheap and easy way that can handle wear and tear and will still look stylish.
Before you think about how to finish the floor, you need to prepare the foundation for whatever flooring finishes you choose. Here is how you prepare the basement foundation. You need to keep water out no matter what kind of finish you choose for your basement floor. Here is how you prepare your basement foundation.
Step 1
First, you need to wash the floor and let it dry thoroughly. Then, you need to fill in any blemishes, cracks, or chips, wait till it dries, and sand the repaired areas until they flush with the rest of the floor.
Step 2
Level any skewed area you might have and leave it for a few days to dry thoroughly. Sand the repaired areas down, so they are flush with the surrounding floor. Vacuum the floor and clean it with a damp mop.
Step 3
After fixing all the problem areas, you need to waterproof the floor. Because concrete is absorbent, it soaks up moisture from the soil underneath and is prone to moisture retention. So waterproofing the foundation before installing the floor is essential if you want the flooring to last.
Remember that the only time you can't waterproof the basement and won't need to is if you are acid etching the foundation or staining the foundation. Some of the chemicals need to make direct contact with the concrete, and waterproofing the basement floors, in this case, will cause problems. This process is explained in better detail later in the post.
Step 4
Leave the repairs and waterproofing to dry thoroughly before starting on the flooring.
It's crucial to your safety to use the proper PPE before starting work on your basement floor. It is essential if you are using any harsh cleaning materials or acids. Depending on your basement floor finish choice, you will need:
Safety goggles
Dust mask
Rubber gloves
Old clothing
Gumboots if you are working with acid or epoxy
Using Concrete Stain And Sealer
One of the cheapest ways to finish a basement floor is using concrete stain and sealer. You will need to fix any dents, cracks, or chips before using a concrete stain as a finishing touch, though. Also, the stain is water-based, so you need to seal it, so it lasts longer.
Because the stain absorbs into the concrete, it allows the concrete to breathe; thus, any moisture that escapes the waterproofing won't cause the staining to peel or chip away. In addition, because concrete stains are water-based, there are many color choices, and you get a more predictable outcome than other sealant or staining methods.
Concrete stains don't cover up any flaws, but they come in various colors that soak into the floor as soon as they are applied. So the stain soaks into the floor, and the sealant seals it, giving the floor a stylish industrial look.
Using Only Concrete Tinted Sealer
If you want to save more money, you can buy a tinted sealer. Sealers are a top coat that you apply to the concrete surface to protect it from stains and spills. Most people see sealers as an afterthought that's only there to protect the flooring underneath, be it painted, stained, or acid etched, but you can use a tinted sealer to finish the basement floor.
Remember that the sealant will eventually wear off, and the color will, too, so it's a cheaper option but only initially. After that, it will require regular reapplication to keep the color vibrant and retain the waterproofing properties.
Using Acid Etching (Don't Waterproof Beforehand)
You can use the existing concrete foundation as a flooring option by acid staining or acid etching your concrete floor to create a gorgeous marbled look. When you apply the products that contain metallic salts and hydrochloric acid to the concrete surface, the chemicals react to the calcium hydroxide or lime in the concrete.
As the acid etches into the concrete, the added metallic salts create a chemical reaction that causes discoloration on the surface. What is great about using this technique is that it's budget-friendly, and the marbled effect and varied earthy tones you get using this method are unique, and no two floors are the same.
In addition, you can finish the floor off with loose runners in an accent color. 
Using Vinyl Or Linoleum
One of the best ways to finish a concrete basement is to install vinyl. The best vinyl to install is vinyl planks and vinyl sheets. There are vinyl options that are made to go directly over concrete. Vinyl is easy to install, durable, and moisture resistant. In addition, these vinyl flooring options can be "floated" over the concrete.
"Floating" means the vinyl is not glued down, but instead, you lay down a thin underlayment sheet on the concrete and install the vinyl over it. The seams are then bonded if you use vinyl sheeting or interlocked throughout and at the seams when you use vinyl planks.
The pricing on vinyl flooring varies, but cheap to mid-priced options are available. Most vinyl planks look like wood, but you do get some that are plain solid colors. The sheets come in all kinds of colors and designs, so you are sure to find some that fit the vision you have for your basement.
If you choose linoleum, you can easily install the tiles by spreading mastic or thin-set mortar and placing the linoleum tiles on top. Linoleum tiles come in many colors and styles, so you are sure to find something to suit your style.
Using Ceramic Tiles
Ceramic tiles are probably the best option for any basement, but it's only cheap if you do most of the labor. However, the tiles and adhesives are not as expensive as the labor. In addition, the suitability of using ceramic tiles in the basement is unmatched as ceramic tiles are waterproof, mold and mildew proof, fireproof, durable, and come in various designs and colors.
The only disadvantage is that you will likely only get glazed ceramic tiles as they are the cheapest, but if you can hold out, you might find some places that have sales on porcelain tiles. You can also save money by purchasing large tiles and using tile mastic and grouting.
Using Rubber Of Foam Mats
You can install rubber or foam mats. These mats don't are affordable and don't take long to install as they don't require any adhesive. In addition, they have interlocking edges making them easy to install and maintain. The rubber helps protect from the cold concrete, and you can also create different designs like a chequered pattern.  
Rubber and foam mats are also easy to cut to size and don't require any special equipment to install. These mats are durable and waterproof and give a stylish industrial look. Rubber and foam mats are comfortable and help insulate sound as an added benefit.
Using Traditional Tile Carpets
When you think of traditional carpet tiles, most of us see the ugly industrial carpets used in older buildings. But many newer options look stylish and are perfect to use in a basement over a concrete foundation. These carpet tiles have plastic backing making them easy to clean and install.
You have to use sticky adhesive strips at the back of the carpet tiles and stick them to the basement floor. Then, you can mix the colors and designs to create a unique-looking floor. They are also easy to remove if you have a flood or water leak.
Using Laminate
To save money on flooring, one option to look at is laminate. It might not be a cut-and-dry installation, but it is an easy and affordable DIY. Laminate flooring has a plastic backing, but the top part of the flooring is not water-resistant. So if you want to install laminate, you need to lay a water-resistant foam underlayment on the concrete foundation.
You can lay floating subfloor instead of the underlayment if you want a better option. The subflooring plastic panels fit together like a honeycomb. They raise the flooring of the concrete slab a little. You should put wafer board or plywood panels on top of the subflooring; it acts as a moisture barrier and helps fight the cold from the concrete foundation.
The one setback to using laminate flooring is that the seams are vulnerable to moisture, so if you have a spill or plant that leaks, the water might get in through the seams and lift the boards. However, laminate flooring is easy to install, and they are great to use in high traffic areas like basements as they don't scuff easily, are easy to maintain, and are durable.
Using Epoxy
An excellent flooring alternative is to add an epoxy floor coating. Epoxy coating is perfect for basements because it's waterproof, mold, and mildew resistant. Unfortunately, as we know, basement floors are prone to moisture, making them a breeding ground for all kinds of harmful bacteria and germs.
Epoxy flooring helps keep the foundation stable because it prevents leaks and spills from seeping into the foundation and compromising the structure. Epoxy flooring is easy to add to the basement floor; all you need is to use a roller and follow the instructions.
Suppose you are new to using epoxy, then it may be better to hire professionals to do it. Epoxy comes in all colors, and you can create varied designs and shapes. To add elegance, you can also include streaks of silver or gold to the mix, creating a marbled effect.
Using Rugs And Paints
One of the quickest and most affordable ways to finish your basement floor is to use rugs in different textures and accent colors. They are easy to clean, and you can customize the color and design as you see fit. You can also use different sizes to get the desired effect.
Using paint is one of the fastest ways to get a customized look; you can also use a base color and add an accent color using textured rollers. To ensure the paint lasts longer, you can add a colorless topcoat to lock in and seal the color. In addition, it helps to protect the paint from cleaning chemicals, scuffs, peeling, and chipping.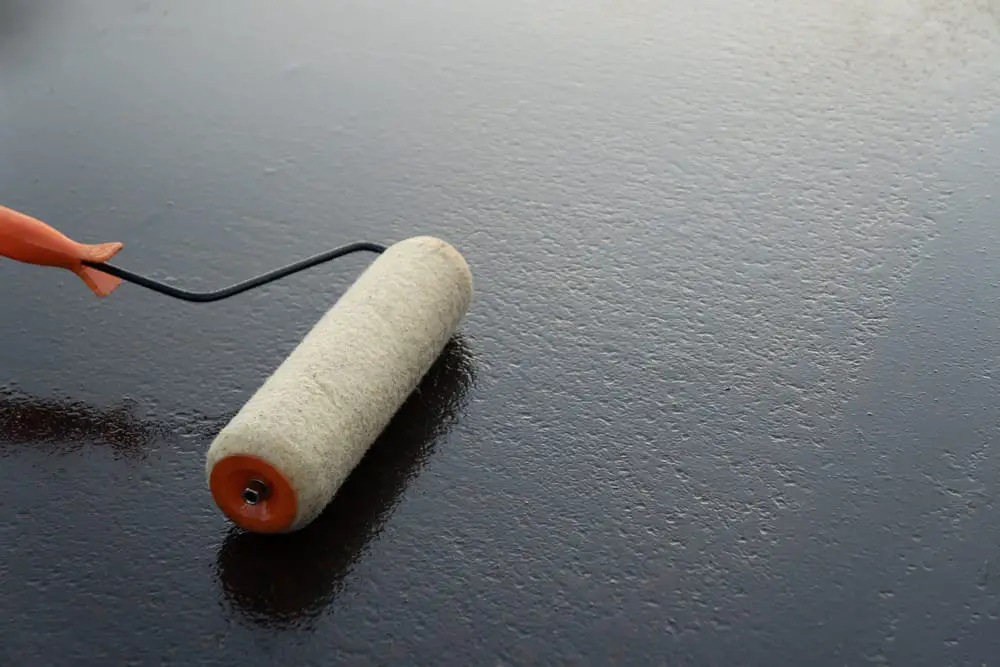 Conclusion
Basement flooring can be tricky because concrete can absorb moisture from the surrounding soil, so you need an option that will help deter humidity and won't peel or chip. Some of the best affordable options, like staining or tiling, will add new life to your flooring and last as long as you need.
Basements can be a hobby room, gaming room, family room, and more, so it will get a lot of traffic, and keeping the flooring inexpensive but durable will be crucial if you don't want your maintenance costs to skyrocket.
Resources