Should Patio Go Right Up To House?
Planning to add a patio to your existing home can be a little daunting, but it is achievable with good plans and detailed preparation. The first things you will consider are the size of the patio, the possibility of a roof, and where the patio will be. Will you have it adjacent to your home, or should the patio go right up to the house?
You can lay your patio right up to the house if you wish, but there are certain precautions to take. The patio will need to be below the current damp-proof course and slope away from the house to ensure water drains away from the building. The slope is vital to avoid flooding the house.
Should You Take The Slab Right Up To The House?
The patio can be placed directly against your house walls, providing it is around 6 inches below the existing Damp-proof course. I recommend that the slabs slope away from the building, which will help minimize your drainage requirements.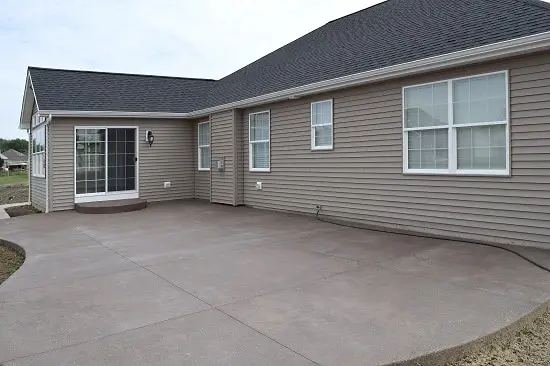 How Much Gradient Should Your Patio Have?
Your patio should slope away from the building at the rate of 1/8" per running foot. A 4-inch thick slab poured 2 inches above ground level is usually adequate. To confirm that both height and slope are correct, begin the work where the patio meets the house.
I'd suggest you ensure the slope is at least one inch for every eight feet of paving. Simply put, your patio should drop one yard for every eight yards of length. (1:8)
An effective drainage system will divert unsightly surface water from your patio and also minimize odors and mold caused by bacteria forming in regularly-standing water. This creates a 'fall,' which means the patio will slope and prevent water from collecting in corners and at the base of walls.
How Much Slope Should Your Patio Roof Have?
Should you decide to add a roof that is either a permanent or a temporary structure, it will be aesthetically pleasing to keep the 1:8 slope ratio so that the floor and roof are parallel to one another. If you add to or subtract from the patio's slope ratio, the result may look clumsy.
Should My Patio Be Higher Than My Lawn?
Your patio should generally be higher than the surrounding lawn, which can be reached by stairs if required. If the height difference between the patio and lawn is too low for stairs, it can become a tripping hazard. This is a no man's land which you should avoid.
Can A Patio Be Sloped Too Much?
Too little gradient on the patio, and rainwater will settle into the dips and corners, eventually washing out the sand and substrate beneath. A poorly sloped deck might result in water entering your basement. Too much slope and water on the surface will become a slipping hazard, so plan carefully when you choose a gradient.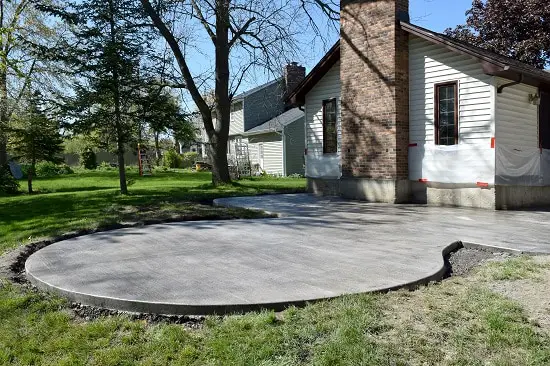 Do I Need Building Regulations For A Patio?
Different countries naturally have different rules regarding house alterations, but usually, a new patio area doesn't require building regulations approval. Ensure that any alterations don't make the access to the dwelling any less appealing than initially.
In Britain, planning permission isn't required on domestic patios, provided said patio is not within 20 meters of a public road and is not higher than 30 cm, so your neighbors cannot be overlooked. Literally. The deck may cover no more than 50% of the total garden area.
Can You Lay The Patio On A Slope?
Depending on the slope, this is actually very desirable for water drainage, as discussed above. It is far easier to use your existing slope rather than create one from scratch, and it will save you some money too.
What Size Should My Patio Area Be?
The final size of your patio depends on the two most important variables in all of the building trade: Available space and budget. If you have the space and funds, you can extend the entire house-front out 20' or more. Conversely, a three-by-three-yard patio will house a breakfast table and chairs, and if you can overspill out onto the lawn, you will create a 'vanishing' effect.
Invest time in determining the size of your patio. This is crucial, as numerous homeowners end up with a too big or too small deck. Decide what you plan to add:
Hot Tub
Grill
Table & Chairs
Sofa
Games area


Patios that look adequate on plans can suddenly feel cramped when you add furniture, planters, and anything from the list above. Equally, a too big terrace is wasted and can seem less intimate.
Does My Patio Require A Membrane?
A membrane is not required for a construction project of this nature. The slope will take care of any rainwater.
Eight tips for your patio project
Get plans or advice from a source you can trust
Stick to the plans or advice received
Use a reputable supplier for your patio materials
Measure everything twice and cut once. Never guess
Gauge your budget realistically
Don't cut corners after you decide on a path
Compact the base layer at three to four-inch intervals
Avoid compacting the bedding sand
The laying and spacing of pavers must be precisely done to avoid tripping hazards
Never hammers the pavers together – chipped pavers can ruin the entire effect.
Should You Build a Patio Up to the House?
Before deciding whether or not to build a patio on top of your home, consider the slope of the ground. Building a patio too close to the house could lead to rotting and airflow problems. Similarly, installing pavers against the house's siding could block air flow and lead to rotting. Before deciding, consider the slope of the area and hiring a professional to install the patio.
Consider building a patio away from the house
When building a patio up to the house, make sure to take set-backs into consideration and plan your layout to match the zoning requirements. Use string, stakes, or landscaper's spray paint to create a perimeter around the patio.
The goal is to create a space that blends into the landscape and looks like a natural extension of your home. After completing the planning phase, continue to monitor sun exposure, debris buildup, and other conditions.
Before you start building, consider the needs of your family. What are your goals for the patio? Will you use it for outdoor dining, outdoor cooking, or a quiet place to relax? These will all affect how to design the patio and how to budget and maintain it.
A patio near the kitchen can be convenient for entertaining guests, but a place away from the house can be shady or sunny. An awning can provide shade or keep you cool when you are entertaining guests.
In general, although the most convenient location for a patio is next to the house. It provides a natural wind and sun barrier and allows you to attach a patio cover easily.
Many people opt for a patio a little removed from the house to create a seperate space. This can be attached with a lighted walkway, or path to create a flow, and it can be a more intimate setting, great for meals outside or if your parties get a little rowdy.
If yo are planning on having fire pits then moving your patio a little further from the house helps to prevent fire risks and unwanted damage from sparks or smoke ( as well as window cleaning!
The layout of the patio is also crucial. The ideal location is adjacent to the kitchen. This makes entertaining easier, and it also reduces your reliance on the kitchen. For those who like to enjoy the sun, choose a spot with plenty of sunshine. For hammockers, pick a shady area where you can still enjoy the sun. You can also place awnings to provide shade.
Conclusion
Adding a patio can quickly transform a house into a home and add far more value than the project's cost. Employ a competent builder if you cannot do the job yourself, and plan the size carefully before you start. Building alterations always cost more than making an informed decision in the first place.
If you wish to, you can take the patio up to the house, but this is not essential. Ease of access, particularly in inclement weather, might mean that taking the patio right up to the house is the best idea, but that's a call you will need to make.
References