Should I Paint My Porch White?
A porch is the first part that people see before entering a house. Ideally, a porch should be a welcoming, functional, and peaceful space. Choosing the right color for your porch is a fun exercise and one that should be thought through, as it can make or break the aesthetic appeal of your house in its entirety. You may ask yourself, "Should I paint my porch white?".
White is a hue that will be forever in style and can be used on any porch section, instantly creating a welcoming and stylish look. A white porch makes for an excellent backdrop when using other colorful elements in your porch design or pairing it with classic redbrick or warm stone colors.
The porch area sets the tone for the rest of the house and allows you to show off your personality. Don't let a bland, unwelcoming front porch detract from the rest of the house. The porch is almost like the reception desk of a business; it's the welcoming area. White is a color that you should consider painting your porch with.
Should You Paint Your Porch White?
White paint is always in style. This classic neutral looks great on all sections of a porch and goes with various home designs. White also makes a great backdrop for vividly colored accents like patterned rugs, ceramic pots, and colorful furnishings.
When it comes to exterior paint colors, white isn't the be-all and end-all. It is, however, timeless, traditional, and offers a wonderful center point for your home. When it comes to exterior paint colors, white isn't the be-all and end-all. It is, however, timeless, traditional, and offers a wonderful center point for your home.
Just be careful what else you use to decorate your porch, pineapples need careful thought for example.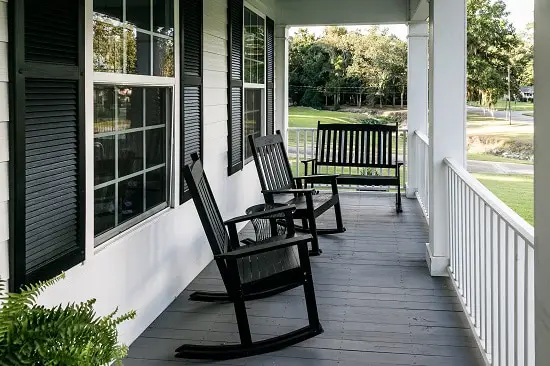 Which Shades Of White Is Best For A Porch?
White is white, right? Wrong! There are color shades of white to choose from when deciding on a white porch. Here are five of the best shades of white to choose from:
1.     Snowbound – Sherwin Williams
Snowbound is a brilliant white with grey undertones.
It presents itself as a true, clean white when used on your exterior.
It works well with most colors, especially greens and purples, even black.
Coordinating colors will be something like Colonnade Gray or Autumn Orchid.
2.     White Dove – Benjamin Moore
White Dove is a light, creamy white with yellow undertones that give it a warm feel.
A touch of grey mutes the white perfectly, resulting in an off-white that balances warm and cool perfectly.
Designers and homeowners love this color, making it a top-selling white, consistently ranking in the top 10 most popular colors.
3.     Swiss Coffee – Behr
Swiss Coffee is off-white with creamy undertones.
The color has a neutral touch with no specific yellow, blue, pink, or green undertones.
The off-white color goes best with warm grays, steely blues, sage greens, blacks, browns, and bronze.
4.     Oyster White – Sherwin Williams
Oyster White is a very light greige with green undertones.        
It presents as a soft white when used exteriorly.
It is aesthetically pleasing when paired with classic red brick or warm stone colors.
It looks fabulous and crisp when used in parts of the Southern United States
 in bright sunshine.
It looks creamy and soft when used in parts of the Northern United States known for its shade.
5.     Pure White – Sherwin Williams
Pure white has a touch of warmth but not enough to look creamy.
Very bright white paint.
The color is not overly stark white, more a soft, clean white that is neither cold, warm, or creamy, rather somewhere in the middle of both.
Due to it being such a neutral white, it pairs well with any color, especially different shades of greys and beige.
6.     Whisper White – Behr
Whisper White is on the warmer side of the white spectrum with a slightly creamy undertone.
It can be used in most spaces and pairs well with most colors.
It can be described as a white that's not quite white but also not quite off-white.
Choosing A Color To Paint Your Porch
White is not for everybody. Some people prefer to paint their homes and porches with different colors, and that's perfectly fine. Any color of paint can transform an average entryway into a welcoming, attractive greeting place.
I say any color, and that's probably not true; it's vital that you choose the correct hue. When picking a paint color for your porch, you need to consider various aspects. If you decide to paint your wooden outdoor furniture a shade of grey it can be a nice contrast as well.
We have a more detailed article below if you are considering different colors for your porch. We also have advice on porch lighting, which is just as important as the color you chose to paint your porch.
Consider Your Landscaping
Your landscaping should be the first step taken into consideration. Think about the plants in your yard and play off those hues. Choose colors that match the grass and trees in the area.
Don't forget about the areas of the porch that aren't getting a new coat of paint. Think about the architectural aspects you won't be painting, including brick, stonework, and the roof. These pre-existing elements should be complemented by the colors you choose.
Consider Your Porch's Exposure To Light
It's best to consider how much light your porch receives, as light angle might affect the appearance of the paint color. Darker hues struggle on a south-facing porch, so lighter shades are better, whereas northern light brings out the cooler tones in a hue.
Alternative Colors To Paint Your Porch
Here are some awesome alternative colors to paint your porch if white is not quite what you had in mind when giving your porch a facelift.
Muted Greens
When in doubt, look to your surroundings for inspiration. Muted green is a terrific tint for front porches because it links in the greenery around the home to create a beautiful and harmonious effect with each other.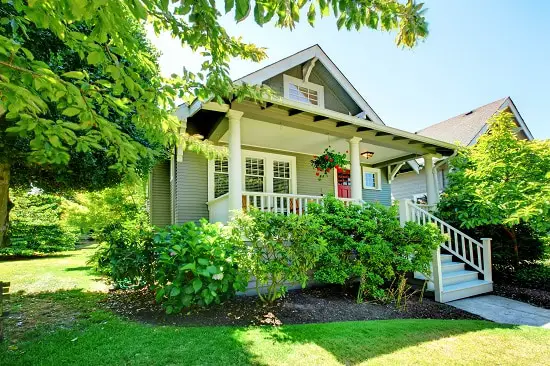 A meadow-themed green will add warmth to your front porch without detracting from the beauty of your landscape – Back To Nature by Behr.  
Silvery Greys
Are you looking for a classy paint color to complement the architectural characteristics on your porch? A stylish shade of silvery gray is the way to go.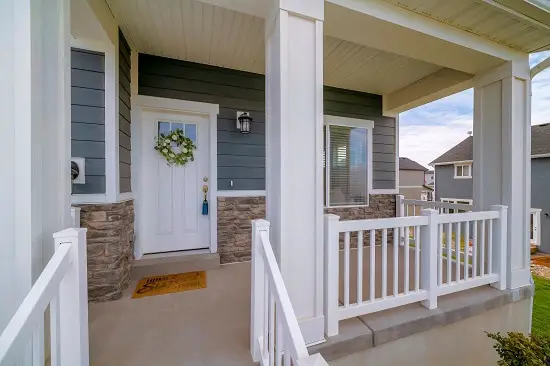 A balanced gray-white would tastefully pair up with unique architectural aspects on your porch and goes well with practically any color – Silver Mine by Behr.
Navy Blue
Experts recommend using a traditional navy-blue paint color when updating your front porch when all else fails.
Navy blue works well in any setting, especially when used on a front porch. This modern neutral will make your porch stand out – Hale Navy by Benjamin Moore.
$29.99
$31.99
in stock
13 new from $22.91
as of November 30, 2023 2:41 am
Conclusion
There are many great white hues to choose from when deciding to paint your porch white. Combining colors with white is effortless, as white is the great neutral in the world of color. You can go wrong with many colors when painting your porch; white isn't one of them!
References