Satin Or Semi-Gloss For Bathroom?
When we first started to renovate our house, the first thing we had to consider was paint. We wanted to paint the house in colours that would be vibrant and last long as well. When the time came for us to paint the bathroom, the idea of beautiful but lasting paint brought on the question; satin or semi-gloss for a bathroom?
Semi-gloss is used for high-traffic areas you use a lot. Semi-gloss is also used on walls that need to be cleaned more often as it is a durable paint that won't lose its shine when cleaned. Satin is used in low-traffic areas or areas where you need a soft paint finish that hides flaws in the wall.
We did a lot of research into satin and semi-gloss paint because you want them to last as long as possible. I thought I would share the helpful information I found about the differences between the two paints and the advantages and disadvantages of both.
What Are The Criteria For Bathroom Paint?
You decided you want to paint your bathroom, you need to think of what the criteria of a good bathroom paint need to be:
Bathroom paint needs to be durable: Bathroom paint needs to be durable because it will be cleaned a lot for hygiene purposes and will need to be durable enough to withstand the chemicals you will use to clean the bathroom.
Bathroom paint needs to be water-resistant: The bathroom is the room in the house that gets the most moisture, so the type of paint you choose needs to withstand high steam temperatures and condensation daily.
Bathroom paint needs to have anti-microbial additives: Because the bathroom is wet every day at some point, mildew and mold can become a problem. Getting paint that has anti-microbial additives will help prevent mold and mildew from forming.
The paint needs to work well over a primer: If you are painting your bathroom, you need to put a primer on to help the paint adhere better and stay attached to the walls because of the humidity, steam, and moisture, so the paint you choose needs to adhere well over a primer or base paint.
What Is The Difference Between Satin And Semi-Gloss?
Before diving into the information on which paint is best suited for a bathroom, we need to consider the differences between these two paints.
What Does Semi-Gloss Paint Consist Of?
Semi-gloss paint consists of about 50% paint and 50% gloss mixed in with the paint. The gloss that is added makes the paint more durable and, of course, shine.
What Does Satin Paint Consist Of?
Satin paint or eggshell consists of around 70% paint and about 30% gloss mixed in with the paint. The gloss is not so high with satin paint, so it has a more matte finish.
What Are The Characteristics Of Semi-Gloss Paint?
Semi-gloss paint gives walls a shine that will brighten up the entire room. Semi-gloss paint is good to use in dark bathrooms or with low light because it shines; the shine reflects the light that does shine through and causes the room to look brighter.
Semi-gloss is the best paint to use when you have high-traffic areas. These areas are where the family and kids spend most of their time. Semi-gloss paint is more durable than other paints because the gloss that is mixed in adds a strengthing agent and barrier to keep the paint looking good for longer.
Semi-gloss paint is made to withstand extreme heat from the sun, rain, snow, and strong winds and can be used for interior and exterior walls. It can also resist mold, mildew, stains, smoke, and dust.
Because of the durability of the semi-gloss paint and its shiny texture, it is much easier to clean.  It also doesn't stain as quickly as satin paint does. So remember, the shinier the paint, the easier it is to clean up even the toughest messes. Semi-gloss also doesn't stain.
What Are The Characteristics Of Satin Paint?
Satin or eggshell paint is much more muted in shine than semi-gloss. Satin paint should be used in areas where there is less traffic. Because it has a low shine finish, you should use it in really bright rooms that you feel needs to be a bit dimmer.
Using satin paint will ensure you have a dull shine that is smooth and soft. Satin paints are perfect for hiding minor imperfections.
Satin paint doesn't clean as quickly and can stain, especially with things like food or small children who love to draw. It's best to use satin paint in bright rooms with little traffic.
Advantages Of Using Semi-Gloss For Your Bathroom
As with all paints, there are both advantages and disadvantages to using semi-gloss paint for your bathroom.
Semi-gloss is water-resistant paint, so it won't be affected when there is dampness in the bathroom after the bathtub or shower has been used.
You can use semi-gloss on all the bathroom wall trimmings; it will look great and last longer.
You can paint the bathroom cabinets with semi-gloss paint, and it will help protect the wood of the cabinets from moisture.
Semi-gloss paint can make a dark bathroom look brighter because of the shiny finish.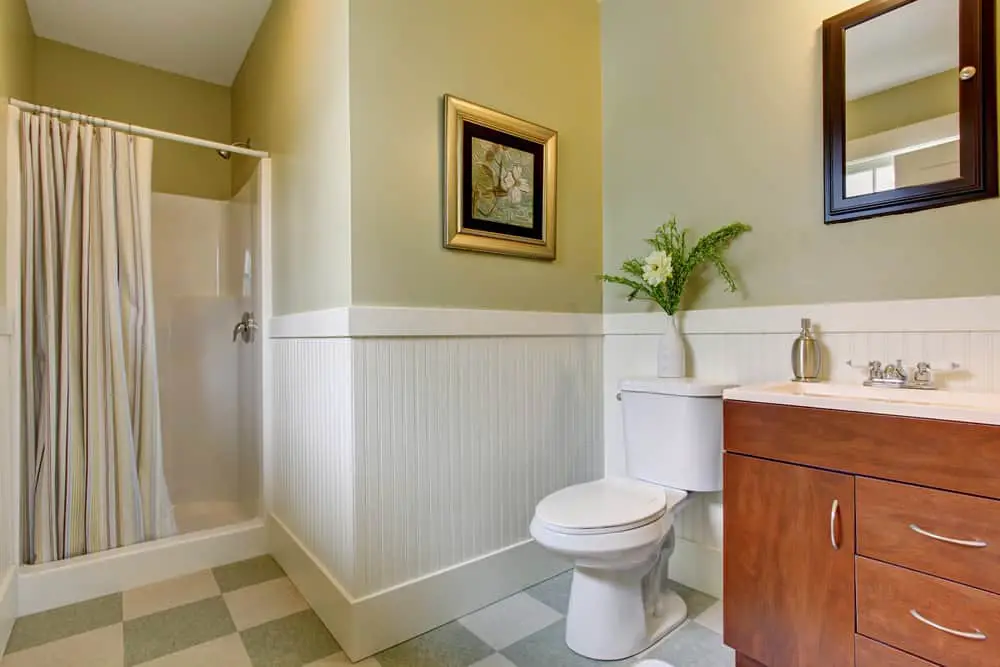 Advantages Of Using Satin For Your Bathroom
Satin paint doesn't shine like semi-gloss paint, so if you have a bathroom wall that has nicks and scratches in some places, satin paint will help hide the blemishes.
Satin paint won't give off a harsh glare that you get with glossy paint and might be suited for an adult in-suite bathroom.
Satin paint gives a finish between soft and low sheen. It is somewhat water-resistant, and you do get it in a finish that is mildew resistant.
Because satin paint has a low gloss finish, it won't cause sun glare when there is a sharp light in the bathroom.
Disadvantages Of Using Semi-Gloss For Your Bathroom
The most significant disadvantage that semi-gloss paint has is the shine it gives. The shine works wonders for bathrooms that are dark or have little light, but if your bathroom does get a lot of light, this can really cause a glare that will ruin the overall look of your bathroom.
The shine of the gloss paint also highlights the flaws, little divets, marks, or unevenness on the walls.
If you ever need to do touch-ups on semi-gloss paint in the bathroom, it will be obvious, and you will see every brushstroke because it is gloss paint.
Disadvantages Of Using Satin For Your Bathroom
It would be best if you used satin paint only in bathrooms that have low traffic, like personal bathrooms or guest ensuites, because satin doesn't handle harsh chemicals too well. Over time the finish will start to come off, and this will cost a pretty penny to fix.
Marks and stains don't remove easily with satin paint. And the added chemicals needed to clean spots and stains will damage the finish of the paint.
It's not fully waterproof and can be a breeding ground for mold if not cleaned thoroughly with natural cleaners that are less harsh on the paint finish. 
Tips For Painting A Bathroom With Semi-Gloss Or Satin
When renovating the bathroom with semi-gloss or satin paint, there is a lot that you can do to make the job go faster and easier; here are some helpful tips for painting your bathroom semi-gloss or satin.
Make a list of all your supplies before you start to ensure you have all the needed supplies. You don't want to be caught off-guard needing something and having to stop and restart the painting process; this could lead to uneven streaky walls.
Try out a few sample paints on the bathroom wall before diving into the paint purchase and going to town on your bathroom walls. It will allow you to see what paint works best with the lighting in your bathroom and the finish the wall has. Choose the one that doesn't enhance flaws and looks good on the wall surface.
It is essential to look at the quality of the paints before choosing one. Don't buy the most affordable paint you can find to save money. It might cost double in the end if the paint is economical because it's low quality; you might have to redo the whole bathroom in the end.  Maybe you should check for any user reviews before you buy the paint, it will help you decide if it is quality paint.
Clean all the surfaces of the bathroom walls before painting. It will help the paint adhere to the walls better and helps to loosen and remove any stuck-on grime that might create a flaw in the wall surface after painting.
Remove all the hardware. Take the time to remove all the hardware like hooks, door handles, curtain rods, towel railings, and loose cabinets will help you achieve a flawless look without getting paint onto the hardware you don't want to be painted.
Remember to tape off all the places you don't want to paint, like the trimmings around the door handles. If you don't have trimmings near the ceiling, tape off the walls on both the end of the ceiling and the wall. You can go over the area later with a small paintbrush to get a close line of paint on the wall without transferring it to the ceiling.
If you hate taping the walls off so high, try painting your ceiling the same colour. It does not only help the bathroom look aesthetically pleasing and cohesive, but it is less complicated than having to tape off the walls at the top near the ceiling.
It would help if you patched the small holes, divets and cracks before painting. Wait for the patches to dry thoroughly, then sand the edges to give it a smoother look. This will help your walls look flawless. Now you can decorate according to the new paint colour if you want and not have to worry about patching holes you won't be using anymore.
You don't need to use a primer on some walls, but on your bathroom walls, it is a must to use a primer before you paint. The bathroom is prone to mildew and mold, and if you don't prime, the paint won't adhere enough and might bubble up after a while due to the moisture, which will lead to fungus, mold, and mildew growth.
Remember to check if the paint you want to buy has additives to keep mildew and mold at bay. It will keep your bathroom from retaining a lot of moisture on the walls and will help prevent the growth of mildew, mold, or fungus.
To protect the floor and shower or tub in your bathroom, put plastic sheeting on the ground or over the sink, shower and tub, taping up to ensure backsplash and fine misting droplets don't stain these items.
It would be best if you cut in the paint to allow for even distribution of the paint. It is an excellent idea with both paints but especially with semi-gloss. Be sure to overlap at least halfway over fresh paint to ensure the paint looks even and you don't see the start and stop areas.
Paint the ceiling first, and if you need to paint a second coat, rather leave it to dry and apply the second coat before going on to the walls. It will help reduce the mess of you having to lean into freshly painted walls to get to the nooks and crannies of the ceiling.
Make sure your paint roller or brush is dry enough to stop the dripping lines that over saturating the paintbrush or paint roller makes. 
Conclusion
The bathroom is the room in the house that everyone uses daily. It does need upgrading now and then, and painting the walls can go a long way to achieving a whole new look for your bathroom. Choosing the right paint will help you save money and stop paying to have it fixed should something go wrong.
Satin and semi-gloss both have their advantages and disadvantages, and both make a good choice for bathroom paint, but not everyone has the same taste and style. In the end, it is up to you to choose which of the paints you think will suit your bathroom the best. 
Resources